Aftonbladet child welfare documentary engages millions nationwide
Ideas Blog | 29 July 2018
While reporting on the Swedish child welfare system for Aftonbladet, it became increasingly clear the system had some major shortcomings. I discovered that children with special needs were forced into the custody of Swedish social services and subjected to inhumane treatment, as a result of the failure of government authorities to successfully coordinate such cases or take responsibility for their errors.
The case of 14-year-old Josefin is a tragic example of the system's failures. She was taken into custody by social services at age 1. Since then, Josefin has been relocated 33 times to various foster homes and facilities in 21 different areas in 10 different Swedish counties.
She has made many suicide attempts and experienced repeated instances of police involvement and medical restraint. Since age 9, she has been labeled by authorities as "dangerous." The authorities' final solution has been to keep 14-year-old Josefin in a secured facility with armored glass and a staff of eight care workers.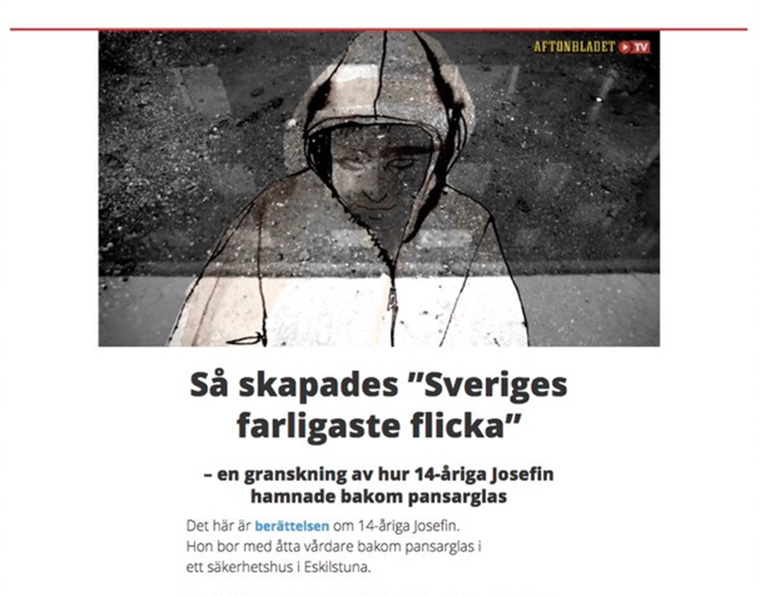 Over the course of four months, I examined all documents related to Josefin's case. Social services records and medical records were compared with court documents and other documents, and interviews were conducted with experts and government representatives. By colour coding the data in an Excel spreadsheet, I systematically uncovered how the Swedish child welfare system failed Josefin and eventually wrote the story.
This story needed to be told, but it was of great importance to us not to expose Josefin, a suicidal child. How could we get readers' attention and engagement without showing her face?
We discussed that over several meetings, and finally our illustrator and producer, Jenny Svennberg Bunnel, came up with the solution: We made a video using her drawings, my voice, and images by famous Swedish photographer Magnus Wennman. We took great care not to display any actual places, faces, or houses within the documentary.
The 23-minute-long documentary reached 2 million online visitors on the first day and garnered enormous attention nationwide. The second supporting part digitally presented each of the social services placements of Josefin, which was seen by 600,000 viewers.
Josefin's story was widely quoted in the national media for several days. Furious experts and authorities responded with claims that children in the welfare system are made sicker from the mismanagement of the authorities. There were strong reactions from the responsible government minister, demanding that relevant authorities assume responsibility for their shortcomings.
The case of Josefin is now subject to a special investigation and is used at universities as an example of major failure.