Aftenposten refines the science and art of building a better front page
Ideas Blog | 12 June 2022
Subscription news products have the privilege of mainly optimising for long-term subscriber value instead of the ad-driven maximisation of user attention.
But building a front page that keeps subscribers coming back regularly is a complex undertaking: It requires us to master the science of serving users relevant and engaging content, while also performing the art of putting together a complete product experience that has a rhythm, a familiar structure, as well as "finishability" built into it.
The science of optimising real-time subscriber engagement is mostly an exercise of maximising click-through rates and other leading indicators, while the much harder art of building products that users will stay and pay for requires working on other dimensions of the product experience that will have much more lagging indicators.
Even though it is hard to measure day-to-day, our goal with a new front page was clear: Make every visit "time well spent."
Aftenposten has been good at the science part of front pages ever since 2017 when we started serving subscribers and non-subscribers with different algorithmic content feeds, based on a combination of manual curation on top of the front page, and automatic ranking further down the page.
While the algorithm, based on a combination of editorial signals and engagement/sales, definitely yields better results than a purely manual front page, it may not be sufficient for creating a world-class subscription news site. To better understand this art of creating a product worth paying for, we looked at the drivers of willingness to pay for news, and specifically the analysis of which associations Aftenposten could own.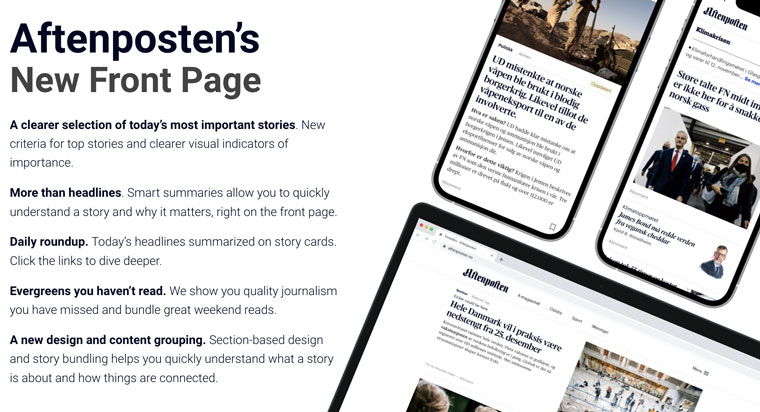 Listening to users
After surveying 1,100 users, it was clear that our ability to explain the news would be key to powering further subscriber growth. A new front page would need to:
Give a quick and efficient overview, helping users catch up with the most important stories in a format that respects their time.
Show users what's important by filtering out the noise and clearly signalling what matters.
Help users understand context, regardless of prior knowledge.
Give new insight and inspiration by serving a mix of content that can serve as a break from hard news.
At this point, we could have gone straight into ideation and prototyping of new front-page concepts to deliver on those drivers. Instead, we decided to dive deeper into our current digital subscriber base to understand the link between user behaviour and retention. The insights were essential to our understanding of the challenge:
Most users visit just 1-3 times per day, while we edit the front page as if people visit us every hour.
Half of all front-page visits remain on the front page, without a single article click.
We find a higher number of loyal subscribers in the group that has less than one visit per day than in the group that has four or more visits per day, meaning we don't need to drive all users into the high-frequency segment to retain subscribers.
More than a quarter of our subscribers are on a trial subscription at any time, and out of those, 60%-70% visit less than once a day.
Put simply, the users we depend on for our growth will give us one chance per day to show our best journalism and give them a reason to come back the next day. When they do visit, we need to offer formats that help them grasp the essence of a story within seconds, right on the front page. We need to give an overview of the biggest stories and help subscribers feel caught up, rather than feeling bad about all the content they didn't read.
Through a series of experiments with new formats and navigation patterns, we learned to understand not just how users were reacting, but also to who we were delivering value. In all aspects of the front page effort, we have consistently focused on the quality of that single daily visit as the purest distillation of the problem to solve.
A few months after launching the new front page (pre-Ukraine invasion), all numbers indeed indicate that more and more people find that visiting Aftenposten is time well spent.