20 Minutes surveys for 18-30 audience center on Facebook group
Ideas Blog | 18 December 2017
In March 2016, 20 Minutes launched #moijeune, an ambitious survey project, in partnership with the OpinionWay polling agency. The aim was to "build the selfie" of the 18-30 generation through an innovative, collaborative survey method.
Within 18 months of the #moijeune launch, 20 Minutes built a community of 4,000 young people, and conducted more than 30 rounds of surveys. A cornerstone of the initiative is a closed Facebook group that connects survey participants directly to 20 Minutes newsroom journalists — a direct, open line of communication that is now influencing our journalistic approach and shaping our future strategy.
Every month, 20 Minutes (a media Millennial itself that just celebrated its 15th birthday) reaches 52% of 18- to 30-year-olds in France. Our affinity with this audience always keeps us questioning how we can better understand their frame of mind and what drives them, meet their expectations, and give them a voice.
The #moijeune initiative began with a single observation: Young people are tired of studies.
In early 2016, discussions with OpinionWay revealed unequivocally that young people aren't receptive to studies, polls, or surveys for two main reason:
Classic survey methods don't stimulate them and/or require a time investment that outweighs resulting advantages.
They don't identify with the way their generation is regularly portrayed and conveyed in the media.
So we launched our own study on 18- to 30-year-olds that addressed these concerns. Our #moijeune study was developed in collaboration with participants. This innovative survey process means respondents are, in essence, taking a "selfie" that truly represents them, and takes their concerns into account.
We rolled out #moijeune in three stages:
Stage 1: We assembled a project group of 18- to 30-year-old employees at 20 Minutes, including newsroom journalists and people from other teams. They were responsible for project management.
Stage 2: A group of about 15 people, ages 18-30, defined the project. They discussed their ambitions, how they perceive their place in society, and then determined what a study about their generation should involve. They answered questions like: How should it work? What themes should be tackled? What time scale? This made it a collaborative process from its very conception, created hand in hand with the targeted audience.
Information gleaned during stage 2 determined that we would:
Administer surveys via smartphone by SMS (with a link to the survey).
Keep the modules short and fun (no more than 10 questions).
Deal with one subject at a time.
Vary the types of questions and interactions.
Focus on timeless themes affecting them and current affairs.
Adopt an intimate, friendly, and less formal tone than classic studies.
Share results with survey participants, and involve them in discussions about our observations and conclusions.
Stage 3: Next we recruited 2,000 volunteers between the ages of 18 to 30. A native advertising campaign through our digital media outlets explained the survey process, and people were invited to sign up via www.moijeune.com.
We launched the first survey, about labour and employment, in March 2016. We were quickly taken aback by the excellent response rate, higher than 50%, and by the quality of the feedback. This first round was confirmation that we were doing the right thing, and we continued with new questionnaires on new themes.
One year later, we had conducted more than 30 surveys on a wide range of themes (sexuality, space, social responsibility, mobility, social networks, relationship with brands, online privacy, etc.) and on current affairs.
Once a theme is chosen, discussions take place between 20 Minutes and OpinionWay to create the questionnaires. Sometimes we join forces with a third party, such as Adèle ta Chérie and Seb la Frite, YouTubers we regularly collaborate with and who volunteered their own questionnaires to the #moijeune community.
Stage 4: After three rounds of surveys, we felt that our system lacked an essential ingredient: somewhere to share and exchange ideas with project participants. So we launched a private Facebook page alongside the global community. This was essential for exchanging views with #moijeune members. Our journalists use this as a resource to chat with participants. We also offered a young person on the Facebook group the chance to put forward his own questionnaire on a subject of his choosing.
The reach of our #moijeune campaign has doubled since it began. Nearly 4,000 members have now signed up to moijeune.com to receive our surveys. We recruit via 20minutes.fr and promote sign-ups on our mobile Web site. At the end of each survey, we invite respondents to share the registration link with friends in their age range, so we also have expanded our reach via word-of-mouth and co-optation.
The Facebook group now has more than 1,000 members (approximately 25% of the total #moijeune community). All survey respondents are invited to join the private Facebook group, and our group administrators validate each membership request. Each new survey can generate up to 50 Facebook group membership requests.
On the Facebook group, we share survey results through infographics; announce future surveys; ask members what new themes they would like us to address; and communicate about any technical bugs or problems that may arise. We track members' remarks, ideas, and suggestions to shape future questionnaires.
We maintain instructive and polite discussions with members: no trolls, no misconduct, or any kind of disrespectful behaviour to report. Even when the members criticise us about certain things (on the way we've tackled a theme for example), they let us know gently and with a collaborative spirit that is the very essence of #moijeune.  
We have identified three key elements that lie behind this Facebook group's success: 
Respect for the initial promise: creating surveys collaboratively, sharing survey results, and improving the study process together.
Clear operating rules within the group, set out in detail in a file available to all.
A tone similar to what is found in the surveys.
Perhaps most importantly, the Facebook group provides a forum for direct exchanges with our newsroom journalists, who have been closely linked with #moijeune from the outset. We have been able to capitalise on the young average age of our journalists to keep momentum going.
Interacting with the Facebook group allows 20 Minutes journalists access to a closed group for "virtual newsroom conferences." This lets them experiment with another form of journalism, a new way of collectively creating exclusive news by feeding off discussions with group members.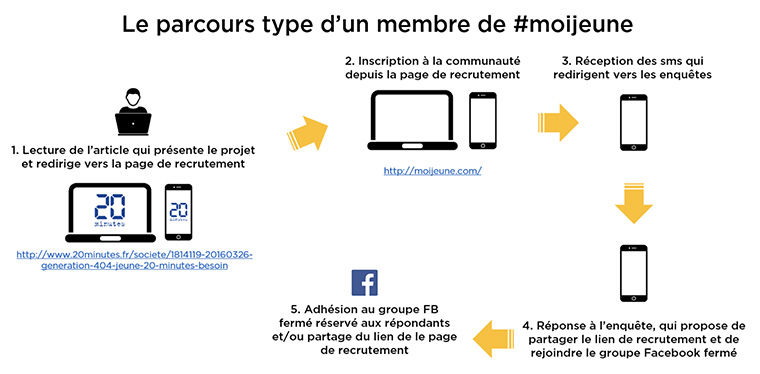 Our journalists regularly analyse and share survey results. The surveys help them discover original story angles, and the articles they write are shared on the Facebook group, where members can, in turn, react to them.
During the past year, more than 30 newsroom files have been generated on #moijeune survey results.
We have a monthly in-house meeting for the marketing team and newsroom journalists to get together and brainstorm how the #moijeune community can be used to improve our newsroom content. Many of our journalists now readily lean on the community and use it as a genuine work tool.
In a way, the #moijeune experience has become a laboratory for new forms of audience exchange. And it improves our value proposition for advertisers who want to reach this community. We're in a position offer them privileged access to an 18-30 audience in a format designed around the brand's objectives, with the understanding that we must adhere to our promise to members about transparency of surveys and content.
Our efforts have been strengthened by the partnership with OpinionWay, which has provided essential study managers and technical support. They cast an expert eye over questionnaire management, results processing, and statistical analysis.
All-team involvement at 20 Minutes also has contributed to success of this initiative. Our marketing teams, journalists, and sales reps all have played a role.
The #moijeune adventure will continue into the new year. Our long-term aim is to recruit 8,000 community members, and we will experiment with new forms of community interaction via other platforms.