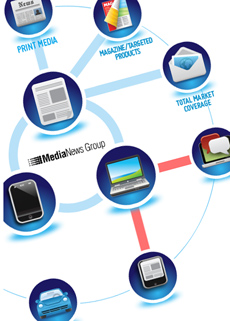 Let's be honest, shall we? Newspaper companies have dabbled in digital on different scales for the past 10 years. While we dabbled we have seen print revenues decline at a pace nobody expected. Some will tell you print will recover and will continue to be the backbone of their revenue model. That may be the case, but I am not willing to bet the future on it.
Today, we are all rushing to commit to a digital strategy in one form or another. Some through allocation models still tied to print sales, while others focus on building new digital revenue on new digital platforms. But have you truly committed?
At Journal Register Company, we view our digital first strategy as a start-up business. This means we expect to see a heavy investment with aggressive revenue growth.
As we approached the end of 2010, eight months into our digital first sales model, we had a series of annual budget meetings for our 2011 plan. During those meetings I listened to all of our sales leaders present a plan to me that collectively rolled up to digital increases of 42% year-over-year. On the surface, that sounded aggressive, but nowhere in line with a start-up mentality.
I presented each with a trajectory showing them where we have come from in the last eight months and where we were heading. Prior year comps are meaningless in a start-up. Prior quarter and prior month are what you need to focus on. If we were to truly transform into a digital first business, we needed to see month-over-month growth in digital. And grow we have.
Today we are pacing over 70% year-over-year in digital and have grown every quarter since Q2 2010. We are 7 quarters in, and the comps are now higher, but we continue to sustain our growth trajectory. This is primarily due to our commitment to digital first from every local sales person all the way up to our CEO, John Paton, combined with aggressive goal setting, and putting people and resources behind those goals to attain them.
However, to truly transform we centralised digital strategy. All new platforms, products and revenue initiatives are determined and planned centrally, then rolled out company wide. We invest time and resources to determine what can deliver the most potential revenue, and then roll these new concepts out aggressively.
The numbers sound great, but again, the comparison to prior year is not what we focus on. We have to continue to grow at this pace to not only offset losses in print, but to position our company as a digital enterprise.
Our sales focus starts with core digital products on our local websites. This includes standard banners, sponsorships and premium placement. It may sound boring, but this is the foundation of our growth. We take somewhat of a broadcast mentality and focus on selling all inventory on our own, relying less and less on remnant and third party providers. Every operation has one person, an online sales manager that is directly responsible for maximising local sell through.
Layering on these new concepts continues to feed our local sales organisation with new opportunities to provide their advertisers. We work to complete the product circle to cover any and all audience needs in the marketplace. This start-up is one we must embrace as an industry.