Honest funnel points to a publisher's revenue opportunities
The Earl Blog | 09 April 2013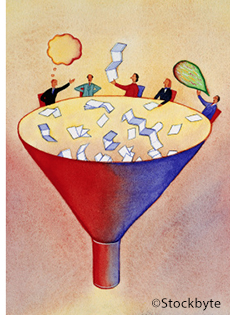 How does a news publisher evaluate revenue opportunities?
Which pied piper do you follow?
When do you know to put your considerable financial resources behind one of them vs. experimenting with several?
When do you lead, and when do you follow?
Across 80+ countries – which defines the INMA network – it can often be difficult to find the signal amid the noise. 
The signals can be found through a series of triggers as part of a bigger funnel.
Trigger 1: Technology and middle class
I don't believe in the print vs. digital arguments on the basis of the platforms. I believe in them based on the audience the news brand serves:
The market's access to technology.
The size and strength of the market's middle class.
Technology adoption is an obvious point. If it can go digital, it will go digital. Markets that claim print's dominance have not yet seen the impact of broadband, smartphones, and tablets. 
Despite digital advances, history still shows that a growing, aspirational middle class reaches for print newspapers to climb the social ladder personally and professionally. Until the data proves otherwise, I will stick with this historical storyline.
Latin America and South Asia have relatively small (percentage) middle classes, though they are growing and South Asia is particularly aspirational. They have low penetration of broadband Internet, though low-end smart devices will soon change this.
By contrast, North America, Northern Europe, and the South Pacific have strong, mature, yet stagnant middle classes with a saturation of technology options.
For these reasons alone, Latin America and South Asia are print-centric markets for the foreseeable future, while their Western counterparts are digital-centric.
Yet the clear direction is more digital. "If" is not an option; "when" is the only option.
Trigger 2: Urban and sense of community
Big metropolitan markets with a heavy concentration of suburbs and exurbs, highly educated transients, and large geographies tend to have weak senses of community. Smaller, more densely populated markets have fewer transients and deeper senses of community.
For these reasons alone, there is a great wall that has emerged among news organisations worldwide between:
Urban: Publishers serving the great urban centers who are more likely to move fast with digital-first, heavy multi-media strategies.
Non-urban: Publishers serving smaller urban centers and smaller towns and communities who can move slower and protect print longer with communities that adapt to change at a slower pace.
No doubt Warren Buffett's buying binge of U.S. newspapers is focused on this trigger. The billionaire investor doesn't love all newspapers; he loves newspapers serving smaller cities with tight senses of community and a slower pace of change.
Yet make no mistake: the clear direction remains digital and multi-media. The only decision is on the pace of transition for readers and advertisers.
Trigger 3: Follower or leader
At a recent U.S. conference, I asked the CEO of a mid-sized chain of newspapers if he's experimenting with anything new. To which he replied: "I'll let the big boys go first with the industry experiments. When I know they work, we'll follow."
That is a common and totally acceptable way to run a media company given capital resources and the corporate culture.
I have found the degree of innovation and experimentation among news publishers is almost always dependent on the personality of the CEO, access to capital, and how much rope his or her board of directors gives them.
The only disappointment I find is when a company is well capitalised, yet a paralysed board is unwilling to pull the trigger on things like business model innovation.
If you are well capitalised, then how much of a leader you are depends on the strength of the CEO and the management team around him or her. More than anything, how much change and innovation and experimentation can they manage?
I am finding this single question about pipeline management a constant among the world's leading publishers today.
Trigger 4: Choosing your revenue pond
Let's assume that through some combination of geography and the size and shape of the community you serve that you more likely are looking at digital revenue options. A CEO with a lot of innovation rope is looking to experiment and prioritise.
(Let's face it: on the print side, the strategic choice is either to harvest print or innovate like Indian and Brazilian publishers.)
Digital options today feel like picking a horse in a race:
Bundled subscriptions.


Promotions and events.


Search.


Mobile.


Video.


E-commerce.
What triggered this blog post was some background research on the just-released INMA report, "Making Video Pay Off For News Publishers." It was a nuanced learning that I wanted to share in the context of evaluating revenue opportunities.
Video was identified by the INMA Board of Directors in November 2012 as potentially the No. 1 revenue opportunity for publishers in 2013-2014.
That is not what our research into the subject revealed. 
In fact, video is a delicious opportunity if you have made heavy investments in online video development, if you have a syndicated inventory strategy, and if you have sufficient volume to create a mini-cable TV segmentation on your Web site (i.e., elite news brands, Scandinavian and Australian publishers).
More to the point, the opportunity in 2013 exists only if you made content and audience investments in 2010 or before.
Similar nuances exist for mobile, search, and e-commerce. There is no quick "on/off" switch with these revenue opportunities. They each require a long-term plan, product development, senior management buy-in, audience development and engagement, and you will be more likely to take advantage as opportunities mature.
No doubt the makeup of your management team will help determine which revenue opportunity to invest time and energy.
Each company, of course, is a little different. I know very smart publishers who have invested tons of time in selling search that have made few investments in video or e-commerce and thus de-prioritise those opportunities.
I know companies that have invested a ton in mobile that don't understand the point of search and promotion/events.
Publishers often mistake the evaluation of business opportunities for the skill sets their key executives possess. It's a lot faster to capitalise on Opportunity X because my right-hand man is skillful in that opportunity. In this example, the publisher may have prioritised speed over opportunity.
The quicker revenue paths exist for bundled subscriptions and promotions/events because they are adjacencies to yesterday's business model (and today's executive teams). They are natural extensions of what yesterday's newspaper did best.
That is not to diminish them, but to put them in an evaluative context. In the long-run, they may also be smaller opportunities than search, mobile, video, and e-commerce.
Conclusion
What do these triggers mean in terms of evaluating revenue opportunities? Why have I put them forward?
We are all in the same funnel: Within the INMA network worldwide, there is an understandable belief either that my newspaper is like all others or that the market I serve is somehow totally different from all others.

Neither is entirely correct. Markets and media companies all fit within the funnel in this blog post.


Print is a good, short-term play for some: There are good reasons to keep emphasising print in the short-term in certain markets. Yet publishers should not be blinded by a need to pay for a new printing press when their markets do get broad, cheap access to technology.

What can go digital … will go digital.


Non-urban markets will catch up to urban trends: There is a clear gulf between urban and non-urban markets in 2013. Yet, again, that gap will close with broad availability of technology, especially mobile.

Harvest what needs to be harvested today, yet prepare now for tomorrow.


Plenty of nuances in being a leader: If you are more of a leader than a follower, how far down the business model innovation path are you willing to go?

For smaller gains and short-term rewards, bundled subscriptions across platforms and promotions/events are likely the way to go.

For bigger gains and long-term rewards, then search, mobile, video, and e-commerce are big ponds out of which you can start fishing – mindful they require long-term ramp-ups.

Management bandwidth will likely determine how many of these ponds you can fish out of on a simultaneous basis.


It's about audiences, not platforms: Platforms are irrelevant in the long-term. All that matters is audiences and your deep understanding of those audiences.
These are fantastic times to be a part of the news media industry. Yet honesty and transparency about the contextual revenue opportunities in front of us are vital to successfully making our way through this maze of reinvention.
You are not unique. You are not the same. You are simply at a different time frame in the funnel.