Kölner Stadt-Anzeiger creates print magazine, Web site to help Ukrainian refugees
Digital Strategies Blog | 31 May 2022
Since Russia's invasion of Ukraine, our reporters had been reporting intensively on events there, but also on the arrival and reception of refugees in our hometown of Cologne, Germany, and the surrounding region.
The editorial team of the Kölner Stadt-Anzeiger heard from the first refugees that there was a lack of information for them in their new surroundings. That's how the idea of our "Welcome" project came to life.
We created a project team to present basic information in German, Ukrainian, and Russian to several thousand arriving people. The project was two-fold: We created a Web site as well as a printed magazine to be distributed at welcoming sites at the main station and across the city.
The idea for the project was first discussed during a visit to the editorial office of Kölner Stadt-Anzeiger by Linda Mai, chairwoman of the German-Ukrainian association, Blau-Gelbes Kreuz.
Two days later, the first story went live. Less than a week after the idea, the print shop printed more than 10,000 copies of our Welcome magazine. In it, we offered information about a foreign city that is becoming a new home. It included information about important contact points, ways to get a SIM card, and how to apply for social welfare. It also had information about clothing stores and excursion destinations that cost little or no money.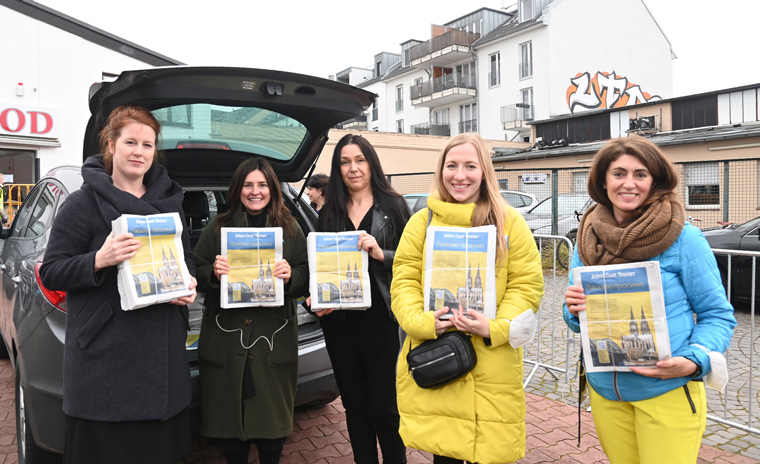 Sarah Brasack, deputy editor-in-chief of the Kölner Stadt-Anzeiger, said, "We spent an evening thinking about how we could manage a magazine in Ukrainian — and then agreed."
Within a few days, the 16-page magazine was produced in our print shop at Neven DuMont Haus. In the afternoon, Brasack and Manja Schmidt, head of additional business, handed over several thousand copies to employees of the city administration. Several thousand copies went to the warehouse of the Blau-Gelbes Kreuz association, which distributes them in emergency shelters, among other places. The Web page registered tens of thousands of visits, and a freshly created Telegram channel quickly gathered several hundred followers.
"Many volunteers have translated texts into Ukrainian over the past few days. Quite a few texts have been made available to us free of charge, and colleagues in the editorial office have been sitting behind their computers until late in the evening. Thank you for that, " said Editor-in-Chief Carsten Fiedler.
The Welcome magazine could only be created thanks to the fast and uncomplicated cooperation of various teams from design to content and translation. In the following weeks, multiple German news outlets followed the idea and began publishing information in multiple languages as well.