The rise in the United States of betting fantasy sports sites such as DraftKings had many media analysts speculating the demise of traditional season-long fantasy products.
People were too busy to invest in a full season, it was argued. The lure of quick play and prizes was more appealing than investing sweat and tears pursuing a giant sum at season's end, many believed.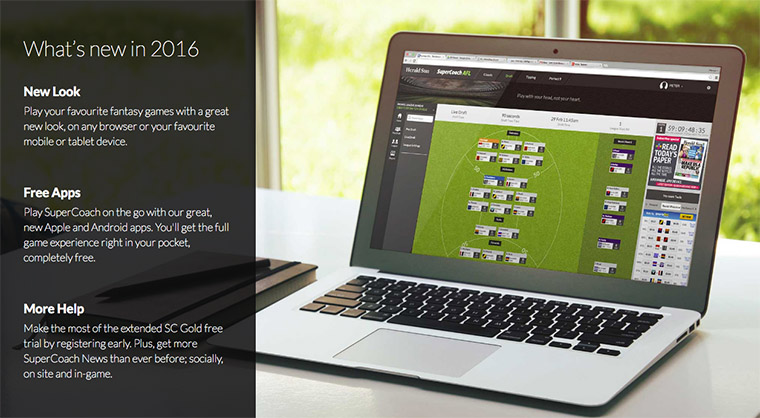 We followed this analysis closely at the Herald Sun, given the fact we host Australia's No. 1 season-long fantasy sports product, SuperCoach. More than 500,000 people sign up for SuperCoach games based on Australia's two biggest sporting leagues, the AFL (Australian Rules football) and the NRL (rugby league).
Our game carries a decent prize at season's end (A$50,000) with smaller weekly prizes. We have also got a jackpot prize for picking the top fantasy score in each game of a round. This has rocketed to A$120,000.
The rise of quick hit draft games was a concern. But, it turns out, we need not have worried. For now.
SuperCoach grew this year. More people signed up to play across both games than in the previous year.
It may turn out that the reasons people play fantasy sports goes well beyond winning money. We have built a loyal audience on the premise that people play to beat their mates. They play to join leagues and battle their work colleagues. The lure of beating a brother overseas who plays to keep in touch with the homeland is more potent than the chance of pocketing some cash.
The mate vs. mate phenomena of SuperCoach is more entrenched and stickier than we thought.
For digital publishers like us, it is important that the players' impetus for joining fantasy sports is at the heart of the product.
We need to keep focusing on making the game more fun, easier to play, and more mobile. But we don't need to fear that quick-hit financial rewards are going to quickly trump the phenomenon of playing for the love of it.
Long live the season-long games.