Why your media company should be reader first, not digital first
Digital Insider Blog | 11 October 2015
A few weeks ago I was asked by a reader of my article on disruption if there were any publishers actually thriving in today's digital economy.
I have to admit I was taken aback just a bit because I didn't have an answer on the tip of my tongue. Thriving is not a word you hear about newspaper and magazine publishers these days.
And while some local newspapers have proven to be more resilient to the crisis caused by this decade's technological and social advancements, too many national and international publications still seem to be taking cues from the proverbial ostrich, finding solace and comfort in the sand.
But that doesn't mean there aren't publishers out there doing some things right. They may not be prancing around profits yet, but they're showing more promise than many of their counterparts.
What's interesting is that each of them is playing the publishing game in their own unique way and seeing results that have other publishers shaking their heads.
From washed up to watch out
General George S. Patton once said, "Success is how high you bounce when you hit bottom." If I were to attribute that quote to a previously thriving publisher who took a digital nose dive, it would have to be The Washington Post.
In its heyday, The Post had its fingers on the pulse of Capitol Hill, invoking fear and loathing from the politicians, lobbyists, and policymakers that misconducted business within the hallowed halls of Congress.
However, even with its enviable reputation in the news industry, the media icon was not immune to digital's impact on print advertising, suffering a 44% drop in revenue in just six years.
Digital disruption was definitely a factor in the publication's misfortunes, but it was the mantra of "local over national" and the executive decision to disconnect its new dot-com team from its content team that accelerated the publication on its downward spiral.
By giving the dot-com tech team full reign over how it repurposed all of The Washington Post's print content on its free Web site, it became a parasite on the editorial content. There was no collaborative decision making with respect to the selection or packaging of content or pricing models around it.
By sacrificing journalism for mismanaged digital expansion, the publisher missed out on new opportunities to grow reach and revenues through an integrated and collaborative newsroom.
Fortunately for fans of The Post, just when the bottom was about to fall out, the publication was pulled from the ashes by an unlikely saviour – tech tycoon, Jeff Bezos.
Many thought it was a mismatched marriage. But two years later, the franchise is now making naysayers sit back and wonder if technology leadership is the secret sauce to success in digital media, or just deep pockets.
Breaking all the rules
Under its new "benevolent digital dictator," The Post has been liberated to shed the shackles of its printed past and embrace digital disruption with a financial cushion other publishers can only dream about. And it's doing it by breaking all the rules and paradigms The Post and most other publishers have held as doctrine for decades.
(Note: View PostEverything here.)
Bouncing back
The Washington Post celebrated 2015 as a breakout year; it achieved year-on-year growth of digital traffic in Q1 that outpaced all other publishers in the United States.
In March 2015, the publication's Web site garnered more than 596 million pageviews and 52+ million unique visitors (18 million outside the United States). It's now breathing down the neck of The New York Times' flattening 57+ million.
It's all about audience
But when one looks at the direction Bezos is going with the new Post, it's pretty evident that the current focus on audience growth (not revenues) is the key success factor in The Post's strategic plan.
Under his ownership, The Washington Post is undergoing a disruptive transformation so it can focus on the recipe for success that made the Amazon Man billions: "Know your audience, so you can grow your audience." Do that right by giving your readers "convenience at the right price" – the value proposition of Amazon.com for more than 20 years.
The jury is still out on how/if the transformed Post will prosper. But one thing is for sure: The leadership principles Bezo has banked on since his "garage days" will be part of the journey: "Leaders start with the customer and work backwards. They work vigorously to earn and keep customer trust. Although leaders pay attention to competitors, they obsess over customers."
The Seinfeld of newspapers
Quite possibly the most unlikely success story in an industry that prides itself on "quality journalism," the Daily Mail could be the poster child for "one man's trash is another man's treasure."
But let's not trash the popular tabloid too fast.
Sure, you won't find too many Washington Post readers flipping the pages of the far-right rag on a regular basis. But the Daily Mail wasn't designed for that audience. It is written specifically around the plight of the everyday British family and what affects their daily life – a successful formula that has since been replicated by the publisher in the United States and Australia.
It reminds me of the hit television show, Seinfeld, often described as "the show about nothing." Millions of fans flocked to watch the sitcom for nine years because they shared an affinity to the characters and empathised with their day-to-day challenges, mishaps, adventures, and hilarities.
The Daily Mail has a similar relationship with its audience. It connects at an emotional level with the lower-to-middle class that's not looking for serious journalism or to be educated. These people just want to be titillated, entertained, and sometimes shocked. And with the Daily Mail, they get it all in spades!
So perhaps it's no surprise that hundreds of millions of people worldwide continue to engage with a tabloid that is notorious for dubious content and its infamous online "sidebar of shame."
Today, MailOnline (aka DailyMail.com in the United States and Australia) is the world's largest English-language newspaper Web site with 229 million monthly global unique visitors. It's also in the envious position of having the third-largest digital audience in the United States, next to USA Today and The New York Times. More than 22% of MailOnline readers come from the United States:
To address the needs of an audience that craves naughty over newsworthy, the Daily Mail became a master of click-bait long before BuzzFeed founder, Jonah Peretti, was even a sparkle in his mother's eyes. It has huge budgets for defamation suits which allows it to err on the side of, well, errors, because scandal and sensationalism sell better than "just the facts, ma'am."
As a result, the Daily Mail issues more than its fair share of legal expunges. And although it does publish corrections, they appear long after the damage is done; most readers never notice or care about them.
People love the UK rag because it gives them what they want in print, but what about online? Here's where the publisher really got it right. MailOnline is not just the printed edition in digital format. It's its own product, with its own content, tailored for its own digital audiences.
There are certainly similarities when it comes to serving tasty (or tasteless) tales to the masses, but, unlike most newspapers, much of MailOnline's content is unique and not just rehashed articles from the tabloid.
MailOnline is also not burdened with the baggage of having to be the saviour of Daily Mail's declining print profits. It's a business in its own right with the freedom to innovate and experiment to grow audience and revenues in an unfettered digital market.
It, unlike so many short-sighted publishers, also encourages engagement with and between readers, allowing them to comment on articles, vote in polls, and enter into lively, often raucous, debates. It's not always pretty, but it's paying dividends.
MailOnline became profitable in 2012 and enjoys a revenue growth of £16m (US$24m) year-on-year. Its revenue projections for 2015 sit comfortably at £70m (US$106m), despite the pressures from social media, mobile, and ad blockers.
On the surface, the Daily Mail and The Washington Post look nothing alike. But look under the hood and you'll discover they have one very important thing in common: they're both all about audience.
Success your way
Okay, so you don't have the deep pockets of The Washington Post and you're not about to sacrifice journalist integrity to pander to the lowest common denominator like the Daily Mail. But that doesn't mean you can't be successful. However, to thrive instead of just survive, you need to focus on "doing the right things" rather than "doing things right."
Unfortunately, many publishers can't seem to figure out what's right for them. So instead of innovating to grow reach and revenues, they mimic what the likes of The Post and The New York Times are doing, just like lemmings diving off a cliff without the golden parachutes the Post and NYT have to save themselves.
They blindly erect paywalls without any thought on how they will impact their audience. They waste money hiring teams of techies (while downsizing their newsrooms) to build inferior apps and digital properties themselves, rather than partnering with experts. And they invest money they don't have to launch products their audience doesn't need or want (think Apple Watch), just to prove they are innovative.
Meanwhile, they fret over falling finances instead of growing their most valuable asset – their audience.
Think back to some of the most successful digital companies in the world and what made them profitable.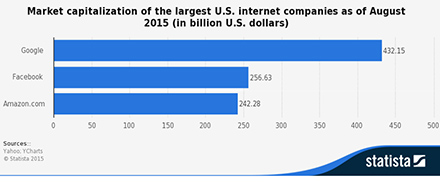 Google built a massive audience through search and then monetised it with advertising.


Facebook built a massive audience through social and then monetised it with advertising.


Amazon built a massive audience by obsessing over the needs of its online book buyers.
All three tech titans knew that the audience had to be the prime directive in their strategic plan.
The ABCs of customer-centric success
With the competition for eyeballs being so fierce in today's digital world, focusing on customers can't just be one of your critical successful factors in your publishing playbook. It must be the primary focus of the entire organisation, starting at the top.
Whether you're a niche, local, national, or global publisher, you already have an audience that reads your content. The more you know about these readers, the more you can engage them. The more you engage them, the more you can use them to engage others and grow your audience. The larger your audience, the more opportunities you have to monetise.
A. Know your audience intimately.
Start with some of the basics:
Demographics (i.e. age, gender, race, income, education, employment, location, etc.).


Social analytics (i.e. preferred social media sites, social activities and timing, influence, reach, etc.).


Web analytics (i.e. Google).
Then crank it up more than a notch and understand them at a deeper level through behavioural analytics that go beyond clicks and shares. Learn:
The platforms on which they consume content and when.


Where and how they like to discover news online (social, search, other media).


What content retains their interest the longest (both editorial and advertising).


What content format they prefer (text, images, infographics, video, print).


How their reading habits change depending on time, location, current activity, etc.


Their interests, hobbies, passions, and opinions.
Use primary research to dig even deeper (e.g. surveys, polls) to discover:
Why they read your content.


What other content they read/share, why they read it, and how they read it.


What other online services or type of content they buy (music, video, games, etc.).
B. Give your audience members more of what they want and less of what they don't.
To engage and retain your audience and turn that retention into profits, you need to embrace a culture of continual improvement (measure, analyse, improve, and then repeat) that covers user experience, content creation (both editorial and advertising), content curation (i.e. syndication), delivery, and potentially other services (think diversification).
C. Grow and expand your audience.
So now that you know your audience intimately and are giving these readers what they want, it's time to grow it by making your content borderless. Spread your content to the four corners of the globe on social media, free aggregators, paid aggregators, newsstands, and other publishing (and non-publishing) apps/sites.
Now, if you came from the print world, your core audience probably looks more like baby boomers than their babies. Sadly, serving only your existing readers isn't a recipe for long-term success. You need to expand your reach to include a new breed of news junkies that won't touch a printed newspaper and prefer content curated by the crowd over what editors curate for their parents.
The thought of getting inside the minds of Millennials and figuring out what makes them tick and "talk" about your news can put some publishers into cardiac arrest. But giving Gen Ys what they want, when they want it, and how they want it isn't rocket science. All you have to is … go back to step A above.
Create a "customer first" future
Those of you who know me even a little, know that I'm not a baseball fan. So when I heard that Yogi Berra had died last month, I couldn't remember anything about his legendary career with the Yankees. But I did remember a few of his weird and wacky Yogisms. In writing this post, one came to mind that seemed appropriate: "The future ain't what it used to be."
In the glory days of print, content was king and customers were the cash. Publishers woke up every day and saw a future that looked a lot like the one they envisioned the day before. The tables have certainly turned, haven't they?
Today, the kingdom belongs to consumers. Content is so pervasive, it's become commoditised. And publishers are waking up shaking in their slippers because they can't envision a future without fear.
There is money to be made in this upside-down world, but to capitalise on the opportunities out there, publishers must stop being a "me too" organisation and start reinventing themselves as "creators of customer value."
If the explorers and inventors needed to conceive that new world don't exist in your organisation, it's time for you to start investing in recruiting them. It will pay much higher dividends than building another shiny new app reflecting what you saw over at the NYT.
Stop fearing the future. Go make it!