Postmedia chooses revolution over evolution to unify its Canadian newsrooms
Culture Change Blog | 06 July 2014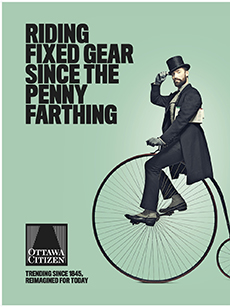 Collaboration is in the DNA of most newsrooms, as you might expect in a deadline-oriented enterprise with multiple journalists pursuing complex stories on tight time frames every day.
But multi-site media companies have traditionally been less successful at working together, both inter-departmentally — between editorial, advertising, and reader sales departments, for instance — and across different properties.
That was something we knew we had to change as we began the work of transforming Postmedia, Canada's largest newspaper-based media company, after its predecessor, Canwest, emerged from creditor protection in 2010.
We realised that collaboration would be particularly vital in a turbulent media landscape, with print revenues sliding and the clock ticking on our ability to reset our company as a digitally focused, multi-platform entity.  
We also knew that, as we reduced the size of our workforce in all departments, our strength would rest not necessarily at individual news sites, but in our ability to leverage our resources in the service of common goals.
That was no small challenge. Postmedia consists of 10 major-market dailies scattered across four time zones. Each of those entities had traditionally operated independently, as a loose association of properties with a common parent.
Regional rivalries, some of them decades old, abounded. Individual properties pursued their own Web strategies or advertising approaches. For the most part, staff identified as employees of the local properties and had weak allegiance to Postmedia.  
How to change that in a hurry? Postmedia's senior executive created a strategic plan in mid-2012 that focused on national integration. In 2013, we launched a "One Newsroom" strategy, which envisaged the major-market metros aligned around a central vision using central resources.
Advertising was reshaped around regional leaders reporting to a national senior vice-president. Digital development was reconfigured around a central hub that serves all properties equally, prioritising demands and ensuring the same high-quality resources are brought to bear on all projects.
So how are we doing? There is powerful evidence after only 18 months that the new approach is bearing fruit.
One major example is the rollout of a national plan to differentiate content across platforms, which was launched at the Ottawa Citizen on May 20. The approach, which we are calling "Reimagined," is based on new insights into audiences.
Audiences who read our print editions are not the same as those who read our journalism and advertising on mobile devices. So we re-thought our products to provide different content to different audiences at different times of the day.
That product "re-think" was based on extensive market research that was presented to individual newspaper sites by teams consisting of editorial and marketing leaders.
The products themselves were designed around business requirement documents compiled by cross-functional teams drawn from across Postmedia. The revamped Web site and new apps that resulted were created by digital and business technology teams based in Toronto, Winnipeg, and Ancaster, Ontario.
The shift in thinking was profound. So were the work-flow changes. To succeed, the Ottawa Citizen "Reimagined" project drew on hundreds of resources from across the Postmedia network at every level, from newsrooms to business technology to marketing.
The teams creating each of the four "vessels" of information and advertising — Web, print, tablet, and smartphone — were led by editorial and digital leaders from across Postmedia, buttressed by the best and the brightest talents from across the company.
As the Citizen newsroom prepared for the rollout of the four new products, SWAT teams made up of staff from across Canada arrived to produce the "Product 1.0" version of the Citizen on Web, print, tablet, and smartphone.
At the same time, Citizen staff members worked through dry runs of the new products. Leaders from throughout Postmedia's marketing departments worked together to make sure the new products launched with a bang.
And they did. Praise for the new strategy and the newly envisaged suite of products has been profuse and garnered international attention as a significant strategic initiative in the fast-changing media world.   
Ottawa is the beta site for the Reimagined project. Over the next 12 to 14 months, it will be refined and implemented at all Postmedia sites across Canada, using the same template.
National product leaders will refine the strategy of each platform, with SWAT teams from across the enterprise training and back-filling on production while each newsroom launches its own version of Reimagined.
Preparations for Site No. 2 of the Reimagined project are well under way. They are being coordinated by a Montreal-based project manager who is working hand in hand with Postmedia's business technology team in Winnipeg. Product development and refinement, meanwhile, continues in Toronto and Ancaster.
Much of the training will be done by an Edmonton-based editor and a Montreal-based designer. And those are just some of the multi-site, multi-departmental collaborations that will set up the launch of Site 2 Reimagined later this year.  
The Reimagined Citizen is the most visible sign of Postmedia's collaboration revolution. But there are other examples, big and small, in the day-to-day operation of the company.
Postmedia Editorial Services, which is based in Hamilton, Ontario, does editing, design, and layout for all non-local news pages for print editions at each newspaper site across the company.
The posting of all national and international news for Postmedia Web sites is coordinated centrally. A Central Desk, based in Toronto, coordinates a daily content and information exchange as well as assigning a team of national journalists.
On occasion the Central Desk asks individual properties to write a national story to be shared across the newspaper group. It also co-ordinates the production and posting of content for such major events as the FIFA World Cup or the 100th anniversary of the First World War.
Advertising has been organised around regional leaders: one in Montreal for Postmedia's eastern region (Montreal, Ottawa, and Windsor), one in Calgary to coordinate initiatives among four Prairie news sites (the Calgary Herald, the Edmonton Journal, the Regina Leader-Post, and the Saskatoon StarPhoenix), and one in Vancouver for two dailies there, the Sun and the Province.
A two-person team in Edmonton leads integrated programmes and strategies for Postmedia's four Alberta and Saskatchewan properties. Their work has been key to such award-winning and revenue-driving projects as Trades Alberta and the Alberta edition of GastroPost, first-place winner of an INMA award in May for Best Idea or Innovation to Create New Profit Centers.
Those are structural initiatives. Journalistically, the Edmonton Journal and the Calgary Herald collaborated on a four-year legal battle with the Alberta government to release information on the deaths of children in care.
It resulted in a blockbuster series, Fatal Care, in late 2013 that uncovered the deaths of  hundreds of children. The investigative series has won a bevy of national awards, including a National Newspaper Award and the Hillman Prize.
There are collaborations, large and small, every day.
When three Royal Canadian Mounted Police officers were shot and killed in Moncton, New Brunswick, a team from the Montreal Gazette, Postmedia's nearest property, was scrambled to the scene. Their work was coordinated from the Montreal newsroom for a national audience, while material was posted to Web sites across Postmedia in Toronto.
Larger properties are sometimes enlisted to provide counsel and material support to smaller properties in their region. For instance, in May, the Windsor Star, which has one of Postmedia's smallest newsrooms, called on the much larger Ottawa Citizen newsroom to help produce a graphic for one of its investigative articles. There is an almost endless list of similar examples.
This environment of collaboration was built by strong leaders committed to creating teams around a national vision. A functional reporting structure — where editors report to a national editorial leader rather than a local publisher, for instance — has helped build loyalty to a national brand.
Repeated communication of an integrated vision by the executive and by regional leaders has reinforced the message. And functional leaders have been reorganising sites so they have parallel infrastructures. That ensures that all sites are working with comparable resources and benchmarking revenues and expenses in a similar fashion.
Cooperation and collaboration are rewarded with resources and recognition. Rivalry and lack of transparency are not.
The night the Ottawa Citizen produced its first Reimagined print edition, Postmedia Chief Operating Officer Wayne Parrish pushed the button to start the presses rolling.
In a newsroom celebration in the wee hours of May 21, Citizen Editor Andrew Potter triumphantly brandished one of the first copies off the presses, while the newly configured Web site came online. Then he thanked his own staff and his colleagues across the country in all departments, many of whom were there to help with the launch.
"There has been a lot of talk about leveraging the power of 'One Newsroom' in this newsroom," he said. "If the experience of the last few months is any indication, that initiative is going to be a huge success."
At Postmedia, the silos were gone long ago. We've by-passed evolution for revolution when it comes to collaboration. And as a result, our complex, multi-site news and information organisation is more inter-connected and united in vision than ever before.
Lucinda Chodan, vice-president/editorial Eastern Region contributed to this blog.