15 March 2015 · By Tilmann Knoll
While attending a recent event, I saw the really dynamic CEO of a media corporation talking about the transformation taking place in the industry. I attended a small discussion group afterward only to learn that he had never heard of the concept of agile working methods.
I was really surprised by that.
At the same time, it is also symptomatic of the fast-paced and demanding changes facing media corporations. Some executives have difficulties keeping up with the developments going on in their own companies.
Along with digital products, agile working methods have also found their way into the news and media business. Programmers work using methods like Scrum, Kanban, or Extreme Programming (XP).
These are nothing new to Internet and software companies and have already been an established part of their development teams' repertoire for around 10 to 15 years now. They go back to the ...
...[more]
---
08 December 2014 · By Steve Buttry
You probably say you want experimentation in your organisation. But what do you do to encourage, enable, and reward experiments? More important, what do you do to punish, discourage, and inhibit risk?
An organisation that doesn't allow failure and embrace risk is never going to succeed at experimentation and innovation.
It's become a buzz phrase, straight out of the Clayton Christensen disruptive-innovation playbook, that we need to learn how to "fail fast." And that's fine as part of a healthy culture of experimentation. But if your company's version of failing fast is killing every experiment before it has a chance to succeed, you are actually ...
...[more]
---
01 December 2014 · By Tilmann Knoll
When transforming a newspaper company and its culture from print to digital, one of the great challenges is to take the people within the organisation along the path of change.
How can we support employees and help them develop the necessary digital skills and understanding?
As in many other media organisations, significant parts of Axel Springer have no need to "transform" because they are already (and always have been) digital. However, there is a large group of employees who have to and want to become experts in the digital world.  
There are certainly many good examples and a high volume of knowledge that companies have already gained here. The experience we have gathered at Axel Springer in this respect is by no means exclusive or exhaustive. However, for the sake of exchange and inspiration, I would like to share ...
...[more]
---
26 October 2014 · By Steve Buttry
When your mother lectured you that "actions speak louder than words," she was giving important advice for culture change.
Top executives of a news organisation can preach and teach and plead and rail about the importance of change, but if the leaders aren't setting an example of change, don't be surprised if change is slow or thwarted entirely.
If "leadership by example" is a cliché, it's also the only kind of leadership that really works. Especially if you hope to lead change.
Earlier this month, I jumped into a conversation about Twitter use at the New York Times, started by a BuzzFeed post on the Times' "Twitter graveyard" and continued in posts by Mathew Ingram and Alex Howard and many more on social media.
My point was that ...
...[more]
---
20 October 2014 · By Tilmann Knoll
The cultural change taking place in news companies is being increasingly fuelled by the need for innovation and well-trained technology experts.
We all need the corresponding specialists from the digital environment in order to manage the digital transformation, and this means programmers, data experts, platform managers, SEO experts, and the like.
At Axel Springer, about 25% of the jobs advertised had an IT or technology focus in 2012, a figure that had already risen to 40% by 2013. We need to address creative talents and digital natives with an entrepreneurial mindset who want to work with us to drive forward the transformation of established media brands and set up a successful digital portfolio.
However, news companies are generally not at the top of the list of potential employers for this target group. This may have to do with the fact that our products are not yet conceived of as technical products.
However, what we need to ask ourselves is whether we are able to offer these young talents the kind of ...
...[more]
---
16 September 2014 · By Steve Buttry
One of the simplest and most effective ways to change an organisation's culture comes hard to many leaders in the news business: Praising successful pursuit of your goals.
When I used to lead my Kindling the Flame workshop for the American Press Institute, I would survey both the leaders attending the workshop and their staffs in advance of the workshop, asking the same questions about the participants' leadership.
Invariably, the widest gap between the scores the leaders gave themselves and the scores their staff members gave was how frequently the leader delivered specific praise to staff members.
On a scale of 1 to 5, the average scores were nearly always a full point or more apart. An editor who delivers a lot of praise might ...
...[more]
---
01 September 2014 · By Lou Clancy
"Just give us the number and we'll make the cuts ourselves."
That was the response we received from Postmedia editors in November 2011 as we prepared another round of budget cuts in the face of continuing revenue declines. It was the easiest and quickest approach, one repeated many times over across our industry and at Postmedia, a company born out of bankruptcy in July 2010.
We also knew it was not a solution but a tourniquet. Revenues were not going to bounce back, and we likely would be facing the same challenge as early as the next quarter. Yet, no one succeeds in chasing the bottom line down.
Nor did this jive with Postmedia's two-pronged strategy to transform into a ...
...[more]
---
28 July 2014 · By Steve Buttry
Don't think you can change your organisation's culture by changing the organisational chart. Action, not structure, changes culture.
You might need to change the org chart to support how you change your work, but always make organisational change secondary to the genuine change, which focuses on action.
In my career, I've endured more reorganisations of a newsroom or a whole media company than I can remember. Whatever the purpose of the reorg and however much planning and work we put into it, I never saw a reorg bring fundamental change.
But I've seen changes in how we worked drive amazing change.
When I came to the Cedar Rapids Gazette in 2008, I wanted the newsroom to use Twitter and other social media effectively in news gathering and promoting our coverage.
The newsroom structure wasn't set up for using social media, but I didn't start there. I started by changing ...
...[more]
---
06 July 2014 · By Wendy Desmarteaux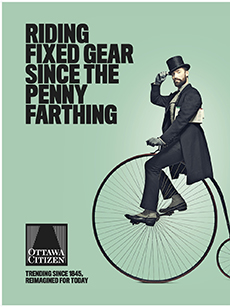 Collaboration is in the DNA of most newsrooms, as you might expect in a deadline-oriented enterprise with multiple journalists pursuing complex stories on tight time frames every day.
But multi-site media companies have traditionally been less successful at working together, both inter-departmentally — between editorial, advertising, and reader sales departments, for instance — and across different properties.
That was something we knew we had to change as we began the work of transforming Postmedia, Canada's largest newspaper-based media company, after its predecessor, Canwest, emerged from creditor protection in 2010.
We realised that collaboration would be particularly vital in a turbulent media landscape, with print revenues sliding and the clock ticking on our ability to reset our company as a digitally focused, multi-platform entity.  
We also knew that, as we reduced the size of our workforce in all departments, our strength would rest ...
...[more]
---
24 June 2014 · By Steve Buttry
Your news organisation probably needs to move further and faster to compete in the mobile market.
I was simultaneously encouraged and frustrated by the American Press Institute's report, "Unlocking mobile revenue and audience." 
I was encouraged because the report provides thoughtful analysis and advice for news organisations interested in pursuing mobile success. I was frustrated because news organisations are even further behind in the mobile market than we were nearly five years ago when I first called for news organisations to adopt a mobile-first strategy. 
Most of the news industry's failure to pursue mobile opportunities aggressively has given Google and Facebook a huge lead. But we're still early in mobile history. Just as Google and Facebook have soared past early online giants such as AOL and Yahoo!, news organisations still have plenty of opportunity to gain mobile revenue and audience.
But you need a dramatic change in your organisation's culture to ...
...[more]
---