Zambia Daily Mail mitigated the challenges of COVID-19 with discounts, e-papers
Conference Blog | 24 November 2020
Zambia has recorded modest COVID-19 infection rates, especially compared to many Western countries. However, the economic shock of the pandemic has been felt widely and deeply. Its relatively open economy with a small public sector has a limited capacity to stabilise the impact.
This has strongly affected many industries in Zambia, with media being one of them. Speaking at the INMA Africa Media Summit, Chiyuka Maseka of Zambia Daily Mail shared how his company has responded to these challenges.
"Revenue and profit forecasts are being drastically reduced," Maseka said. "Eighty-six percent of businesses report their growth plans have been negatively impacted. At Daily Mail, this affected us greatly."
Before COVID, Zambia Daily Mail had several plans in the works including right-sizing and offering radio service. The pandemic changed all that.
The publisher is one of five major newspapers in Zambia. In the last decade, growth in print media has paled in comparison to electronic media. The country has more than 100 radio stations and 40 television stations, Maseka reported.
"The growth of the electronic media has eaten into the market share of the print media, whose business is largely driven by advertising and circulation, which account for about 90% of total revenue," he said.
One thing Zambia Daily Mail enjoys is a commanding national market share in both advertising (56%) and circulation (41%). Maseka credited this to its elaborate business strategy anchored on ICTs.
He shared with INMA members the main effects the pandemic has had on Zambia Daily Mail:
Reduced newspaper pagination, from 28 pre-COVID to 20 currently.

Some notable advertising customers cancelled business accounting for 70% of the company's income.

In circulation, print orders reduced by between 20% and 50%, owing to reduced demand.

Reduction of street sales as a result of lockdown.

Cancellation of orders from clients in the hospitality industry as their businesses closed.

Copy sales reduction as a result of most employees working from home.
The Daily Mail reacted to this with several mitigations that Maseka outlined.
Enhanced e-paper sales
The digital version of Zambia Daily Mail is an exact replica of the print newspaper.
"It had some challenges in terms of customers signing up on their own and also limited options of payment," Maseka said.
The company responded by upgrading the digital edition and app, and designating sales executives and tech experts to drive digital subscriptions and growth. He reported that since these measures were implemented on September 1, the company has seen subscriptions and revenue grow four-fold.
Advertising and subscription discounts
Another initiative that was launched was the offer of 20% discounts on all COVID-related advertising.
For consumers, the Daily Mail ran a promotion offering a special subscription price of K1 for the first 30 days.
"We also enhanced our sales on our social media platforms," Maseka said.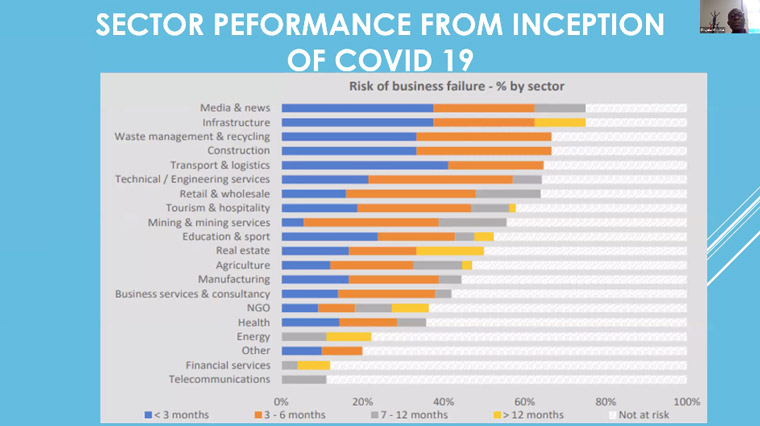 Other initiatives
The company also designated an alternative, off-site printing press to prepare for the possible situation of printing staff being diagnosed with COVID-19. In addition, ICT gadgets were purchased and distributed to key staff members to assist in their remote working from home.
Other measures included:
Increased Internet bandwidth to ensure uninterrupted hosting of virtual meetings.

Implemented health guidelines regarding masks, sanitizing, and social distancing.

Installed employee rotation schedules.

Screening and restrictions of visitors from the offices, and more phone usage (vs. face-to-face).

Encouraged employees to take vacation leave to reduce staff numbers in the workplace.

Required temperature screenings for all visitors and employees.
"In terms of business strategy takeaways during this period and going into 2021, the first one is investing in technology," Maseka said. "The second one is engaging in partnerships with strategic institutions."
This includes partnering with mobile network operators and cost-sharing with other players in the market.
"COVID-19 has clearly changed the media landscape in Zambia," Maseka said. "Innovations and enterprise are therefore the new normal and surest way for survival."