Why Helsingin Sanomat's "The Land of Free Press" campaign resonated with readers, advertisers
Conference Blog | 28 August 2019
"The Land of Free Press" was a campaign produced by Helsingin Sanomat, centered around the July 2018 summit between U.S. President Donald Trump and Russian President Vladimir Putin.
The campaign sparked an international conversation about the role of the free press, reaching more than 1.2 billion people, generating more than 2,500 articles in 47 countries and more than one million social interactions. Google Trends data suggests a massive spike in interest about the free press, and hundreds of news organisations around the world joined an effort to support a free press.
On Wednesday, INMA members were treated to a live Webinar presented by Helsingin Sanomat (HS) about the campaign. Marketing Director Veera Siivonen shared the journey of the campaign, its execution, and the results with the INMA audience.
With both presidents expressing a hostility to media, HS rented more than 300 billboards along three possible presidential routes and projected messages in English and Russian such as, "Mr. President, welcome to the land of free press."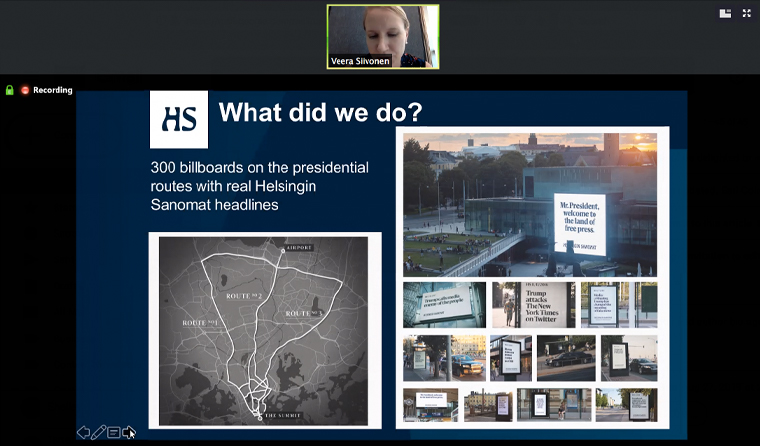 "We translated some real headlines from HS to Russian and English," Siivonen said. "Those headlines were about the problematic relationship with media that these two gentlemen have."
"The Land of Free Press"
The main impetus behind the campaign stemmed from the overall concern that the media organisation holds about free press on a global basis. "The meeting was the perfect opportunity to do something around free press," Siivonen said. "I would always think back that I kind of betrayed our values if we didn't put this forward. It would have been like not being true to what we believe in."
One logistical challenge was apparent from the beginning: The summit was happening in July, and most of the staff was starting summer holiday and was out of the office.
"It felt really scary because since we weren't in the office it's hard to be sure everything is on track," Siivonen said. "But at the same time, it felt like we just have to do it. On the day of the summit, the press about the campaign started very fast spreading everywhere. We got a lot of attention right away for it."
What does it take to do something like this?
Siivonen shared the main criteria she thinks are vital for undertaking such a campaign:
A great idea.
Clear shared values and close cooperation between editorial, commercial, and agency.
Fast decision making and execution.
Courage.
"It was scary, and I admit that I lost some nights' sleep. But I think that's the price you pay if you're doing something that is really valuable," Siivonen added.
What did it change?
After "The Land of the Free Press" campaign, the HS brand index shot up by 33%. "Brand takes longer to evolve, so that is not the only thing to look at, but it did improve, that is clear," Siivonen said.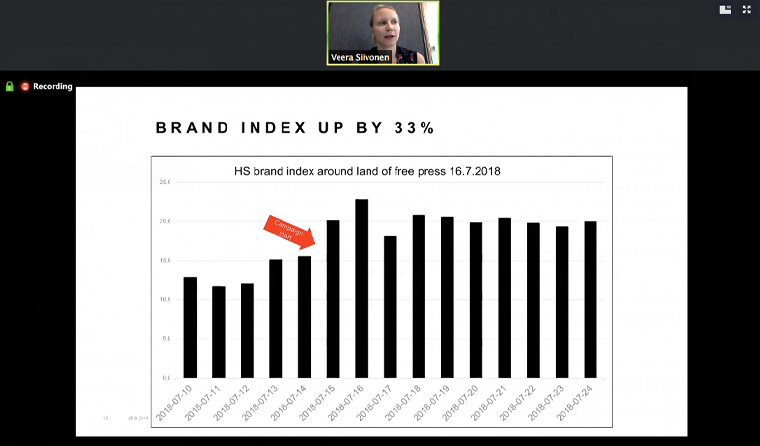 HS also garnered 18% more subscribers that summer over the previous year, and the growth has continued since then.
When it came to media sales, the company beat the trend by 10%. It was a boost to media sales motivation and brand value in advertisers' eyes. "In media sales we noticed that our people were so motivated by what we did, that they were so proud of working for the company," Siivonen said. "We got a clear uplift in the media sales, and it continued also for quite long. It was a shift because before that, it was much more negative. And after the campaign, it exceeded expectations."
Siivonen is most proud of the fact that these benefits resulted even though the campaign wasn't created to improve short-term business targets. They did it because it was something they believe in and felt they had to do.
What happened afterward was that Finland moved up two places to become ranked second in the World Press Freedom Index. "One of the reasons mentioned was our campaign," Siivonen said. "For me, what I'm so proud of is that they thought Finland is a very free country because we do campaigns like this."
HS has also won many awards for the campaign, including the INMA Global Media Awards competition's 2019 "Best in Show" and Cannes Lions, among others.
As far as long-term internal results within the company, the campaign changed HS because it forced the team to step up and expect more of themselves than they did before, she said. "After we did it, there was kind of no way going back to the previous world," she said. "For me, it means that it's clear we have to do things that show we really believe in our values, that they really are important to us. And we have more courage to do things like this because it has shown that it pays off."
What's next?
On September 23, HS will address Finnish politicians at the UN Climate Action Summit with a reminder about free press. "Land of the Free Press is something that we're really proud of, and we felt that there are also other things in the world that also need attention and that we should continue these kinds of things," Siivonen concluded.
Q&A
INMA: What was the reaction at home and with other media?
Siivonen: Overall, the response in Finland was great. Our colleagues in other media, the feeling was that everyone was just proud. We treated both leaders with respect. There were no protests or anything. We would have been overly polite to these gentlemen, but we wanted to show them that we also have opinions here. That's something I think our colleagues were proud of. It showed Finland in a democratic light.
INMA: The underlying message seems to be that telling people about your values seems to be striking a chord with readers. Do you think news media needs to do more communication on this?
Siivonen: I do think so. I think we have to do two kinds of messages. On one hand, we have to tell people why it's good that we exist and why it's important that news media is in the world. Values and principles. At the same time, we have to show the readers personal value of the reading — why it's enjoyable and has value for them personally. I think especially for the younger generation, these kinds of values and being really honest about them, showing and demonstrating that in real actions is very important.
INMA: We have witnessed gagging orders in the past. How can media raise the same voice in other parts of the world (where media and free press is a different environment)?
Siivonen: In general, I think we should partner with each other. For example, there are a couple of global days where we should join forces and do some things together. If you're interested in doing something together with us, we are definitely interested in doing things in other countries.
INMA: How many people are normally involved in getting a campaign like this together, internally?
Siivonen: The core team for the two weeks was three people and then the decision makers were basically two people. Also, during the project the core team had discussions with different people at different stages.
INMA: Did you get any bad impact or feedback from the campaign at all?
Siivonen: The people that are typically always complaining about us in social media were the ones who were negative about this. But they are the people who are complaining about the same things all the time.