Why customer value nurturing is key to digital subscriber success
Conference Blog | 12 December 2018
Based on a year-long study of media subscription strategies all over the world, INMA's Researcher-in-Residence Grzegorz Piechota of Oxford University collected the best practices in news subscriber marketing. From this research, he developed practical frameworks for publishers to plan their value nurturing efforts.
In an exclusive INMA Webinar, participants gained a better understanding of customer value nurturing and ready-to-use ideas to grow their business by turning visitors into customers, and customers into advocates, referrers, and contributors.
The conversation about customer value nurturing opened with a look at non-news subscription platforms. One of the conundrums of the subscription model is how companies such as Netflix, Spotify, and Amazon are able to convert at a rate of 45% or more, while everyone else does so at around 2%. This is in spite of the fact that much of their content isn't even exclusive to them, which is in direct contrast to most news publishers.
Some of the answers lie in what customers look to different types of industries and companies for, as well as how companies differentiate themselves through brand positioning or segmentation.
The first step to differentiation is to focus on direct visits; news sites that see more direct visits enjoy more loyal visits, Piechota said. Taking a look at content portfolio is another step — manage versus marketing objectives, or focusing on the impact of engaging existing subscribers versus attracting new ones.
But one of the most effective ways of hitting subscription success lies in nurturing the value of the customer relationship.
In his extensive research across more than 30 countries, Piechota asked customers about the primary reasons they subscribe to the newspapers. When he asked the media companies to guess what those answers are, they often talked about the originality of their content and similar answers. But the No. 1 response that the customers' themselves gave was about convenience.
"Perhaps user experience is one of the most undervalued and underappreciated attributes of being successful with media subscriptions," Piechota told Webinar attendees. "And obviously, when you think about Netflix and Spotify and the larger companies, their user experience is obviously superior."
Value nurturing
"We know that people who are going to subscribe are actually people who are behaving differently from others," Piechota said. "The strongest predictors were average time on a page and average page views."
Usage drives purchase: The more people read, the more likely they are to become subscribers. The top three behavioural variables for subscribing are:
Average active time on a page.
Number of page views.
Number of active days.
"These variables seem to be more important than other variables," Piechota said. "The usage drives purchase — and this is a big learning for news — but I can tell you that based on the examples of, say Netflix, it is exactly the same. Based on the studies of Spotify, it is exactly the same. These seem to be very universal variables for propensity to buy."
Pillars of news engagement: Driving frequency, depth, breadth
Engagement funnels are primarily focused on driving usage, Piechota shared. They are focused on driving frequency first, followed by depth (page views), and at the bottom of the funnel, driving increased breadth (more topics and sections viewed). The more engaged a reader is, the more likely he/she is to subscribe.
"But what happens next?" Piechota asked. "The subscriber journey doesn't end with the purchase." He went back to the example of Netflix. "Subscribing to Netflix is not the end — it's the start."
That inspired Piechota to think about how the post-purchase journey for media subscriptions should look, once they go from first-time customers to repeat customers. "We understand that behavioural loyalty such as frequency is not enough. Qe want to establish attitudinal loyalty. We want them to feel great with us."
From that idea, Piechota developed a new funnel for the post-purchase journey that includes the following steps and touchpoints:
Trial subscribers: Welcome them, set a vision of success, introduce them to the experience, and secure early wins.
Subscribers: Help create new habits, demonstrate value, and monitor health.
Engaged subscribers: Create communities, facilitate contributions, and reward advocacy.
Members: Provide value beyond the product, reward loyalty, provide upsell and cross-sell opportunities.
Putting it into practice
How does this actually look in practice? Piechota conducted a mystery shopper study of 10 nationwide news sites in Australia, United Kingdom, and the United States, using three subscriber personas. The goal of this was to see what the customer experience of these three distinct personas was over 87 days.
"One big finding was that publishers don't really seem to be very much focused on monitoring health of the relationship after somebody subscribed," Piechota reported. A part of the test was having a "subscriber" become a sleeper — after a period of intensive reading, then suddenly stopping their activity with the news site.
Only one publication even noticed this change in customer behaviour — the Financial Times.
"We know from all the studies that this is the biggest signal that somebody is going to churn," Piechota said. "A drop in usage will eventually end up with a cancelling of the subscription."
In this test case, the Financial Times reached out to the sleeper subscriber with an e-mail to "wake up" the reader. The other publishers did not even notice that the subscriber persona had stopped engaging.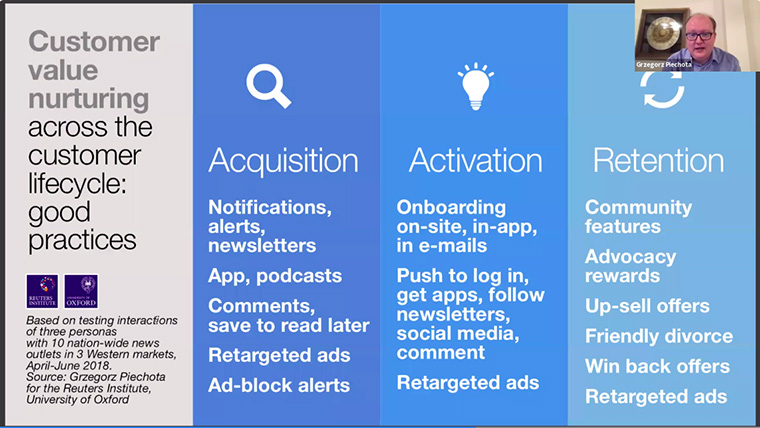 The study allowed Piechota to identify several best practices in customer value nurturing across the lifecycle that the publishers were putting into place.
During the acquisition stage: notifications, alerts, newsletters, apps, podcasts, comments, saving to read later, ad-block alerts, and retargeted ads (this last is across all three stages).
During the activation stage: onboarding on-site, in-app, and in e-mails; pushing the subscriber to log in, download apps, follow newsletters or social media channels, and to comment.
During the retention stage: Community features, advocacy rewards, up-sell offers, friendly divorce, and win-back offers.
User experience
Piechota circled back to the topic of convenience — that reason that most subscribers gave in research polls for the main motivation for subscribing. They like being able to access news wherever they are, from any device such as their smartphone or tablet. But what does convenience really mean?
"All over the world, we see that basically smartphones are becoming the primary device for news," Piechota said. "People want to access news via their smartphones — so what is the experience?"
The typical experience of accessing news sites without a subscription is a mess, rife with advertisements, blockers, and prompts. "Basically, we want people to pay for a better experience."
As an example, he pointed to the historic offer made by The New York Times in 2011, allowing readers to choose from several packages that were differentiated by access to devices. The Times thought tablet users might be willing to pay more; and they were right — for the time, Piechota noted.
"But now it's 2018 and still, 93% of publishers are differentiating packages by distribution device, making it harder for people who want to use mobile devices to get a great user experience."
By contrast, going back to Netflix, the company offers viewing on any type of device as a standard option with all subscription packages. In fact, Netflix actually markets that as a selling point in an ad that states: "Great content is not married to any device."
Following suit, The New York Times now offers plans across all devices.
Personalisation
This is a major part of user experience, and one that people love. Having personalised recommendations and news feeds specific to themselves is a very important feature to mobile users today.
"People are crazy about it. They feel they are the owners of it," Piechota said. "So if you don't provide these kinds of experiences, you're perhaps doing very badly."
Two features of this are especially important: multi-user accounts, and sharing — both of which are intrinsic to personalisation and ownership.
When a user goes to a subscription site, generally there is a window of 60 to 90 seconds that the publisher or service has to engage with them and have them commit to reading a story or watching a movie.
"If you haven't won this visit, you're done," Piechota said of the window. "What can we show on these first screens to make people stay? What Netflix has found is that they actually need to show personalised recommendations."
Piechota believes that this strategy is a very important learning tool for news publishers. Likewise, social activity on a Web site drives content consumption and a willingness to pay for the service. Social engagement, however, doesn't just mean sending customers to a Facebook page. It means letting users contribute, refer, share, and add value. It also means publishers need to engage and actively curate their networks.
The ability of a subscriber to share a piece of paid, premium content with a friend — who is not a subscriber — is one of the most valuable tools publishers have. For that customer to be able to share an article with a non-subscriber, because they "own" the content they have paid for, is a huge benefit; in fact, Piechota has found it to be one of the most highly rated features subscribers are willing to pay for.
It has huge benefits for the publishers as well, because the original subscriber is basically referring a potential new subscriber to them. "These qualified leads are much more likely to convert than any other leads you are getting," Piechota said. "So this is a great viral marketing mechanic as well."
Takeaways
"From my perspective, this is what is absolutely key," Piechota concluded:
The customer journey doesn't stop with the purchase — it starts.
Differentiate your brand and product from all the free alternatives.
Demonstrate value with a great user experience across devices, personalised discovery, and social features.
"We know that customers that are retained are more profitable, and they also stay for longer," Piechota said.
INMA will release a strategic report by Piechota next week on this topic.