The 5-year outlook for legacy media companies
Conference Blog | 19 October 2015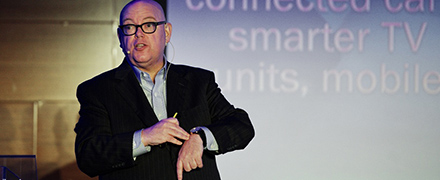 As exponential technological advancement destroys old values in industry after industry, legacy news publishers find themselves frantically transforming toward an end game few understand, Earl Wilkinson, executive director/CEO at INMA, explained to delegates at the
INMA European News Media Conference
in Budapest on Monday.
Wilkinson discussed how the quest to become digital is leading legacy and upstart publishers, how the industry looks globally, and the surprising value propositions for media companies. 
Comparing legacy and digital media to two ends of a rope, burning towards each other, Wilkinson explained how the two medias have different approaches. For example, journalism is a goal of traditional media, while for digital media it's only a mean to reach another goal — engagement.
Every media house has a transformation strategy. But the world of transformation and reality differ, Wilkinson said. There are balancing two business models (digital and traditional), and transformation translates into exactly how to balance the two.
Wilkinson outlined the reasons for transformation:


Trends point into one direction — digital.


Consumer ecosystem is going digital.


Readers are on the move: print-desktop-tablet-smartphone. 


Advertisers chase readers wherever they go. 
Today, 95% of legacy publishers today are still print-first. Transformation should be done in the correct order: first culture, than audience, and finally revenue, according to Wilkinson.
What changes during transformation is the value proposition. Wilkinson suggests asking yourself one question: If your company would die tomorrow, would the society become any poorer because of that?
Wilkinson also discussed the five factors of real value:


Brand.


Local.


Growth story (mobile allows you to tell it).


Transformation story.


Influence. 
By loooking at stories from The New York Times, The Wall Street Journal, Financial Times, or The Economist, there is one thing that helps to sell the content: the brand.
Media should be honest about their market relationships, Wilkinson said. In years past, half of the value proposition was non-content (crosswords, puzzles, and so on). At the same time, the response now is less content at a higher price.
Technology trends are also important in the transformation process. They include:


Connectivity.


Personal data center.


Access vs. ownership.


Proliferation of screens as devices proliferate. 
What technology trends mean for media is: mobility (media give an out-of-home experience), simplifying and clarifying the signal amid the noise, and shift of mindsets towards the subscriptions (bad for iTunes, good for Spotify and Netflix).
There is an emerging role of Big Data that can be seen among the publishers. What it means in 2015, according to Wilkinson, is:
A big impact on culture, strategy, and personnel foundations.


ROI: engagement, revenue, better business outcomes.


"Math Men"  replacing "Mad Men" at media companies.


Success tied to programmatic, mobile, and paywalls.
And data is the middle of the burning rope.
Mobile is also a huge shift in transformation, especially for consumers:


Addiction to mobile devices = jolt of dopamine.


The average person checks mobile 150+ times a day.


66% of mobile users engage on mobile device.


2%-5% of time spent with mobile is news. 
Here's what to watch next with mobile, according to Wilkinson: 
Growth rates in non-voice mobile usage.


Shifting in advertising categories.


Proliferation of ad formats, geo-location.


What drives higher CPMs.


Keep an eye on Quartz, VICE, Vox.


Programmatic growth. While only US$4.24 billion was spent on programmatic in 2013, it will reach US$20.41 billions in 2016, Wilkinson said, quoting eMarketer. 
Wilkinson mentioned Schibsted as a company to watch as a strong example of transformation, comparing it to a middle of the burning rope. This is Schibsted's future in the coming months:
Digital transformation will accelerate faster.


Its Web site is changing from anonymous to identified; log-in will be crucial.


Traffic, data new currencies that will accelerate with wearable and internet of things.


More data = better, more relevant, and personalised services. 
The most important cornerstones for Schibsted are advanced data analytics, customer insights, payment services, tech platforms, organisation, and competence, Wilkinson said.
VG, Aftonbladet, and Aftenposten have re-imagined themselves as digital media houses. They are not newspapers anymore, Wilkinson said. Print circulation will continue to decline, he predicted, and the aspiration of success media companies will be to transfer their brand soul to mobile and video bodies.
In conclusion, Wilkinson again mentioned the legacy and digital media as two sides of a burning rope with different goals. For legacy media main questions are: How to preserve enough print audience and advertising? How to capture new digital audiences and advertising? And how to preserve today's newsroom scale?
Digital focus is at a different end: to grow audience at all cost, to create new quality editorial environments, and to become innovators and disruptors for ad revenue.
Those two burning ends of a rope have to meet somewhere in the middle, Wilkinson said. So the priorities for news publishers are to:
Keep up with rapidly changing news consumption habits.


Leverage data to grow audiences and revenue.


Compete in programmatic advertising environment.


Diversify revenue beyond print and digital.