Sunday Times editor reflects on the future of journalism
Conference Blog | 13 January 2021
Emma Tucker, editor of The Sunday Times, has a unique view on the industry from her perspective in the London newsroom. Almost exactly a year into the job, Tucker spent some time with INMA members on Wednesday during an exclusive Webinar.
Here's what she shared.
What does transformation mean to you?
"What transformation means for journalists, and journalism, is having to be much more responsive to your readers," Tucker responded. "Up until the digital revolution, you were measured by circulation and ad revenue — and frankly, your editor was always right. You weren't as close to your readers as we are now.
"We're particularly lucky here because we went behind the paywall a good 10 years ago. We have an incredible body of data around our readers, and that allows us to know a lot about them. And that allows a much more responsive relationship with them. It's much more of a dialogue than it used to be."
It has definitely changed the role of the newsroom, and Tucker said those changes have almost certainly been for the better. She noted two main transformative changes, the first being increased competition forcing news media companies to raise their game and establish a high level of trust with readers.
"You can't afford to squander your trust in any way whatsoever," she said. "All those good values that came from print journalism, we still have to be aware of."
The second major change is talent: "The skillset required of a journalist these days is much more than being able to write a news story." Today's journalists must know video and multi-media storytelling, SEO, data, etc.
"There's a lot more responsibility lying on one person's shoulders."
How is your newsroom structured?
"We don't have print journalists and digital journalists," Tucker said. "Everybody does everything, for all the platforms. We don't set individual targets, but we do expect them to be sort of across the data and I talk to them endlessly about engagement."
Times content is largely measured by reader engagement, so this metric is paramount.
"We need to know that we're giving subscribers what they want so they are less likely to churn."
She added that when journalists first started looking at reader data, there was a lot of excitement around what stories generated subscriptions — but though some content results in a lot of subscriptions, those don't always stick.
"What I'm always saying to the newsroom is you concentrate on keeping the subscribers happy, and let marketing chase after the subscriptions."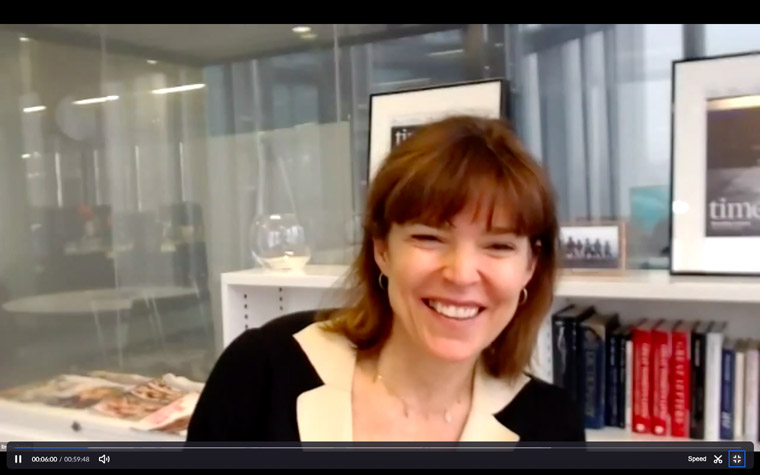 If you had a crystal ball to see the future of journalism, what do you think that would look like?
Newspapers today are more commercially minded than they used to be, out of necessity. Silos within media organisations have largely broken down, and Tucker sees those trends continuing in the near future.
"I think [the future] will both look incredibly different and very familiar," she said. "What we do, in terms of independent journalism, won't change. How it's serviced is going to look different, and I think how it's funded as well is also going to be different. This is where COVID might accelerate these changes."
Pre-COVID, print revenue at legacy news organisations still dominated. Post-COVID, however, will be a different story.
"There's no sign that print revenue is going to come back to where it was, and so all those imperatives to change and adopt new models are there, and they're pressing in on us. I think COVID may well have accelerated that."
How do you convince print journalists to embrace digital?
"What you need to do is start talking about data," Tucker said. "You need to start giving regular data feedback, and I think you need to show those print journalists that you're looking at the data to see how successful their journalism is. Getting people used to the idea that if they play their cards right, if they listen to the digital teams, if they think about social and search — a piece that might once have just been read by your print readers could end up going all over the world. Every journalist likes to think they're being read."
Tucker added that she understands the challenges in making that type of cultural change: "The gravitational pull of print for a legacy news publisher like ours is immense. It's sort of two steps forward, one step back. Old habits die hard."
How has advertising changed?
Sponsored or native content and advertorials are part of the digital transformation, and Tucker is fine with that. In fact, advertising sponsors have always been part of the legacy print newspaper, so in a way it's nothing new. The main thing is, do the readers understand that the content is sponsored? Is that transparent?
"I think it's the same for digital. As long as the reader knows where they are, as long as everything is clearly labelled, then the same principles apply."
How does the need for revenue diversification affect your world?
"Times Radio is an exciting new development," Tucker responded. "It's brilliant branding for us. Because we've always had such a strict paywall, finding those audiences has been difficult. Times Radio is great for that, it's very effective. People listening to Times Radio are a slightly younger demographic."
As she mentioned before, journalists are called upon to do a lot more things than they used to.
"One thing that's been really interesting is how good most of our journalists are on the radio," she said. "It's a multi-talented, cross-platform bunch that we're dealing with now."
The team is also looking into ways in which they can use Artificial Intelligence in the newsroom, in data reporting, and for fact checking. 
Did you make any mistakes last year, given the uncertainty, and how will that change your approach to the coming year?
When the health editor first came to her with a story from an epidemiologist about COVID-19, and the possibility of 100,000 deaths, Tucker said she thought that sounded preposterous. She was cautious about overstating the virus.
"We didn't put that in the headline. This must have been February, before the reality of what had hit us had really sunk in."
Now, of course, that number has proven an accurate estimate.
"Of course, we've made mistakes," Tucker continued. "I think it was really difficult with this pandemic. None of us really knew."