Stories format: Next social wave for audience engagement
Conference Blog | 15 August 2018
With the Stories format predicted by some to become more dominant on social platforms in the next year, INMA took a deep dive in with two specialists who explained the best practices in execution and which news companies are leading the way. 
On Wednesday, INMA hosted a live Webinar delving into the Stories format, presented by Yusuf Omar and Sumaiya Omar, founders of Hashtag Our Stories. They are also the authors of the INMA report, Stories Format: News Media's Next Social Opportunity, which looks at how to discover and capitalise on user-generated content, how to produce your own Stories, and how to optimise social platforms (and is free for INMA members).
"If you are not thinking about the Stories format, if you are not working on how your news organisation can utilise this format, you are effectively rapidly, rapidly falling behind," Yusuf Omar said.
Snapchat established the Stories format a few years ago as a short platform to share photos and videos, which would disappear afterward. It rapidly became something much more than that, as Omar pointed out. Now, Facebook, Instagram, and WhatsApp have adopted the Stories format as well.
"It has become a way that people communicate," Omar said. "Young people don't just use their cameras to save memories or beautiful pictures anymore; we use it to tell stories, to communicate."
Consider these statistics of the Stories audience:
WhatsApp: 450 million Stories users.
Facebook: 150 million Stories users.
Instagram: 300 million Stories users.
"The Stories format is on a path to surpass feeds as the primary way people share things with their friends sometime next year," Chris Cox, Facebook chief product officer, said at the company's recent F8 developer conference.
In fact, the Webinar was held on Facebook Live, at the Hashtag Our Stories Facebook Page.
"It's not just a sidebar to the Internet," Omar said about the Stories platform. "It's not just a sidebar to social media. Those little round circles on the top of your social media feed are becoming social media. They're becoming the way we talk, and that's why it's so important to stop looking at Snapchat and Instagram Stories as some ephemeral means of young people sharing nudies — but actually as a primary form of communication."
Stories as a breaking news source
"It starts with discovery," Omar said. "When we think of big, breaking news stories, we often go to Twitter, maybe to Google or to Facebook to find that big, breaking story."
However, the downside to this is that it is labourious, often requiring lots of typing on a Qwerty keyboard. It's text to visual. By contrast, the Stories format is a visual-to-visual canvas, using images to find more images. Omar suggested that media companies consider the potential of using map technology, such as SnapMap, to find where the breaking news stories are happening.
"It's a real-time view of the world, and people that are sharing Stories are making them public around a specific area," Omar said.
Since the 9/11 terrorist attack on the United States, more breaking news has been distributed through the mobile phones of regular citizens. And the trust factor is high: When multiple people are broadcasting live at a particular event through their phones, viewers can trust the event that is unfolding before them.
Omar also mentioned the ability for journalists and editors to use SnapMap features to fact check — that the information being broadcast is actually coming from that location — as well as using image recognition to verify information.
"Of course the role of journalists can't be underestimated," Omar said. "We need journalists and media and editors to help make sense of all this user-generated content. The future of newsrooms looks like a God's-eye view of the world."
When it comes to breaking news and stories, Hashtag Our Stories has found that Instagram is a better platform at the moment, in terms of audience size and the ability to click on individual users and get in touch with them.
Stories publishing
"We're moving beyond just looking at how people at home can hold the red button for two seconds and create stories, but how publishers can create stories," Omar said. "We're going to be looking at a host of ways in which television stations, newspaper companies, and radio stations can use Stories."
Sumaiya Omar jumped in to discuss the first of several example case studies: Los Angeles County Museum of Art (LACMA), which won a Webby Award for its Snapchat channel.
"You wouldn't really expect them to have a good Snapchat presence, but they have an amazing Snapchat presence," Sumaiya Omar said. "They basically take their artwork, and they use really relatable Millennial terms and phrases, and it does really well on social. A lot of this format is about the language that's used — the language of the audience. Snapchat, for example, the average ages are between 13 and 24."
"Really, that speaks to voice," Yusuf Omar said. "They've identified what the Snapchat kind of voice is, and they're able to communicate that voice — yet dealing with established, few-hundred-year-old pictures. If they can do it, I think you guys can find innovative and creative ways to do it."
The New York Times uses Stories to showcase its long-form content in a unique way to their 3.9 million Instagram followers.
"It's not easy to do," Sumaiya said. "They have a reputation of being amazing on long-form content, and they have a big brand presence. It's definitely something we can learn from if we want to do long-form pieces."
The New York Times is able to maintain its voice and brand presence doing Stories in this way. 
The BBC has chosen Instagram Stories over Snapchat as its preferred platform. The BBC produced an opinion piece looking at the ethics around fox hunting on Instagram Stories, which Yusuf featured on the Webinar. BBC combined the use of video and reporting, as well as boomerang and graphics, for the Stories piece.
Sumaiya spoke about repurposing content across different social platforms. Media companies need to keep in mind that the audience for various platforms may be different, so they want to use the tools available for each specific platform when cross-posting.
"You want your content to look as authentic and native as possible," she said. "There are tools and things you can use [on each one] that are already built into each platform to make it look as native as possible."
That often means looking beyond the gimmicks, Yusuf said. Snapchat, for example, does well with explainer style journalism in a question-and-answer format.
"I really like that, I think it's cool and sustainable," he said. "Personalities play a really big part when it comes to this." Audiences respond so well to this format because it's very visual, and personality-driven.
Stories engagement
The Stories format is also far more engaging; the audience is in control of clicking the screen to scroll forward or back.
Authenticity is important in the Stories space. Yusuf said that with traditional video and television, audiences aren't directly engaged. But with Stories format on the phone, it's more real and raw, with a sense of authenticity. The audience is leaning in and being a part of it. It's one of the most immediate ways to tell a story.
The Guardian is another example of a publisher that has chosen Instagram as its Stories channel of choice to create and publish engaging content. The news media company even created an Instagram Story on how the actual newspaper is printed.
One of The Guardian's most-viewed Instagram Stories featured a young woman named Rania, who documented her journey escaping Syria — from packing her belongings and surviving a treacherous boat ride to living in a tent in Greece to her arrest in Austria, where she is now seeking asylum.
One important aspect of Stories and social media reporting is the level of trust that publishers need to empower their storytellers with, which is great.
"This form of deploying a reporter on the ground, who will be filing in the Stories format immediately is fantastic — real-time storytelling, the closest thing to live," Yusuf Omar said. "They are effectively publishing directly to the social platforms, so you need to trust your storytellers. Of course, ethics remain the same whether you're going to say it on Stories, Instagram, Snapchat, or Facebook. You should be willing to write it on the front page of the newspaper."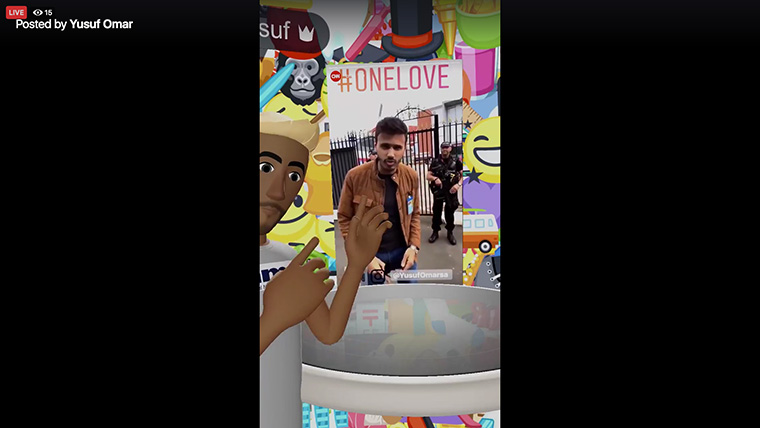 They are now seeing publishers develop shows specifically for Stories. These have high production value, are very clickable, vertical, and interactive. You can take any interview and turn it into this, Yusuf said:
"Creating formats that are engaging the thumb, making people want to click ahead or click back, fill out polls, screenshot and colour in things, engage with a reporter, send direct messages — these are all really important forms of engagement. I'm obsessed with it. I think it's a major advancement."
Monetisation
Along with this high engagement, the monetisation opportunities are also greater, Yusuf said: "I think the Stories format is easier to monetise than anything else we've had to date. Because they're made up in 10 or 15 second chunks … the Stories format, by its very nature, has breaks built into it. So if you can build vertical ads that look and feel just as good as the Stories, I think it's much easier to monetise without being intrusive. I think there are a lot of ways to monetise this space."
Other opportunities exist with marketplaces to sell products in the space and revenue-sharing from platforms themselves.
"It's a huge audience for the Stories format," Yusuf concluded. "Huge and highly engaged. We find that referral traffic from Stories to Web sites is often far higher than from Twitter or Facebook. People are highly engaged, they swipe up, they go to your site."