Schibsted drives digital subscription growth with podcasts
Conference Blog | 08 September 2021
At Oslo-based Schibsted, podcasts are an important value driver for digital subscription growth. In a Webinar for INMA members on Wednesday, Tor Jacobsen, senior vice president for consumer and subscriptions at Schibsted, led members through the subscription journey at his company, sharing how podcasts fit into it.
Schibsted launched its first paid content service in 2003, Aftonbladet+, though it took a decade for other offerings to follow. These paid content products are still in their early days, Jacobsen explained, when held against their 100 years of print history.
Out of the company's 1,450,000 total subscriptions across all its brands, 960,000 of that is digital subscriptions.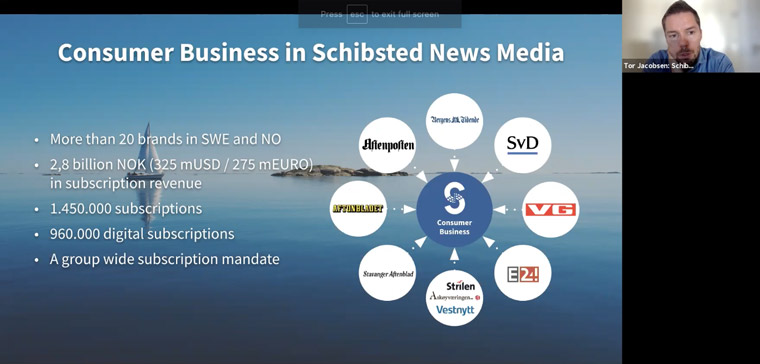 "We think the brands are the most important," Jacobsen said. "The customers have a relationship with the brand, not Schibsted."
He pointed out that Schibsted's main markets of Norway and Sweden are some of the most mature markets in the world in terms of the share of people who have paid for online news in the past year: 45% in Norway and 30% in Sweden.
"All these drivers make the market very good here, and also the players here — like Schibsted but also our competitors — have pushed the paid market going forward the last four or five years," he said.
The growing digital subscriptions market
The market for digital subscriptions is booming, Jacobsen said, and are developing with new models and subscription layers. A number of diverse companies are prime examples of the potential:
Tesla is launching subscriptions for autonomous driving, starting with two product tiers of functionality.

Spotify is piloting "Spotify Plus," a new low-cost subscription that combines elements of its existing free and premium tiers.

YouTube is testing "Premium Lite," a more affordable subscription tier for the video channel that offers ad-free viewing without the other premium features.

The New York Times continues to grow, reaching 7.1 million digital subscriptions in the second quarter of 2021, with 25% of these coming from cooking and games.

Amazon and Apple are also examples of this huge growth.
"It's kind of a global mega-trend of [digital] subscriptions," Jacobsen said.
Schibsted has seen high growth in digital subscriptions — up 33% over the period of 2016 to 2020 to a total of approximately US$120 million per year. Jacobsen did point out that those levels are easing off slightly from the COVID-19 boost they experienced.
He attributed several things as drivers for this growth:
Schibsted has one consumer team across its brands.

The company invests in data and analytics.

There is collaboration between editorial, consumer business, and product/tech.

They constantly work on improving their paid products.

There is also continued development of the business model.

The entire company has a mindshift towards digital subscriptions.
The user subscription journey
One aspect that makes Schibsted's digital subscriptions growth so successful is its focus on the customer experience. With its different brands, the company has a personalised onboarding journey. Jacobsen shared what this journey at Aftenposten looks like as an example.
This journey triggers important retention-boosting actions for customers throughout. For example, it allows the user to share their subscription with more than one person. This "share your subscription" feature is communicated through various channels including onboarding e-mails, touchpoints within the product, and the conversion flow after sign-up.
Schibsted also makes continued investments in content and business development, which drives user engagement and new sales. Some of these include:
Sports subscriptions.

Local coverage.

Entertainment for young audiences.

Going deeper in brand-specific niches.

Podcast strategy.
Jacobsen shared some of the Schibsted team's key beliefs that are vital for digital subscription growth:
Growing the number of subscribers should be a main strategic focus for the company.

They need to expand their portfolio of subscription products.

They should move towards a more flexible and intertwined product portfolio, and sales strategies must be developed accordingly.

They need to improve UX and create larger stored value in the subscription products to improve loyalty.

Close cooperation in the golden triangle of editorial, product/tech, and consumer business is vital for success.

They need more specialised competence and more collaboration across brands, to face the complex competitive environment.
Where will future growth come from?
The Schibsted team believes the market will change a little, Jacobsen said.
"Now, almost all our growth has come from existing brands [and products]. We have also increased the price a little bit. Going forward, we still think there's a lot of growth from those main brands, but we need to add new dimensions."
Future growth will be driven more by new products and product combinations. In the future, a large subscriber base and common data will allow a subscription ecosystem approach — where all products are on one platform — to maximise CLV across Schibsted products.
"Say we have two million subscribers. We can use that total subscription base to offer products and services which are relevant to that customer," Jacobsen explained.
This is the opposite of how they do it today, where they focus on pushing the individual brands to customers, not the Schibsted product line as a whole. This shift will require partners, as the team realises they can't do it all themselves. But the result will be a wide, flexible, and intertwined Schibsted product portfolio.
They have a lofty ambition: By 2023, they want to offer 20 new subscription services, reach two million subscribers, and US$3 billion in subscription revenue.
PodMe: The Schibsted podcast product
So how does all this relate to Schibsted's podcast strategy?
The company has done a lot with podcasts over the past few years, including paid content offerings. About two years ago, Schibsted started buying into PodMe, and now they own about 91% of shares in that company.
PodMe is an app developed in Sweden that offers a subscription-only podcast service with no ads, as well as a lot of content exclusive only to PodMe. The reason for this investment is that the podcast market is changing. Acquisitions of production units, exclusive content deals, and new podcast subscription offerings are some of these changes.
Free versions of podcasts are good for reach and brand-building, Jacobsen explained, but they aren't good for bringing in revenue.
"Really, to earn money we think subscriptions are a way forward," he said, adding that Schibsted believes it can compete in the podcast subscription market, even with strong global competition.
One reason for that is their sports rights, which are very expensive, and also a very popular topic across the globe. 
"We have some really great positions — every day we are within reach of 80 to 90% of Norwegians and Swedes," Jacobsen said. "We have a lot of important profiles and a lot of podcasts that are famous now. We are local, and we think the local part is super important. And then we have almost 1.5 million subscribers across Norway and Sweden that we can push all this out to."
The Schibsted strategy is to create a strong podcast market together, across all the company's brands. This will offer a greater opportunity to succeed.
"We have a lot of different podcasts. How can we maximise their possibility to succeed? And what do we really want? Do we want to be 'pretty strong,' or do we want to take the number one position in the market?" Jacobsen posed. 
The team thinks content is king, he added, therefore they need to create one platform that can bring all the content across Schibsted brands together. To do this with platforms, the team believes it needs an app. The solution was PodMe.
"Then we can create bundles with all the brands," Jacobsen said. 
They started in Norway and Sweden, using their already-strong portfolio of content as a starting point and  building on that with a recruitment of major podcast personalities. PodMe recently launched in Finland as well. The PodMe subscription can be bought stand-alone,or bundled with the Schibsted news media brand.
 "So now we are in three countries," he said. "[PodMe] is a new market. We don't know yet ... it may be that we are wrong. But we really believe in the local presence and the local content. It's so important. We believe in the distribution power, and we believe this market will turn to a subscription product, at least in the Nordics."