Right metrics, teams are the foundation of digital engagement strategy
Conference Blog | 27 September 2021
While content is the consumer-facing aspect of a digital engagement strategy, a well-planned foundation is key. During the Digital Reader Engagement Master Class in September, five news media companies shared insights into two key internal strategies crucial for success: measuring the right metrics and building strong teams.
When it comes to understanding readers' digital habits, certain metrics can help publishers better understand their audiences and find ways to keep them more engaged which, in turn, leads to retention.
Not surprisingly, subscribers are more engaged than anonymous users, said Patrick Appel, director of research for Piano. In fact, Piano's research shows that they engage as much as 45 times more than anonymous users. However, recent trends also show a decline among subscriber engagement.
"The way we interpret this is something of a coming back to earth after what has been one of the most intense news cycles any of us has ever lived in," Appel said.
The solution to that engagement problem, he said, is to improve the user experience. This is where machine learning can be useful, particularly when layered with other algorithms to help users find the content and experience they're searching for.
The Guardian
The Guardian has provided editors with tools to help them better understand reader engagement, Chris Moran, head of editorial innovation, said.
Guardian created a performance dashboard of individual articles, which includes pageviews and average attention time, as well as a rating of 1-10 to show where it stands in relation to other content.
These tools allow the editors to choose what they write about, while knowing what factors affect engagement from readers. Editors can also see a list of articles with easy to read data and can search by topic or a specific tag.
"While these numbers don't measure the quality of their journalism, they should be an absolutely crucial part of our daily editorial work," Moran said.
MediaNews Group
Metrics are a significant part of measuring the success of MediaNews Group's ever-evolving newsletter strategy. Dan Petty, the group's digital director of audience development, said that while no metric is perfect, he likes to measure click referrals.
"Clicks give you a sense of how well you're doing with engagement," Petty said. "Yes, people are getting the e-mail. Yes, they are opening it. Not only are they opening it, but they found something interesting that's worth clicking."
Petty also mentioned how Apple's release of iOS 15 this week will impact how we measure engagement. He agrees with many that open rates are becoming more and more unreliable.
"We are going to focus on the total number of unique opt-ins, the clicks and the ratio of clicks per clicker, clicks per opt-in  — and it's those kinds of ratios we're going to hone in much more on to understand if we're being successful," Petty said.
Norrköpings Tidningars Media
Norrköpings Tidningars Media has several KPIs to measure the performance of its journalism. Jens Pettersson, chief digital reader revenue officer, said the company tracks article reads to determine whether an article is read to 80% scroll depth, as well as time spent on articles and conversion rate to sold subscriptions. Video is also tracked to see if a stream is viewed up to 50%.
"We are spending a lot of time thinking of using an aggregate or super KPI," Pettersson said.
But what KTM is finding is, depending on the type of article, there's not just one metric that gives them the whole story. Crime stories for instance tend to be shorter, so the time spent is low. But the pageviews on those stories tend to be high, so all the KPIs can be important to the brand.
Repubblica
Building the right team is a critical foundation to a successful digital reader engagement strategy.
Daria Bernardoni, head of social media innovation at GEDI Gruppo Editoriale in Italy, shared how the company's publisher, Repubblica, transformed its engagement strategy to meet the new needs of its readers. At the heart of this transformation was a strong team.
"To do what we do and to get better everyday, we really need to work together in terms of journalism and digital marketing," Bernardoni said.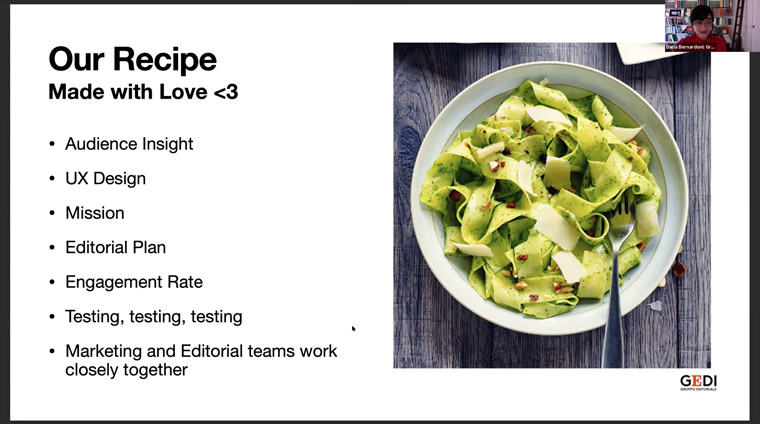 The teams work closely together to develop an optimal strategy. Repubblica has a strong team of four social media editors specifically dedicated to the social media strategy, along with many others from different departments that are involved in the process, such as journalists, the marketing team and video production team.
"Our team knows that social media is very important for brand awareness and is not just a place to share your Web site," Bernardoni said.
Lensing Media
Philipp Ostropp, head of product development, said Lensing Media has focused on developing a specialised team in rethinking the approach to engaging audiences.
The team of experts live and breathe everything about Borussia Dortmund, the city's local football team. It consists of five reporters, two digital producers, one video producer, an ad sales member and freelancers. This team is writing and producing for the Web, newsletters, social, podcasts, and live video. They also give their audience the option to only subscribe to Borussia Dortmund content.
"What's special for us, it's not in our DNA to give that team the freedom to organise itself independently of other newsrooms and content teams," Ostropp said.
The calendar of INMA Master Classes is available here.