Report identifies 4 pillars of building a subscription-first media company
Conference Blog | 10 November 2020
Grow. Engage. Convert and monetise. Retain.
This may not sound like brain surgery, but the details contained in these four pillars of building a subsbcription-first media compay are the most important steps forward for companies not yet where they want to be with reader revenue, according to new report wrapping up the GNI Subscriptions Lab.
"Towards your North Star: Report on the outcomes of the European GNI Subscriptions Lab 2020" wraps up the nine-month Lab, which was a partnership of FT Strategies, Google News Initiative, and INMA. Leaders from all three presented findings and case studies from the initiative at last week's European Media Subscriptions Town Hall.
Since March, the Google News Initiative, FT Strategies, and INMA have worked extensively with eight European news publishers in the early stages of their subscription journey to strengthen digital capabilities and grow reader revenue. The European Subscriptions Lab participants are Bonnier News Local, Sweden; La Croix, France; Dennik N, Slovakia; Gazeta Wyborcza, Poland; The Independent, United Kingdom; Kurier, Austria; El Mundo, Spain; and RP Online, Germany.
"GNI publishers faced similar challenges not because of skill gaps or technical limitations, but rather as a result of systemic, organisational-level blockers, which stand in the way of publishers becoming subscription-first players," the report said.
European markets differ from many in the world because they often are smaller (self-contained because of language), confident (leading to more paywalls than most of the world), and are further along in their digital subscriptions technology than most regions.
In addition to identifying key blockers to subscription success and highlighting the importance of finding a company-wide North Star, the Lab dug into four capabilities found to be vital to accessing where media companies stands on the subscriptions lifecycle in their ability to grow, engage, convert, and retain readers. In addition, INMA Researcher-in-Residence shared instant polls of 749 attendees from 69 countries during the Town Hall. 
1. Grow: Attract your target readers to your news platform
Key challenges include:
Embedding a focus on reader value and growth into editorial workflows.
Striking a balance in content distribution strategy between reach and conversion. 
2. Engage: Know our readers and deliver a meaningful, relevant experience 
Key challenges include:
Sharing a common definition and  understanding of engagement across the organisation.
Optimising product experience for target reader segments with potential to subscribe. 
3. Convert and monetise: Turn engaged users into loyal customers through subscriptions 
Key challenges include: 
Segmenting prospects and tailoring the approach to optimise conversion and lifetime value of subscribers.
Synchronising various channels and paths to conversion.

In their daily work with data, 76% of Town Hall attendees view segments of readers rather than all readers as a whole.
4. Retain: Anticipate and react to reasons for leaving 
Key challenges include: 
Embedding understanding of churn in the organisation and making retention a cross-organisational responsibility
Creating an automated and individualised retention strategy.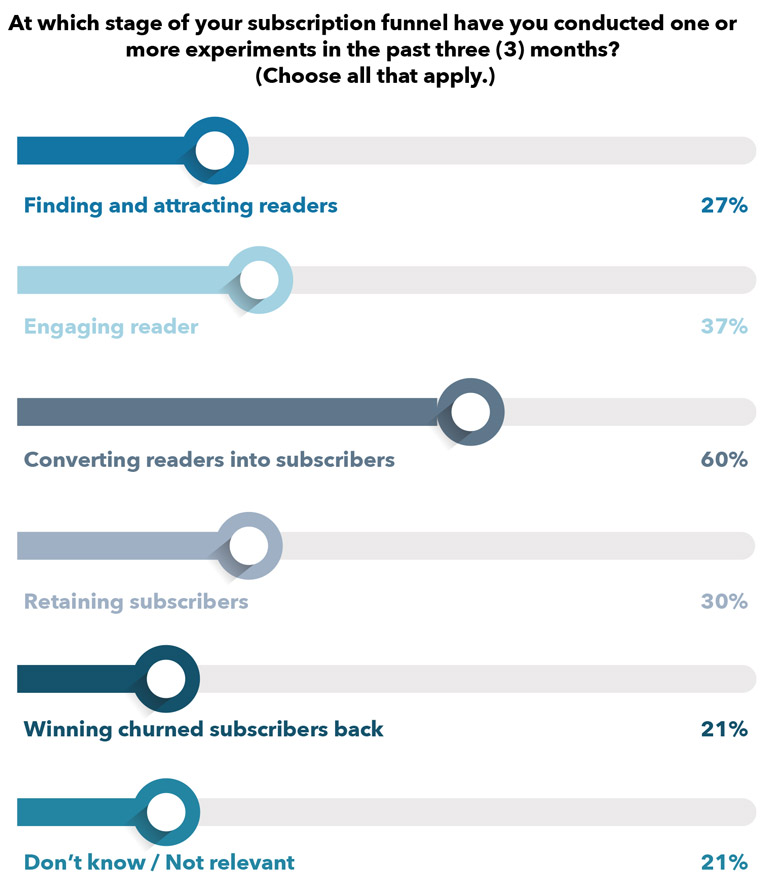 Key takeaways from the report
Set an ambition and clear goal: "The subscription goal should be SMART, but also bold, so everyone in the organisation understands the impetus for radically transforming the culture and process. This is far more likely to happen when there is a clear priority of subscription over other revenue lines. The more clarity that is provided, the greater the chances are of reaching a goal." 
Measure value for readers: "Digital platforms and subscriptions provide an unprecedented opportunity to understand interactions between products and audiences. By fully understanding the type of engagement that leads to conversion, the value of each action can be measured and optimized."
Align the organisation: "Digital subscriptions require interdisciplinary and cross-functional collaboration, so it is critical to keep disparate teams aligned on a common path. Defining common objectives, providing teams with a single measure of success, and making key learnings available to everyone allows for alignment and pace in the organisation." 
Segment readers: "Potential subscribers are only a small fraction of the overall audience. Identify them and focus efforts on a tailored approach. Do not base a strategy on average metrics across an entire audience. Whether assessing the impact of content, product, or marketing campaigns, make sure efforts reach the most valuable segments."
Develop an experimental mindset: "Explore opportunities with scientific curiosity. Replace hunches with evidence and failed experiments with shared learnings. Bring rigour and transparency to the experimental process so teams can safely explore their boldest ideas and build the shortest path to success."
Empower the organisation with data: "Data has the potential to create a common language across disparate teams. Choose the data platform that breaks data silos and builds a single view of readers. Focus on early business insights that will bring tangible value and put data at the centre of the most critical business processes and decisions."