Newsrooms, media teams organise around data to better reach audiences
Conference Blog | 14 October 2021
On the fourth of day of the INMA Product and Data for Media Summit, INMA Smart Data Initiative Lead Greg Piechota advised news media companies to "put your data house in order."
"Truly customer-centric firms go beyond rhetoric and change the way they work," Piechota said. "They lead with metrics, make decisions based on evidence, and they see confidence and fun in growing step by step."
Executives from three media companies shared how they are leading with data at a team and organisational level.
Funke Mediengruppe (Germany)
Funke takes a top-down approach to change workflows, making processes simpler, explained Ruth Betz, director of digital transformation.
Funke locations are now organised by squads, which are connected by chapters and help move processes forward more quickly. Each squad has eight to 10 people and operates as its own mini start-up.
The cross-functional teams have the same goal: to get more readers and have a good business model. The mindset is centered around the audience funnel, which begins with attracting and engaging readers, then getting them to build habits that lead to conversion. After that, the job is to retain them, and that can be improved by interacting with them more.
"Ask them how they are, how do they feel, are they OK?," she said. "We sent out a survey with 23 questions and got 10,000 answers. We learned so much from that."
Change is happening fast for the company, and Betz said it's easier to make mistakes when traveling at a high rate of speed. But it's also a chance to learn and adapt despite missteps and mistakes.
"Growth is fun," she said. "After years of going down, we finally see growing numbers in digital subscriptions and growing revenue, and it's a lot of fun. It's much more fun to do something that is working and proving successful."
Grupo Clarín (Argentina)
Insights offered by data are available to the Grupo Clarín newsroom in real-time. Dashboards are readily available to offer whatever insights each team needs, Marcelo Rizzi, chief technology officer, told INMA members.
"In the beginning, our decisions were made based on journalistic experience," Rizzi said. "But now, because of Big Data, we can really know the audience. It does not replace the journalists' position, but it helps it with insights provided by data."
Through machine learning, the editorial department learns from the behaviour of a similar article published in the past, Leonardo Dalera, chief data and analytics officer, said. To do that, they look at key values of each article, including pageviews, reading source, publication time, and more.
The results have been good, he said: "It works very well. We can use this kind of data to increase social media diffusion in the future and remove low-impact articles from the company page. At the end of the day, we can see a summary of how many articles performed better or worse than expected."
Publico (Portugal)
Having started its digital transformation back in 2015, Publico knows the importance of buy-in from all their different teams in the newsroom, according to Elisabeth Fernandes, head of analytics and audience insight. The analytics team developed both immediate and long-term goals when it comes to using data to increase engagement.
"The goal was to face the daily needs and the daily questions of all the teams and to explore and integrate the data to deliver manual reports," Fernandes said. "In the long term, the goal was to work in the data vision, develop the data driven culture, and build automatic reports."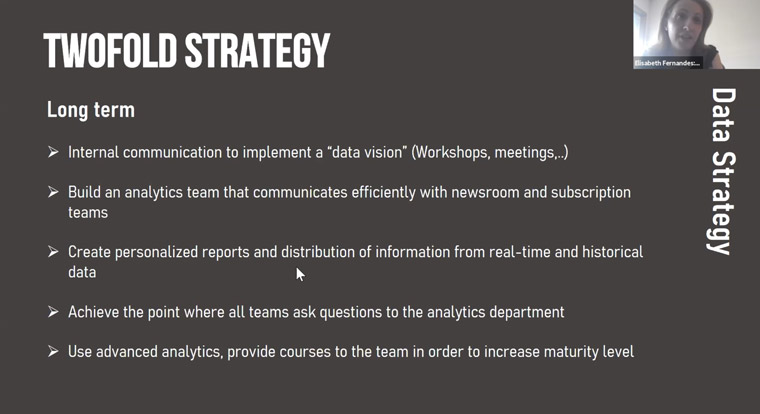 Another long-term goal, Fernandes said, is to build a strong analytics department to deliver information to its teams.
"We had a lot of conversations with the editorial teams, subscriptions department and the analytics tool to understand what they want from the data," Fernandes said.
They then listed all the questions each department posed and step-by-step delivered actionable information for each person and each department. The next step was to work with IT to figure out how to best collect more data.
"We looked at our data and decided which internal and external data sources we needed to integrate and to improve our data to build the first automatic report," Fernandes said.
Once these reports started coming in, the analytics team had to loop in all the different departments to show them what they learned. 
"It's really important to communicate and to help the people understand what to do with those KPIs," Fernandes said.
They started with more meetings and focus groups as well as daily, weekly, and monthly newsletters to team members.
Publico has found that a centralised Web page that all its teams have access to works best to see all the data coming in. It comes in the form of historical data, real-time data and data that is helpful in predicting the future. This way, each team, like the distribution team for instance, can work with the analytics team to best serve the reader.
INMA's Product and Data Summit continues on Tuesdays and Thursdays through October 19.