Media publishers can use Virtual Reality to more deeply engage audiences
Conference Blog | 04 July 2022
Major improvements in Virtual Reality technology are great news for journalists. In a recent Extended Reality (XR) Master Class in Taiwan, sponsored by Meta, Rafael Pavon, immersive creative director for The Mill, and Professor Chao-Chen Lin, from National Taiwan University, talked about how news organisations can use VR to tell stories in innovative and creative ways.
There was a wave of great VR content several years ago, but technology is just now catching up in terms of hardware, said Jodie Hopperton, INMA's Product Initiative Lead, who introduced the master class. For example, smaller headsets are available now with even more advanced models on the horizon.
"This technology really allows us, as news people, to really give readers more context at one time," Hopperton said.
Progress in a short time frame
Hopperton shared images of early VR experiences from around 2015 in which people wore  motion-capture ("mo-cap") suits to document natural human movements. She also showed clips of early simulations from a 911 call from around that same time: "The humans looked a bit cartoon-like, and that can take away from the experience."
For contrast, she shared a recent video of a computer-generated Artificial Intelligence human made last year by Real.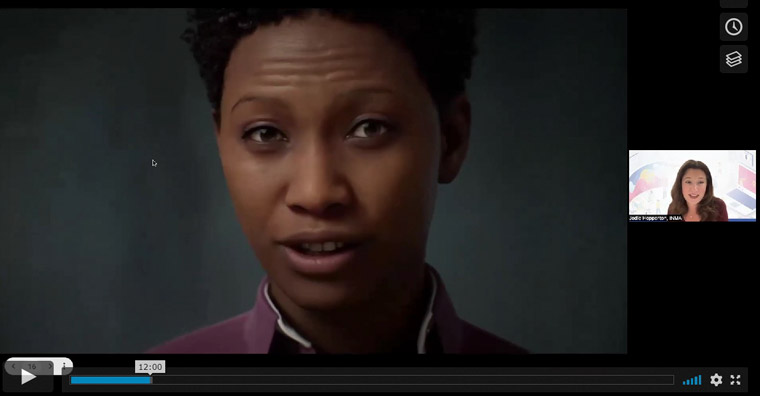 "That's a really short time frame. That's five years, the difference ... and now this human, this human looks real," Hopperton said. "And being able to use them in VR is absolutely incredible and it doesn't take as much work. We don't need to have people dressing up in motion capture suits anymore."
Storytelling in Virtual Reality
Rafael Pavon provided an overview of the great variety of storytelling opportunities available in virtual reality and shared some images and videos for inspiration. He started with an interactive VR tour of the La Garma paleolithic cave system that he created for the Prehistory and Archeology Museum of Cantabria in Spain in 2019. 
Pavon was inspired by the idea of allowing a large audience to experience what it would be like to enter a place that very few people could ever really visit and to help them better understand this treasured archeological find. The project was a great success.
Examples by other artists included the multiple award-winning 2019 VR film Gloomy Eyes and the interactive AdventureLab game, Dr. Crumb's School for Disobedient Pets.  
Why use VR?
Each of the three projects is an example of how a successful VR experience should start with a series of questions, among them: Which types of stories work best in VR? What are the basics of a VR story, and how is it different from other media?
Pavon pointed out that when media like film or theater, which have been around for more than a hundred over even thousands of years, is used, these questions aren't asked anymore. But with an emerging medium like VR, questioning the context and the goals is crucial. 
There have been many ground-breaking advances in VR in a short period of time, and several different approaches have matured. Pavon gave a rundown of what's available now but noted that the field is emerging and will be developing in the future.
He cited the example of Mission: ISS, a VR tour of the International Space Station made in conjunction with NASA. 
"In this case, the International Space Station is something you cannot simulate, you just have to show it," he said.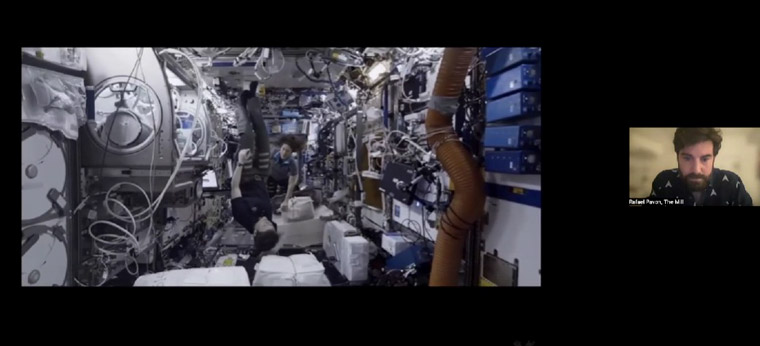 He also said 360 video, real-time experience, installation, immersive sound, and an immersive user journey experiences bring users deep into a story.
Pavon pointed out that issues of ethics, regulation, privacy, and truth are still being discussed in the industry and that the discussion is ongoing. Creators have long-term responsibility regarding what they've show people and how it will affect the viewers.
"What is the truth in what you've said? People might believe what you've put them through in VR and might believe it's real … so you need to be careful," he said.
It's a really big and important topic, and Pavon hopes that establishing systems to gather feedback from users can be one part of moving forward in a responsible way.
Producing news stories in VR
Chao-Chen Lin said news stories might have lower technical requirements than art or gaming, but journalism also has high professional standards regarding truth. 
"Most importantly, what is news? What do we call a news story? That's what I want to talk about," Lin said. 
She pointed out that for news production, a relatively small team with expertise in 360 video, CGI and modeling, sound, and animation can create VR based on reported stories and interview.
Lin shared the BBC's We Wait as an example. It is a dramatised animation about a family of Syrian refugees based on interviews with Syrian migrants. In addition, The People of Grenfell Tower is a VR documentary made by Channel 4 in the UK, telling the stories of survivors of the tragic 2017 West London apartment building fire using filmed interviews to visually situate the survivors in VR simulations of the building. 
Explanatory journalism
There is also great opportunity to use VR to educate and explain complex issues. "When we recreate things with VR, we find we want to use it to help people understand things," Lin said. She shared her own team's simulation that showed how proposed wind turbines at sea may look from the surface and underwater. In this case, local Taiwanese fishermen had a lot at stake in how the turbines could affect fish habitat, and the simulated view underwater helped reveal a potential true circumstance. 
"VR news is creating an experience, but it did not alter the story. So to me that's objective, even though certain parts are fictional," Lin said.
She added that journalists have always had to make choices when deciding how to tell a story in a truthful way, such as choosing small portions to quote from a long interview. Working in VR journalism also involves choices, but the purpose is always to show viewers the true story, Lin said:
"What we have to do is reflect the truth, and we journalists have to work hard for viewers to believe in the story."