KG Media transforms toward subscription sustainability by raising prices 46%
Conference Blog | 14 July 2022
When COVID-19 hit the world, the APAC region's news media industry was already facing extraordinary disruption due to climate change, but the pandemic added complexity to the existing challenges — particularly in the shift from print-based revenue models to digital ones.
KG Media CEO Andy Budiman shared during the INMA Asia/Pacific News Media Summit how the last several years have impacted the Indonesian media company and how it took advantage of new opportunities — not only with new digital strategies but also with maintaining revenue from print subscriptions. The two-day virtual event, sponsored by Google News Initiative, Notix, Piano, and Protecmedia, continues Friday.
Print revenue really started to decline for KG media in 2013 as the company's flagship publication Kompas, the national daily newspaper, saw its readership shift to digital, Budiman said. Then the pandemic hit. And from 2019-2021, print revenue decreased 53% while digital revenue increased 32%. Budiman shared a chart and predicted a 50/50 split for 2022. 
"This is a very scary chart for me as CEO," Budiman said. 
The decision to raise subscription prices
Not only are readers gravitating away from print, the costs of print production are also becoming insurmountable due to supply chain disruptions. The pandemic, he said, was "gruesome to our bottom line." Nevertheless, the company managed to get Kompas' print editition back to profitability. 
In earlier times, the company would cope with the increased printing cost by increasing the newsstand and subscription prices to the consumer. But Budiman was reluctant to use the same strategy just as the company was already losing print subscriptions, so he tried to avoid this as long as possible.

At end of 2021, they finally decided enough was enough and increased the subscription price of Kompas. They started 2022 with a 46% increase. "It was very scary for us, we haven't done this for years," Budiman said. 
The company decided to appeal directly to readers about the change, Budiman said, telling them content is king, but only if readers provide the throne. "We asked them to support our journalism." As part of the messaging around the price increase, they aggressively reminded readers that a print subscription gives them access to the digital edition as well. Budiman said they were prepared to see print circulation to drop by 20%. 
They were pleasantly surprised.
"We did experience a decline as we predicted, but fortunately much less," Budiman said. The actual decline attributed to the price increase was only 10.7% from January to February. Promoting the digital access as part of the subscription also increased online readership, he said, which was " a nice bonus." 
Continuing print revenue while growing digital
The company is trying to make its print business more resilient while also accelerating its growth in digital.

"The pandemic itself does accelerate the growth of almost everything digital," Budiman said. He shared a slide showing the growth of the top digital properties in Indonesia. The big winners were TikTok and e-commerce companies, he pointed out. KG Media is ninth on the list. 
"Even though we were at the bottom of the chart, we also won big when it hit," he said. However, the company's digital growth has declined ever since due to competition from other news media. "Hundreds and hundreds of new sites have emerged in Indonesia during the pandemic."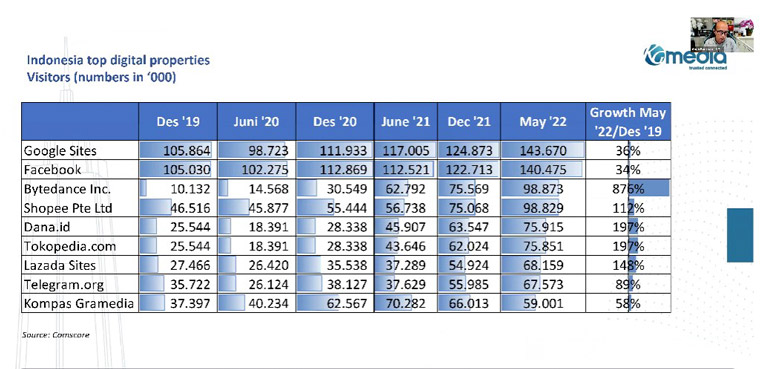 The challenge for the company moving forward is to learn how to maintain growth, which has plateaued as the public has become fatigued and new competition has emerged.
Focus on content, distribution, monetisation
KG Media is returning to some of the basic ideas the founders used when starting the company, Budiman said.
In earlier models, good journalism was supported by distribution — print production and agencies — with revenue coming from advertising and subscription revenue. That involved a strong relationships with readers and advertisers, which is still the case in the digital landscape.
The main disruption, he said, is in distribution as media companies rely more and more on intermediaries (search and social media) to reach subscribers.  
KG's strategy is to win back some of the direct relationship to readers with more video content, which is increasingly popular, and improved user experience to digital properties. "Most people will still find our content through search, but we want them to stay longer and stay engaged," Budiman said. 
The company has also built its own ad network and invested heavily in its digital product.
Kompas is scaling up video production and publishing on other platforms (YouTube, Facebook, Instagram, and TikTok) as well as distributing on its own site and apps with its video player.
KG Media is also investing a lot in data and studying the lifecycle of its content, in particular studying patterns like why certain news stories become evergreen and continue to generate traffic. "We're now more able to recognise which articles are likely to be evergreen and extend the lifecycle of some content by updating and republishing the article," Budiman said. The company has included a tool in its editorial content management system that recommends articles that editors can consider updating to evergreen. 
The company is also incorporating Google Trends analysis to help its journalists learn how well they are covering trends. The CMS shows them trending keywords so they can see which ones Kompas is covering and which it isn't, the idea being that the journalists can choose wisely which of these keywords to explore, Budiman said.
"These two are examples of simple but pretty cool things we can do for our content with our data team," he said.
For the "fancier stuff"  regarding analytics, the company incubated a start-up called Jixie to develop advertising technology and tools for user engagement on top of a first-party data management platform. It's used internally and also being rolled out as a product for other companies. 
At the end of the day, as a journalism organisation, KG Media has a critical mission to uphold, Budiman said. So making the company more resilient is key to supporting that mission.
The summit continues on Friday. Registration is free and includes post-event recordings of the virtual event plus speaker presentations.