How to tell linear, multi-media stories in the mobile-first era
Conference Blog | 06 November 2019
In today's mobile-first environment, storytelling is key. On Wednesday, INMA members were treated to a Webinar with famed designer and consultant Mario Garcia, who has served as a consultant for more than 730 media projects in 121 countries.
Garcia led attendees through the necessary strategies to create a mobile-first operation, including conceptualising, editing, and designing for the small screen of a smartphone, where the majority of the audience is consuming information.
Garcia opened by explaining the Webinar would be a summary of his book, The Story, which was the first book designed for the smartphone. The presentation covered the details that answer the basic question: How do news media organisations develop stories and design them to fit that platform?
"If you have a story, people will read it," Garcia said. "That's the only thing that hasn't changed in my 42 years of doing this."
Garcia's presentation covered three major areas on the topic: transformation, storytelling, and design.
Transformation
"This is essential," Garcia said. "Journalists love to write about change, but they are the last to join any changes." The first aspect of transformation that is difficult for many journalists and publishers is to accept that we are in a multi-platform world.
There are five platforms today: print, desktop, mobile, smart watches, and phone. Many people travel through three or four platforms in the course of a day. They might begin a story in the print edition, continue on their mobile, then get to work and finish it on their desktop. They switch platforms like they switch locations (the train or bus, home, the office).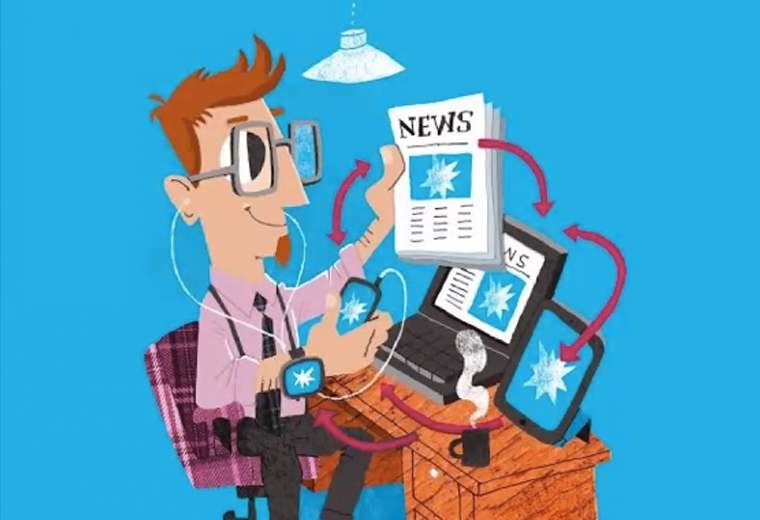 More platforms are coming, for example, virtual reality. With smart speakers, audio is also experiencing a revival.
"There are so many ways to tell a story, beyond just headline and text," Garcia said. "I think right now we are seeing, specifically with Millennials, sound is very important. If you haven't incorporated podcasts, do it now. Millennials like to multi-task. We need to learn to write for the ear."
Of all these five platforms, mobile is the most important. Consider these statistics: 
58% of U.S. adults often get news on a mobile device, though that number is going up constantly.
39% often get news on a desktop or laptop computer.
89% of the U.S. mobile population (144 million users) now access news and information via their mobile devices.
These figures are not exclusive to the United States, however, but are quite global, Garcia said. The U.S. leads in number of hours of exposure to media per day at 12, but is quickly followed by European countries, then Canada and Asia.
"The first lesson I teach journalists is we lean forward all day long, but we lean back to read stories," he said. In further explanation, today's reader is leaning forward on their mobile devices, including for news consumption, and leaning back on other platforms to read stories at leisure (such as print).
"We used to create stories only for the lean-back moments. We prepared an edition and the world came. Today, we don't prepare for editions, we chase stories. People are leaning forward on that phone. The average person comes to their phone 114 times a day and often are following the same stories. Your update in coverage of that story needs to constantly be updated to keep up with this."
The majority of people are exposed to the news in a lean-forward environment. This is why many newsrooms have not adapted to this transformation. "Users wish to have a mobile experience that allows them to lean forward and have as many experiences as possible," Garcia said.
Today's mobile media is the journalism of everywhere and of interruptions, he said. Journalists must write short paragraphs and subtitles for this medium so people can easily find their place again if they are interrupted or switch to another task or platform. "Create internal paths. How we write, edit, and design for mobile devices must take into account where people are and when they will be consuming the information."
Using a photograph to illustrate how some things have not changed, with people reading the news on their mobile (today) versus a print newspaper in the past, Garcia invited Webinar participants to think about what has changed. In the bottom photo, news abandons the reader until the next day. In today's environment, it's a constant, never-ending, and challenging cycle.
"You need to chase the stories," Garcia said. "This is a revolution."
He added that it really boils down to relearning journalism: "You have no choice – you have to do this or you get out of journalism."
Today's news story begins with a push notification that something is happening. "This violates one of the most basic old rules of journalism, which is not to publish a story until you have all the facts. Today, we go with what we have and add more along the way. The story has long legs and is constantly updated. Maybe a video and a longer story comes later. The story comes in cycles."
He compared it to slicing a melon. News media puts one slice at a time out to the reader, adding and promoting the story as they go along.
To do this, every newsroom needs to have a content manager. Every person in the newsroom also needs to be trained to be a content manager, Garcia added. "If you don't do this and you leave it to chance, many stories will not get updated."
How the content management process works:
Access first posting.
Always ready for updates.
Potential for rich media.
Print and weekend editions.
There is no place in the newsroom for those who still see the story as a single entity that appears in one edition. The modern editor exploits the story for all its possible slices.
The content manager's role is to keep an eye on the four to five stories that readers will be following up on throughout the day — even simply changing images and headlines update the story for readers. The manager also looks at data to learn about the types of stories readers are willing to pay for.
Storytelling
In the mobile-first era, it's all about linear storytelling — basically the same way that children's stories are told. "Children know how to do this very well," Garcia said, speaking of the typical picture book. "You tell and then you show, you tell and then you show."
This is exactly what newsrooms should do for mobile storytelling. "You don't write a long story and then show a picture, like we did in print." Rather, it's about having short paragraphs accompanied by media such as photographs, video, graphs, audio, etc. Having motion (gif or video) on the first screen helps to pull people in.
The New York Times is a masterpiece of linear, multi-media storytelling, Garcia noted.
"The drafting and designing of a linear story begins when you think in terms of a vertical flow of elements. You cannot be thinking of how the story will look in print. Everyone has to think in terms of how the story will look on mobile. If you don't do this, you are doomed already. You're optimising for one platform that is not the platform of choice. If I'm not seduced by the first screen, try again."
The movement is vertical; readers prefer to scroll rather than to swipe. "This is the complete opposite of print reading, where we look and then we read, and the text and images are grouped separately," Garcia said.
Another difference is that in print, the reader can glance at the story and know how long it is. When they begin reading on mobile, they have no idea at the beginning how long the story is. "If you keep the reader enticed in a linear story, the reader generally has no idea how long the story is, but they will keep reading."
The basic conflict in newsrooms is that they are producing stories that are prepared for print editions, when the majority of people are reading on mobile first. "Mobile is its own animal that we've never had to deal with before," Garcia said.
One way to prepare for linear mobile-first storytelling is to use a storyboard, like filmmakers do, Garcia suggested.
People often ask Garcia about long-form journalism on mobile. The answer is that yes, people do read long articles on mobile if they are enticed enough. If a story has the right linear flow of text and images, people share it 40% more that those in a traditional story format. "Eliminate photo galleries from your vocabulary," he also advised. "They should be woven with the text."
Other noteworthy statistics include:
Retention levels are 64% higher for users when stories are told in linear format.
Readers spend an average of 123 seconds on long narratives, versus 57 seconds on short stories.
For mobile, the headline becomes very important — even more so than in print — because the reader does not know what is coming. At first glance, the headline is the only indicator to let the reader know what they will find in the story.
Newsrooms must plan their stories for the phone and train every photographer to take vertical images so the story can be planned from the beginning to be vertical, linear storytelling, Garcia said.
He referred back to The New York Times, which has the same planning for all platforms and is optimised first for mobile.
"When you design for print, you're only designing for the eye and brain. In mobile, you also have to design for the finger," Garcia said, referring to the fact that scrolling is a big part of the mobile experience that journalism must plan for.
Media companies cannot simply take a story that appears in print and dump it into mobile. This is why many newsrooms say they don't have the resources to optimise for the mobile-first environment. But you must do this, it's not a choice, Garcia said, or the readers will not stay with you.
Linear storytelling for the mobile-first reader can be designed for all types of journalistic writing:
Investigative.
Photo reporting.
Explanatory article.
The Sunday feature.
Design
The question then becomes, how do you design for this very small platform?
Putting colour in the newspaper was the biggest revolution. Why? Because adding colour did not change the story itself. It created a little bit more drama, which hits at the center of storytelling.
No matter what type of story a newsroom is designing for, there are several important key factors to keep in mind:
Story structures.
Grids.
Type.
Colour.
Designers must make the story easy to find, make it easy to read, and make it attractive. Garcia used the acronym WED to describe the process: Writing, Editing, and Design.
"Design is not just decoration tacked onto the end of the writing and editing," he said. "Writing is also not necessarily the first step. Good editing means good planning, and that means design considerations have to come into play early in the process."
The average story has five to six visual assets, which seems to be the right amount for most linear stories. A visual asset can be a photo, video, quotes, graphics, screen grabs, etc. Companies must design for the brain, the eye, and the finger. Garcia added the average length for video should be 23 to 28 seconds in mobile.
"The essential first screen is very important. It must seduce the reader into the story, which they do not know how long it is. The average time a person gives you on the first screen is four seconds. That's how long you have to grab them."
There are many templates Garcia uses to guide the process for linear storytelling. Start the creative process with the smallest screen possible, which even begins with digital rebranding. Create a mobile brand that will be easily identifiable. This should be done even for push notifications, which are the first part of the story.
Takeaways
The story continues to be key, but there are now more platforms in which to present it — with a technology that allows more choices for journalists.
"These are the best times to be a storyteller," Garcia concluded.
Q&A:
INMA: What skill sets should the content manager have?
Garcia: This is a new position, but the background of this person would be journalistic, which is more important than a design background. She or he understands how news cycles move, as well as about multi-platforms. Someone who is well-grounded in journalism, who has a talent for visuals.
INMA: Is there a video shape or size that works better for mobile?
Garcia: The videos that do better are the ones that fit better into a vertical or square position. If they are reading news they will not turn the phone horizontal to view a video the way they will for YouTube or Netflix.
INMA: What about ads on mobile?
Garcia: In linear storytelling, advertising works very well if they are the same width as the visual assets you have in the story.
INMA: Can you do too many push notifications?
Garcia: I think that too many of anything is going to be bad. In terms of push notifications, only 1% of the people who get one immediately turn to read the story. But they still say they like to know it happened, even if they go back to read it later. The content manager is also in charge of push notifications. They are better received when they are serviceable.
INMA: Do you recommend using colour on the background of stories?
Garcia: If there is one rule, nothing beats black type against a white background. Having said that, I have a full chapter on colour. Legibility is important. People don't like backgrounds that are too dark with text that is hard to read.