BBC is reinventing news stories based on audience testing
Conference Blog | 09 January 2019
Faced with radically new and evolving news consumption habits, the BBC in the United Kingdom has been working on a project called "Reinventing News Stories" to develop formats that are better than the traditional 800-word inverted pyramid article and the two-minute video.
After talking with more than 100 people and testing many alternative storytelling prototypes, the BBC has rolled out several pilots and learned many lessons.
In an INMA Webinar for members on Wednesday, Tristan Ferne of the BBC shared what the company has learned from listening to audiences, how it approaches the problem, and core themes that emerged from interviews and testing. He also shared some examples of these new formats.
Ferne, lead producer of the Internet Research & Services Team at BBC Research & Development, started the Webinar by pointing out that it was important for his team members to always remember that they are not the users. The first, vital step was to find out just what users did want and respond to.
"For this project we chose to work with two audience segments: young people 18-26 years old and women between the ages of 28 and 45," Ferne said. "They are both underserved and hard-to-reach audiences for the BBC News particularly."
His team talked to about 100 users, asking them about their news habits, behaviours, and how they consumed the news. They then digested what they learned from that to develop their products.
Generation Z
A major finding among this audience segment was that they do want news and want to stay informed about the world, particularly how events affect them.
They primarily use smartphones to access the news, reporting very little table or desktop use. Key behaviours observed included:
Their experience of news is often quite fragmented and time constrained, so they often want to skim the news to find something of interest and then dig into what they find interesting.
Somewhat surprisingly to the BBC, there was a large preference for text for news. They found text with images to be easier and quicker. A small minority preferred video.
Opinions and perspectives were very important for this audience.
Assumed knowledge.
"We assume a lot of knowledge in the audience," Ferne said. "We often use jargon in our stories, so if you don't understand that field, you might not understand the news story at all. So we were looking at things we could do about that."
Ferne reported the team found many of these needs expressed by Generation Z in other audience segments, such as the females aged 28 to 45 — particularly mobile-forward and the skim-and-dig behaviour.
Prototyping
"We didn't know what would work well for these particular audiences, so we wanted to have as many ideas and prototypes as possible to test," Ferne explained. "We worked in two-week sprints building the prototypes; we built around 36 and then decided what the best ones were."
The team then evaluated each prototype against these measurements:
Was it usable and understandable?
Was it the right tone and style for the BBC?
Was it distinctive and new, or just copying something elsewhere?
The six winning prototypes
Expander
"We are sometimes criticised for assuming too much knowledge in our articles," Ferne said. "This [prototype] keeps the context for users where they need it and when they need it." Yellow dots indicate when there's an expander box, which the user can click on to obtain additional information or context. The blue indicators contain more visuals.
"It worked really well in testing and was a favourite for a long time," Ferne reported.
Simplify
This prototype is similar to expander in some ways. "As you scroll through a story, some paragraphs and sentences highlight and you can click on the 'explain' button, which will give more information for those who haven't been following the story," Ferne said. "It tested well."
Consequences
"People told us that they care about specific news and what it means for them," Ferne said of the research phase. This prototype shows different topics and gives the potential impact of that issue on the society and the reader. "It tested quite well. People liked how it was broken down into sections, though they didn't always grasp that it was about the potential future impact of the story."
Incremental
This prototype breaks the story down into chunks and gives the reader a choice on how to consume it: short text, long text, video, or skip it.  "We hope this might be engaging for people who might be put off by a long piece up front and also gives them some control," Ferne said. "It did prove popular, particularly for the small jumps of information and choosing which format they like."
Perspectives
This prototype moves more into video. "Perspectives was built to address different viewpoints on a story," Ferne explained. It gives different points of view for any particular story, and the reader can choose which one they want to consume. "This was the favourite in testing with our young audience, and got really good engagement." Everyone understood it and what it was trying to do. Interestingly, test users reported that they felt the different perspectives offered made the story seem more objective.
Hyperlocal
This is intended to be a personalised story. "National news often lacks that local angle," Ferne said. "Particularly with the female audience we spoke to, they want things they can relate to on a national level and find out what it means for them." Local topics are addressed in this prototype such as tax changes, local councils, schools, pollution, employment, etc.
FastForward
"Most of our prototypes were primarily text because that's what people told us they want to use," Ferne said. "Video suffers a bit, but subtitled videos are doing better." FastForward gives the reader more control over this, with captions that can stay in sync with the video; and it allows the user to scroll forward or backward through the video to the content that's most interesting to them. "This was really appealing for the young audience, who is always looking for control."
What didn't work?
Many of the concepts and prototypes didn't test well at all, but they still helped the BBC research and development team learn where to go next. For example, one unsuccessful prototype would move from one story to the next every 10 seconds. "People totally hated this," Ferne reported. "They felt under pressure if they didn't read it in 10 seconds, and they didn't have any control over it."
Another losing prototype tried to provide background to a story over a period of a week, delivering small chunks of information each day. However, test audiences didn't react well. They said, "I just want this information now. Why are you withholding it from me; why do I have to wait until tomorrow to hear about North Korea?" for example.
Another was one that gave two versions for a piece of content: one for those who were new to the story and another for those who were already familiar with it. But this led to a fear of missing out with the audience, Ferne said.
A couple of key pieces of learning the team gleaned from testers included the reports that three scrolls is the right length and that design patterns used on social media tested well.
"This testing allowed us to explore some deeper problems, such as how people learn and understand," Ferne said. "Maybe for some stories we want to make people think more about it and not just make it easy to digest the information."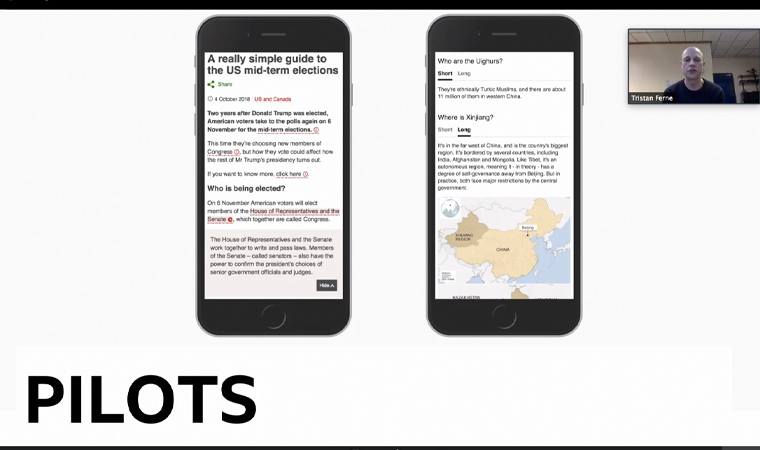 He added that the BBC is piloting some of the best formats on its Web site right now. He also shared some sites where interested INMA members can learn more about it:
Five Takeaways
In conclusion, Ferne offered the major takeaways from this project:
A multi-disciplinary team.
Test prototypes and journalism.
Many formats, not one.
Reusable and structured content.
Slow diverse opinions and explain things.
Q&A
INMA: Could you have a scenario where multiple prototypes appear in one article?
Ferne: We've been considering it and doing more pilots to see what that would look like. There's a possible danger in trying to cram too many models in one experience. But I do think the expander and scrollable video are elements that could be put into any prototype. But it becomes a design challenge.
INMA: How did you reach those prototypes?
Ferne: It was kind of brainstorming, idea development, sketching, quick prototyping, and testing. We did four phases, each one that was a couple of months long. In each of those phases we started off with a design sprint. By the end of it, as a small team, we were pretty good at that.
INMA: How do you keep the Expander updated? Are they the same in every article?
Ferne: They're one-off prototypes so we don't do that. But ideally, you would insert the new topic within the Expander format and have it be an efficient reuse of material.
INMA: Could you explain more about the mainly text, less video conclusion?
Ferne: That was just a summary of all the interviews we did with users and how they talked about using news at the moment and how they responded to the prototypes. The vast majority preferred text and pictures over video. Sometimes it was concerns on using data on their phone plan as they were out and about. A few people were totally video first, so it wasn't everyone.
INMA: These prototypes seem to require a lot more work for journalists to produce. Do you get any complaints from the newsroom?
Ferne: Well they aren't rolled out to the newsroom yet, but that's a big concern that we have if these go mainstream in our newsroom. We would have to address that. But the journalists who have used them so far are really enthusiastic about them; they want to use new things. The guy who's been writing our Incremental ones says that it's not that much work.
INMA: Did you look outside the BBC for inspiration?
Ferne: Totally. At the beginning of the project, we looked at what the rest of the industry had done. There was a similar project from Guardian Mobile labs that we looked at. I think it's more that we didn't see anything that seemed to be sustainable and that people kept doing; they were more one-off innovations.