Africans talk to Africans about the continent's digital media transformation
Conference Blog | 19 November 2020
"I can't remember a time when such a broad turnout in terms of media came out across the continent," Peter Ndoro, news anchor at South African Broadcast Corporate and INMA Africa Media Summit moderator, said about the 536 participants from 51 countries — 32 of them African countries — participating in the this week's Summit.
"I think it points to the idea that perhaps as people who are interested in and are stakeholders in the African media story, maybe we don't get together like this often enough," Ndoro said.
With case studies from Pulse in Nigeria, The Nation Media Group in Kenya, Media 24 in South Africa, and more to come on Friday, the Summit is a unique virtual gathering of those working in African media to discuss internal creative solutions and digital transformation — a vast geographic gathering that would be almost impossible to recreate at a traditional in-person event.
"This pandemic, if there's something that it's done, it's accelerated a lot of things and digital disruption is one of those," Ndoro said. "Instead of perhaps looking at this as a tsunami that's going to run us over, there is a way to look at this and say where are the opportunities? How do we move forward given this new reality that we're facing?"
INMA Executive Director/CEO Earl J. Wilkinson briefly opened the Summit with a global view before Africans shared their own stories. Wilkinson gave an overview of what news media companies around the world are focused on: accelerating digital transformation, smart data's role in that transformation, the readers-first business model, advertising's future, and how important trust is in all of this.
"I would give this to The New York Times. I would give this to The Guardian," Wilkinson said. "I want you to be a part of what's happening globally."
"African media, we do want to be a part of something bigger I feel," said Lance Witten, chief content officer of the African News Agency and editor-in-chief of the Africa Independent, both in South Africa.
"African media is edging closer and closer to global digital trends. A couple are putting up paywalls. Netflix, Apple TV, Showmax, Spotify, Apple Music — all of those subscription platforms have really planted those seeds within our audiences that yes, at some point, you're going to have to pay for your subscription.
"Audiences are very used to getting things for free. But I do think we're on our way to reaching those global standards and trends. As Africans, we love working together. We like to see each other succeed. We want to come up with solutions that are truly African and truly suited to our climate and our conditions."
Opportunities of technology 
Mobile 5G, OTT, subscription TV, and mobile Internet — and still radio — are success stories in Africa, Witten said. 
The digital subscriptions story is yet to be written on the continent. Yet OTT and streaming services are slowly getting audiences accustomed to paying for music and other content — especially if they want to avoid ads.
"Devices are everywhere ... yet our infrastructure is lacking," he said. "The story is still the heart of everything we do. We are slowly tilting toward reader revenue as a business model, capturing first-party data. And even if you don't want to put up a paywall, maybe it's a registration wall. We're learning from other markets. It starts with owning our data, owning the information we gather from our readers."
Challenges of charging for journalism
Prior to joining The Wall Street Journal, Editor of Professional Products Kimberly Johnson spent five years as a financial journalist in West Africa, contributing to the Financial Times, Mergermarket, and Global Post.
Journalists themselves are the green shoots of journalism, Johnson said. They are working on the ground, despite challenges with tech, accessibility, and press freedoms.
"To me, they were the ultimate inspiration, and they still continue to be my inspiration of really trying to get to the truth in a really challenging environment," said Johnson, who previously worked as a financial journalist in Freetown, Sierra Leone.
While The Wall Street Journal has built an easy-to-sell brand, Johnson said financial journalism from any brand can help all readers make decisions in all aspects of their lives — and thus they may be willing to pay for it. Financial journalism can help answer universal questions about the future through stories about local school fees to stories about vaccines.
"We as journalists can work fruitfully together to push those issues to the forefront and make those some of the leading stories of the day wherever we are," Johnson said. 
African publishers will face tension between subscription and advertising revenue, Johnson said, but the answer lies in the value of news. People can get football scores anywhere for free.
"I think that it's a matter of understanding the value of news, and I think this is where financial journalism comes into play.... But if it's information they need to make decisions in their lives or for their jobs, it's indispensable." 
Bank workers, for example, may need to understand what's happening in the industry. That's a different value proposition, she adds: "This is where financial journalism has a really important role to play."
African potential
The African business story is exportable, Johnson said. The United States is very Euro-centric. But the African story is complex and rich, especially in stories about technology and entrepreneurship. 
"I think it's really hard to grasp, being in the U.S. and being Euro-centric, hard to grasp just how much is going on... How people are developing their businesses," Johnson said. "I think it is exportable, in the sense of how it's done — how entrepreneurs and businesses are using technology to reach wide swaths of people and to really look at this as an opportunity."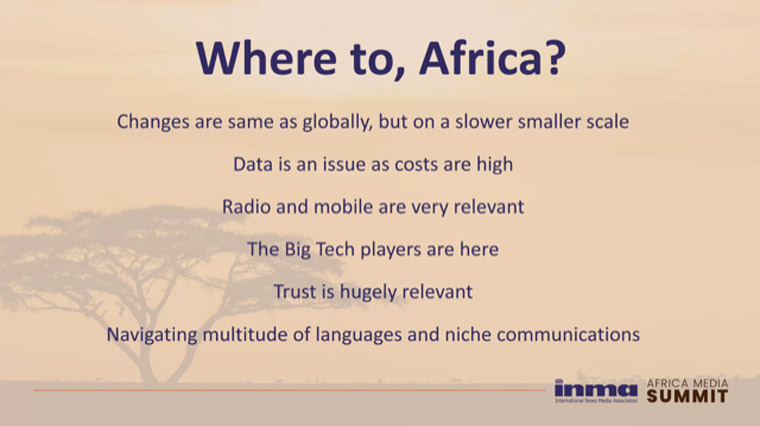 Reaching new audiences requires creativity, Johnson said. Forming partnerships or sponsorships can fund new journalism that reaches African audiences and beyond. There are rich stories of finance and business in Africa, Johnson added, and good journalism always rises to the top.
African journalists have a commodity in content about African businesses, Johnson said.
"The secret of sub-saharan Africa is that it's rich in everything, which is remarkable and surprising," she said. "I've written stories about tourism, I've written stories about technology, renewable energy, all of these things... I think good journalism always rises to the top. If you're covering these things that are a boon for your country or for your city, I think that journalism always rises to the top and that is exportable."
Digital transformation and a reader revenue model are coming, just more slowly, Witten said. 
"The one thing we share in Africa is this beautiful spirit of openness," he said. "It is such a wonderful springboard for us to grow from. Let's start working together and really make Africa media stand up and play like the global big players in the world."