AFP, Publico put journalism, data, and facts at centre of audience strategy
Conference Blog | 26 August 2021
Kicking off the INMA Latin America Conference, news media executives dove into audience strategies centered around digital subscription growth specific to journalism, data, and facts.
The 243 delegates from 85 companies in 22 countries heard in-depth audience case studies presented by AFP and Publico, illustrating how news media companies in Latin America continue to work on their reader revenue model.
Publico focuses journalism-focused data
"Publico hired the first data analytic professional and it has really revolutionised our business ever since," said Elisabeth Fernandes, head of analytics and audience insights at Publico in Portugal. "So our strategy was based in three main points: people, technology, and processes."
Publico felt the need to invest in new areas, she said. 
The company had to figure out its readers' needs — what issues readers wanted Publico to address. Her team wanted to receive data reports quickly and frequently so it could figure out that part. Then they had to address the journalists and get all departments on board with a strategy based on the data that was coming in.
"In the long-term, we were strongly working toward improving our culture of data," Fernades said. "We had a dedicated team for data analysis as something that was really crucial for helping all the different sections of the newspaper."
Publico created individualised reports and instructed team members to contact the dedicated data team to get clarification when they had doubts or didn't know what steps to take. 
In 2016, Publico designed a data scheme to identify the most important priorities to help them reach the KPIs they had at the time, Fernades said. The data coming back was not very interesting for the journalists. They have since tailored the reports so journalists were excited about the data and the reports evolved from there.
"We had little boxes with recommendations and we had the analysis of data and suggestions of other cases that could have been dealt with better," she said.  
Publico believes journalism is the best acquisition strategy. So when they ran reports about who their main readers were, the journalists were intrigued. 
"This really changed the view that we had," Fernades said. "And when the journalists realised who were their main readers and what time they read and oh! their very intricate profiles, this really changed the mindset and many workflows."
Publico's main goal is to always be improving the product and experience they are bringing to their readers. They have one centralized page for all its departments to look at and analyse data so they can all work cross-functionally.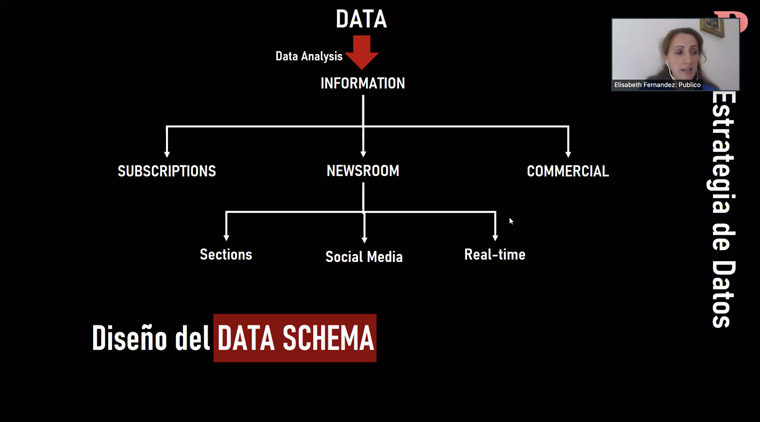 "Right now we are working very closely together, all of the conversations between marketing, product developers are showing important results," Fernandes said. "We are reaching a point where we really have the reader at the center of the decision making process with data that is very crucial to this process." 
AFP prioritises fact-checking data
Starting in one Latin American country in 2017, AFP has grown to have a presence in most of Latin America and in 80 countries around the world. And central to its mission has been the crusade to fight misinformation.
To do that, it has developed a strong network of fact checkers, said Maria Lorente Estrada, director of AFP's Latin American division in Argentina.
In 2020, more than 3,150 fact-checked comments were linked to COVID, and in 2021 AFP is nearing more than 1,500 articles on the coronavirus. Overall, the pandemic has sent AFP's fact-checking team into overdrive, working on stories ranging from conspiracy theories about the origin of the pandemic to looking at cures being touted on social media.
"This whole project represented a watershed moment for AFP because good journalism has always been part of our DNA," Estrada said. "Aggregating this fact-checking team is something very positive. [AFP] is the brand that continues to be so positive with the general public."
Having focused on fact-checking for more than four years, AFP has been able to see trends related to disinformation and said there's one primary cause of a peak in fake news: "Disinformation appears in moments of crisis," Estrada said. "It can be caused in election periods [and] it can impose a threat to human rights."  
When people are making decisions based on that false information, it undermines the ability to have reasonable debates and conversations about what is occurring in the world. It creates fear and uncertainty that spreads quickly. The fact-checking has gone far beyond what's posted on social media; in one case, the government of Colombia said that Venezuelan guerillas were invading its territory. "But the information that they used was not exactly true."
By tracking the origin of certain pictures, AFP was able to correct the information.
The Latin American Conference continues on Friday.