Advance Local increases ad revenue stream through podcasting
Conference Blog | 11 November 2020
More than 155 million Americans listen to podcasts overall, with more than 100 million people listening monthly.
At Advance Local, the team understands that audio is to the Web what the Web is to print — an inevitable part of the future.
"It's really the next generation of storytelling," said Jeff Sutton, vice-president of ad tech and programmatic at the company.
Podcasting has been a large part of the Advance Local strategy, with 37 podcast shows currently. In an exclusive INMA Webinar on Wednesday, Sutton shared Advance Local's strategy and some of the things the company has learned with INMA members.
"We're chasing scale like every other podcast publisher, and we're starting to get to the point where we're seeing it make sense," Sutton said.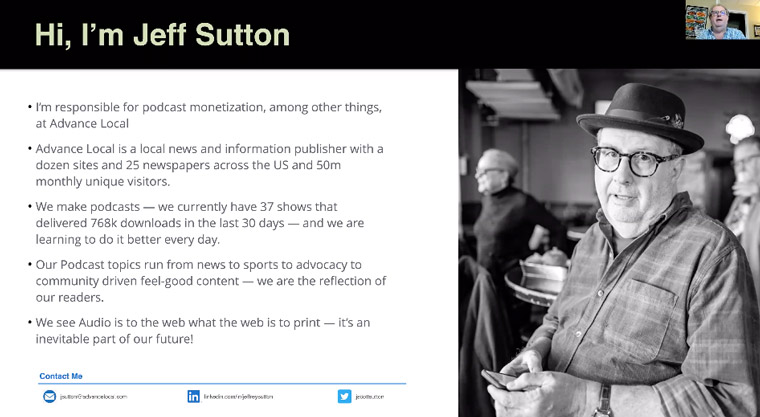 A good podcast is one that is relevant to a publisher's audience and enjoyable to listen to. Sutton started his presentation by giving an example of a great podcast show by reporter Doug Lesmerisis, who hosts Buckeye Talk, a show centred around Ohio State University's football team. The podcast is extremely popular, with more than 285,000 downloads in the last 30 days.
Lesmerisis does all this from his basement, which has implications for news media during the time of COVID-19. Podcasting offers a good method for delivering news content to the audience and grow rapid scale using a very "light and fast" methodology.
Podcast advertising revenue opportunities
Before diving into Advance Local's experience, Sutton shared some findings from a detailed industry analysis on podcast revenue by iab. The study predicted this to be around US$1 billion dollars in 2021; 2019 began an astonishing trend for podcasting, with revenue doubling from 2018.
"This makes such a compelling case as a publisher to understand that this is a space we need to not just be in, but to do well in," Sutton said. "We're particularly excited about the fact that news is the leading podcast content genre in the United States."
News podcasts capture 22% of revenue, followed by the genres of health/wellness and home/appliance. Host-read ads made up 66% of podcast advertising revenue in 2019.
When looking at the expected growth in 2020 of 14.7%, Sutton said that was still on track despite COVID-19. Usage behaviour has changed somewhat with people spending much less time commuting and in their cars, but the consumption trend has not decreased significantly. Q3 and Q4 podcast revenues are expected to rebound.
"We've seen in general that the advertising ecosystem is picking up, and the revenue that we're earning is very, very strong compared to the first part of the year," Sutton said.
In fact, podcast advertising is considered more resistant than other media against detrimental effects of the pandemic for multiple reasons:
The channel's agile and flexible format enables a quick shifting of ad messaging.
The news genre, which was already favoured by podcast advertisers, is seeing greater adoption by consumers in 2020.
The already strong podcast ad industry categories, DTC and financial, are maintaining overall market strength despite COVID-19.
Sutton clarified that he wasn't entirely convinced podcast advertising was more resistant than other media, but the model is very quickly and easily adaptable, which gives it huge advantages.
Looking at the industry audio genre trends, podcast advertising revenue share by content genre breaks down like this:
News: 22%.
Comedy: 17%.
Society and culture: 13%.
Business: 11%.
True crime: 9%.
Sports: 8%.
Technology: 7%.
Sutton finds the monetisation trends fascinating: "One thing we saw in 2019 versus 2018 is that podcasts that can be sold annually are becoming a larger percentage of the overall mix."
Annual buys doubled to nearly half (47%) in 2019, while scattered advertising declined to 21% of overall buys. Quarterly buys were still relatively strong with 31%.
The business of podcasting explained
Sutton questioned if the term podcast is still the relevant term.
"We've switched to thinking about audio being a product and content category, with podcasts being a sub-set of that. What drives that is that connected devices are everywhere now. When folks are just trying to get something done, it's really easy to call up a smart device and just ask for the news or weather."
This demonstrates the growing way in which consumers are engaging with publishers' content without ever putting eyeballs on a page, whether digital or print.
One of the attractive things about podcasting is there is not much in the way of equipment that is needed to begin. That is the easy part — it's the content strategy that's more difficult, along with finding an audience.
Sutton mentioned another Advance Local podcast host, Chris Quinn, who is the vice-president of content for Cleveland.com. Quinn hosts a popular show "This Week in CLE" and has mentored many of his journalists into becoming successful podcasters as well.
Quinn identified two key attributes to being a successful podcaster:
Having an informed and opinionated point of view driven by a passion for the topic.
Having a lively personality that transfers enthusiasm to the listeners.
"It's a simple formula, but it's really worked for us," Sutton said.
I've made a podcast — now what?
As of November 2020, there are estimated to be 1.5 million podcasts, with 34 million episodes, in circulation.
This made Sutton think of a highway in China, where 50 lanes of traffic line up for toll booths.
"It's massively confusing, and finding anything is really difficult. In so many ways it feels like your podcast is somewhere off on the horizon. Getting it discovered is not a straightforward concept. You've got to really work hard for it."
In the podcast ecosystem, news publishers have traditionally used an open ecosystem. But increasingly there are new, integrated ecosystems opening up that are more of a walled garden.
In the open system, publishers create the content and then the providers host the content and insert the dynamic ads. The provider also provides analytics and sometimes sells programmatic ads as well.
"It's a decent ecosystem," Sutton said, "but what it does is it puts all of the discover on us as publishers. We've got to find the audience, we've got to grow the audience, we've got to sell ads. It's a little bit daunting sometimes."
Spotify, on the other hand, offers the ability to effectively allow publishers to find their own audience within the larger Spotify audience of 286 million monthly active listeners. Publishers can also use Spotify data to target within that audience.
"It really presents sort of a changing opportunity for us, in terms of how we look at monetisation," Sutton said. He presented a video of Spotify for Podcasters:
"That's a pretty cool selling proposition," he said. "Being able to find your audience within their audience, being able to use their analytics and their targeting. It's powerful. But there's one thing I didn't hear in this video and that's the word monetisation."
Spotify didn't help publishers monetise, Sutton said — until the day before this Webinar, when the company announced that it had purchased Megaphone, a podcast hosting and monetisation platform.
"I expect what we're going to see is Spotify will offer a one-stop shop where you can bring your podcast, find an audience, monetise the audience, and reach distribution."
Sutton said this made him wonder what Facebook and YouTube would be doing, since they had some of the same capabilities as Spotify.
Promoting your podcast
Promotion is critical, as it can be a challenge to gain an audience. Sutton shared how Advance Local handled that with Buckeye Talk.
First, Advance set up a dedicated landing page for the show, where each episode of the podcast lives. The hosts also promote the podcast through their social media followings, particularly Twitter.
"We use a model where we run targeted advertising on our sites to readers that we think would enjoy specific podcasts, and drive traffic to them via our own self-promotion," Sutton said. "We also do a lot of work toward cross-sharing with other podcasts."
For example, "All Eyes on Cleveland" is a football podcast that Doug Lesmerisis, host of Buckeye Talk, appears on frequently. They also use a platform called Subtext that allows listeners to have a direct relationship with Lesmerisis and his team through exclusive text messages in which they can ask questions and receive answers. This is appealing to the super fans.
Amplify your reach
An Advance Local team in Alabama produces a podcast called "Greek Gods," which is supported and enhanced with guides that are run on the Web site — for example, a guide to the characters on the show.
"We effectively try to create density in two directions," Sutton said. "No. 1, we want to do the podcast, but No. 2, we want to talk about it and provide context on the site."
How podcasts are measured
Podcasts are measured much like digital ads, in impressions and clicks, but also in downloads. The best industry-wide key performance indicator (KPI), in fact, is downloads. The best industry standard metric is the number of downloads 30 or 60 days after an episode's release.
Some of Advance Local's observations and learnings in this area include:
Only the top 1% of all podcasts get 36,000 or more downloads per episode within 30 days, according to Libsyn, a major podcast distribution platform.
Garnering 100,000-plus downloads per episode within 60 days of release is a critical to achieve an industry threshold that allows podcasts to sell ads and trade cross-promotions at a positive ROI.
Advertising scale is important, but it's not the only reason to create podcasts. Podcast audiences, particularly on platforms like Spotify, tend to skew younger and are our audiences of the future.
Similar to advocacy or investigative journalism, some podcasts are more valuable for the halo they create in the communities we serve than for the revenue they produce through advertising.
How podcasts make money
There are three broad strategies to monetise podcasts, Sutton shared.
Announcer read advertising. Audio ads run at the beginning, middle, or after an episode. The general rule of thumb is to place ad breaks only every 15 to 20 minutes and to keep them under one minute long. Advertising is priced using CPMs that can range from US$10-US$40 per thousand impressions.
Host-read ads and product endorsements. Host-read podcast ads are the most in-demand ads as they are thought to result in better conversion rates and increased sales over announcer-read ads. The eCPMs aren't always higher, but the greater demand for host-read ads ensures that you'll have more opportunity to monetize your content.
Sponsorships. Some podcasts are more valuable for the niche audience they reach than the scale — a podcast that is narrowly targeted to issues that concern key business leaders in a community may not have great scale, but the quality of that audience may make it very attractive to a prospective advertiser. Sponsorships are sold on a per-show basis, and annual or, at a minimum, quarterly agreements are common.
"When you have an audience that's really valuable, but maybe not large, the way to monetise that is on a sponsorship basis, at a minimum on a quarterly basis, and preferably on an annual basis," Sutton said.
Things to consider when hosting a podcast
There are three categories to consider when developing a podcast strategy.
Show publication and development. This includes user management, customisation, simple upload and distribution, advanced insights, social media integration, at-home devices, RSS feed, data exports, and SLAs.
Monetisation. This includes the Acast Marketplace, true dynamic ad insertion, being IAB, GDPR and CCPA compliant, advanced targeting, third-party tracking, global programmatic, Acast Access, real-time revenue tracking, and ad slot configuration.
Ad operations. Campaign creation, inventory forecasting, scheduling, network and show targeting, positional targeting, back catalogue and episode targeting, third-party tracking URLs, reporting, rotation of ads, and ad listen-through rates.
"I just wanted to talk through this so you can see what's important to us," Sutton said. "Your own choices will be very different, based on your own circumstance.
Forecasting the future
Sutton shared some predictions that Scott Galloway made about podcasting. Primarily, he says that listenership is about to explode.
While 51% of Americans have listened to a singular podcast, less than one-quarter of them listen to podcasts weekly. Galloway says his peers (50-plus years old) ask him what podcasts they should listen to.
"Currently, folks under the age of 45 account for nearly 70% of podcast listeners, and everyone else (and the mainstream) is about to start riding the podcast wave — and listenership will go through the roof," Galloway said.
There isn't an organic discovery platform that allows people to find podcasts they might be interested in, Sutton said. The ability to attract a younger audience is also a benefit of podcasting.
"If you're looking to attract customers that will be with us for hopefully years, this is the place to go," he said. "It's a really smart strategy to attain new audiences and develop strategies around them."
Banner photo courtesy of Jonathan Farber on Unsplash.