8 strategies point media companies toward audience-centric transformation
Conference Blog | 19 October 2021
On Tuesday, Greg Piechota closed out the 2021 debut INMA Product and Data for Media Summit by exploring the key takeaways from the summit and presented a roadmap that companies could take on their own path forward.
"Five modules, more than 20 speakers, 10 moderations, a lot of questions, a lot of discussion — what did we actually learn?" Piechota posed. "Here is my take on the transformation roadmap to a customer-centric news media firm."
His concluding keynote address took a look at the big questions and big ideas from the summit, the current state of transformation to customer-centric news media companies, and some advice on how to win it.
INMA members have presented a number of questions around product and data, and shared specific challenges they face. This summit was designed to answer some of those questions and challenges, and help forge a roadmap forward.
"I think the most important thought is the connection between product and data — something that Gibson Biddle [of Netflix] called consumer science," Piechota said.
After highlighting the major lessons and researched shared duirng the five-session summit, Piechota outlined several strategies uncovered on how to enact transformative change: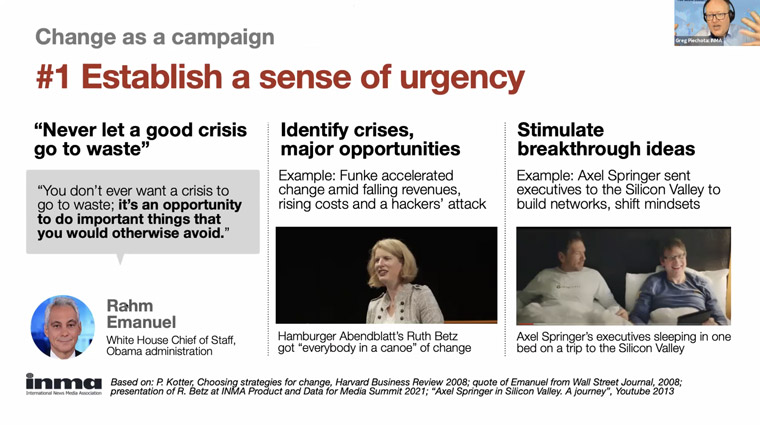 Establish a sense of urgency. Identify crises and major opportunities, and stimulate breakthrough ideas.

Form a powerful coalition. Identify who might be your change agent, build a diverse network to gain power, and improve the quality of ideas.

Create a vision. This includes a narrative that answers the questions why us and why now? Make the vision worth the effort with North Star goals and develop strategies for achieving the vision.

Communicate the vision. This requires many conversations, and leaders should use all channels possible for communication. They can also teach new behaviours by example.

Empower others to act on the vision. Get rid of obstacles, change what may undermine the vision, and encourage risk taking.

Plan for and create short-term wins. Plan for visible improvements, create those improvements, and recognise and reward team members.

Consolidate improvements and keep changing even more. Hire and promote those who share the vision, continue to deepen the changes, launch new projects, and find new change agents.

Institutionalise new approaches. Update the narrative, articulate the link of change and success, develop leaders, and plan for succession.
"For me, the biggest conclusion of the summit is focus on customers, and not features or tech," Piechota told summit attendees. "Start with the question: Who is your customer, and what is her need?"
Then, the media company must organise its operating model and metrics around creating value for the customer.
"Remember one thing: Companies are not really customer-centric — people are. In order to succeed, you need to build a movement."