4 key learnings from a year of digital transformation at Funke Media Group
Conference Blog | 02 March 2020
Funke Media Group started its transformation from print to digital in late 2018. A little more than a year in, INMA members attended a Webinar to learn how the transformation was going so far, key learnings, and what's ahead for Funke.
Dr. Ruth Betz, the head of digital transformation, opened the Webinar by saying that what Funke Media Group is doing right now is quite different from when it started one year ago. Her presentation would lead INMA members through the challenges that the company encountered starting in 2018, solutions it found in 2019, what the results were, and what's next for 2020.
The challenges
At the end of 2018, when Funke Media Group began transforming its business model from print to digital, there were a number of internal challenges.
Premises: 1,500 journalists at 12 newspapers spread across five office locations presented a logistical difficulty.
Infrastructure: The company had four CMS systems, eight archives, and 12 newsletter tools.
Human: People were concerned that the transformation would make their lives harder, as well as some resistance to change.
Cultural: Because Funke bought Springer, the organisation faced discrepancy within the hierarchy, editorial staff, and publishing house — two separate houses.
Organisational: Production of the 2,000 pages of Funke newspaper products occurred in four formats.
Sales: The print subscriptions strategies the company had always used could not be transferred to the digital business. "I saw silo thinking and location-independent, individual solutions being applied everywhere," Betz said. "That was just internal at Funke. We also had some external factors that made our lives very hard."
Paper prices: With the cost of paper constantly rising, the cost of putting out the print newspapers was increasingly expensive.
Occupancy rate of the print shop: It was also more expensive to do print because the number of people who purchased the print newspaper was declining.
State regulations: Making it more and more difficult to produce the various print products going to different regions.
The solutions
"That is why I came on board in 2019," Betz said. "The first thing was did was look at what others had done."
One important factor she saw was that sales and revenue took a hit at many publishers during the middle of the process, and organisations needed to be aware of and prepared for that possibility.
"So we took the leap and started our digital transformation," Betz said. She shared a quote from Funke CEO Andreas Schoo.
"The digital transformation is a challenge and requires agile thinking and acting across all areas. Our user-first strategy in the editorial offices is an important step. To be successful in the long term, we need a common understanding, common goals, and the close cooperation of all areas of our company. The new staff unit is the central interface," Schoo said.
Working in silos, with print separate from product, data, and sales, was no longer going to work.
Step 1: The mission
"So what was our first step?" Betz asked. "We started with a new mission statement."
During this stage, she had to show the editors why the organisation needed to change so they could jointly develop the new mission. She did this through data, showing when Funke readers were coming to the Web site (morning, mid-day, and evening) compared to when the news was published (noon).
"Obviously, when we published our articles, people are not there to watch it, and when people go to the Web site, there aren't new articles. This didn't go together."
Through this example, the editorial team really understood. The new mission statement at the end of 2018 became:
"We have to organise our editorial offices in such a way that we make the best possible offer to our readers, according to their interests and usage habits. Lead of the organisation is based on topics and timeliness, and therefore no longer on print."
In summation, the new approach would be user-first. This resulted in numerous changes.
Step 2: New workflows, roles, and culture
Funke started with one newspaper as a prototype, and the others followed. The team started with a workshop that asked the team questions about the effectiveness of their current meetings, formats, production times, decisions, and the content that was getting the best reach and conversions.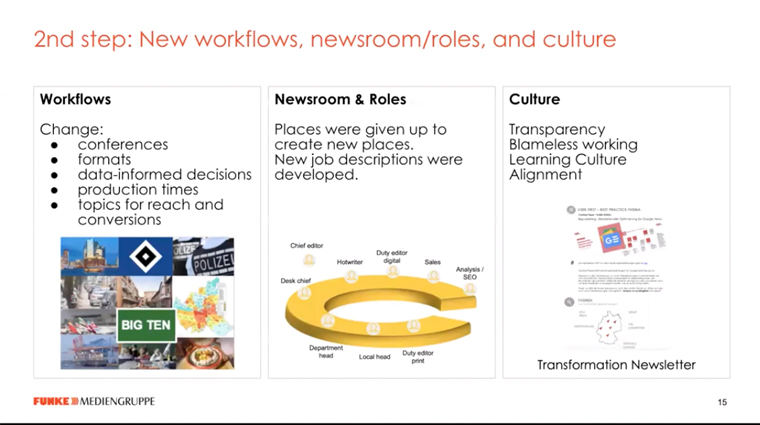 "So we discussed those workflows and the editorial office came up with solutions for all of those," Betz said. She added that these solutions varied between the different newspapers and locations.
This resulted in changes to staff roles and the newsroom, with new job descriptions and a discussion of who should be sitting at the table. Culture change was also a major piece of this, she said. "I realised that we really needed to talk about transparency, blameless working, learning culture, and alignment."
The editorial teams began having workshops every two weeks to discuss what had been happening from the new user-first perspective. "That's really important talking about blameless working," Betz said. This freed up people to share the things they were doing that were not working, which was an important part of the transformation and kept others from making the same mistakes.
Everything that was discussed at these meetings was written up in what Betz called "snackable" content in the form of a transformation newsletter for staff.
Step 3: Rollout and retrospective
The next step was to roll out the new strategy to the various locations, which they began with workshops, dashboards and data insights, and visiting each Funke office to discuss location-specific concepts.
Next, in the first quarter of 2019, the "user first" prototype was launched with a roadmap outlining the goals and cultural changes needed.
"After that we rolled out the concept, and Hamburg was the first one to try it," Betz said. "It worked out fine, so after that we had all the others coming in. They all had to develop their own concept of what does user-first mean."
One tool that was a big help was Facebook Accelerator, which Funke joined and was very beneficial. "Because of this accelerator, we finally came together as a group," Betz said.
In the third quarter of 2019, the organisation began focusing on engagement and culture. By the end of the year, the mode was retrospective: looking at what had been done throughout the year, what had worked and what had not.
Results
"By now, the digital transformation has affected a lot of people at Funke," Betz said. She revisited the various areas that had presented challenges before the transformation and shared what those looked like now:
Premises: While Funke is spread amongst many locations, the team works together through video conferencing, Slack, and direct contact for important topics.
Infrastructure: The company standardises and invests in in-house solutions.
Human: Every day, more colleagues are convinced that the new mission and shared goals are positive.
Cultural: Betz said this is the area they are still working on and that it's in flux, but the changes must be explained and lived by those who have embraced it — transformed colleagues become ambassadors.
Organisational: Workflows are discussed, the team participates in conferences and roadmap meetings.
Sales: Digital has to prove itself every day. This is possible because the Funke product has a strong USP, and the team just has to make sure that is communicated well.
"We have really started a strong approach that we need to always think in terms of the user," Betz said.
When it comes to actual results from all this, she reported that Funke Media Group now understands its users' needs better and has learned from the data: "We know the articles and we learn from the articles." By looking at what content created the most engagement and conversions, they learn what their subscribers want and how to optimise for that.
"When I joined one-and-a-half years ago and was in one of our conferences, data was not something we talked about," Betz said. "But now, we really do our decisions data-informed."
The subscription numbers also show that the transformation is proving successful. Digital subscriptions have grown 34.3% year-over-year since January 2019. "It's going up every month, which tells a lot to keep doing what we are doing here."
She added the results are also good for morale — instead of looking at circulation constantly going down, the Funke team is now seeing digital numbers which are constantly moving upwards. The brands are strong, and the team has a vision for the future.
What's next for 2020
Betz addressed the new mission statement that was created in early 2019.
"But, what are our readers' interests and habits? We really have to give our editors a chance to find these articles with the biggest impact. We realised we kept discussing, yeah but this one was great for reach, and this one was great for conversions. I kept answering, yes but we don't need reach only, we also need conversions. And we don't need conversions only, we also need reach. And by the way, did you see the time spent on this article?"
This led Betz to realise that now, the editors had so many KPIs to keep track of and so many dashboards giving them information. They needed to have one, clearer view that would help them navigate it all.
Article score
The answer to this was creating article scoring for Funke editorial. There were two principles for the development of this:
One size must fit all: one algorithm, cross-brand that every publication could use.
Two scores: one for visitors and another for subscribers.
A project group was set up from audience development and editorial. They met every two weeks to develop the article scoring system. They tested various iterations until they found the one that worked.
"Now our article score is ready, and at the moment we are rolling it out to all brands," Betz said. "We're still doing iterations."
Four key learnings
In conclusion, Betz shared the four major things that she learned along the way of Funke's digital transformation.
Find your own way. It's good to know what others did, but in the need an organisation needs to find its own solutions.
Listen to your editorial team. If a company combines gut feeling and strategic goals, they will come up with a beautiful solution.
Be transparent. The article score will only be accepted if editorial teams develop it, and get up-to-date documentation of algorithm.
One size fits all — almost. Funke used one algorthim for all brands, but for an "all-in-one" view, it needs to add a factor for each brand.
Betz added that while the article score helps shape the product, newsletters are what make the product known. Funke started a newsletter unit that works closely with the digital transformation team. The newsletters are based on the customer funnel and customer lifecycle.
"It was hard to get there, but we are there now, and we are working now," she said. "I think it's getting good, but it was hard to get there."
What worked and what didn't?
"One thing that was surprising to me is that user-first is not a one-time revenue strategy only," Betz said. "It's a transferable mindset that we are using for editors-first, that we are using for newsletter customers-first. User-first is really something that we can put everywhere."
An important aspect of transformation is to celebrate successes, she said: "We are not good at that, and I put down a note to myself to do better. We really need to celebrate our successes because we are working like crazy, and I focus too much on what's not working. We really need to change that."
Lastly, digital transformation changes minds and culture, and a company has to get everyone on the bus. There will be ups and downs, but the overall strategy moves in one direction.