3 European media companies innovate from the inside out
Conference Blog | 27 September 2018
Leaders of internal and external innovation teams shared insights into their processes at the INMA European News Media Conference in Amsterdam on Thursday. 
Companies that are most successful are those that embrace rapid experimentation, David Arnoux, head of growth and founder at GrowthTribe, told conference participants. 
GrowthTribe provides rapid training courses to organisations so employees can diversify their digital skills. They created a scale to rate each method of testing on its experimental nature. One-third of proposed tactics should be high on the scale, meaning they have more uncertain variables and may not lead to a desired result. Embracing a culture of experimentation is the only way to stay competitive, Arnoux said.
"Because the competition is absolutely fierce out there, and it's getting fiercer everyday," he said. When experimenting in marketing, he added, it is important to remember that humans develop attention filters: "What we do is try look for new channels that have never been used before. That's one thing that allows us to do paradigm shifts." 
Even on traditional channels, a crucial factor in successful marketing is what Arnoux calls the five-second test. If someone can not remember an ad message after viewing it for five seconds, that low comprehension rate hurts the brand and bottom line. 
Organising information in an easily digestible format was the crux of an internal experiment at Schibsted Media Group, said Ellen Montén, editor of The Schibsted Daily, an innovative internal e-mail newsletter for company employees. 
"Our definition of innovation is that innovation is what's needed to stay alive," Montén said.
To help the company innovate, Montén said the team came up with two hypotheses: an informed and unified workforce is crucial to success. Yet it is difficult for people to keep up with industry news because there is too much information available and too little time to sort through it. 
The team could not act on its first instinct to create an app due to a lack of skills and resources, but working lean had its advantages, Montén said: "Actually, being forced to do everything together and not having a developer and things like that helped us move forward."
E-mail offered a low-tech, easily manageable option. After hundreds of internal tests, the team landed on a strategy that delivered tailored industry news in short summaries in a newsletter that takes three minutes or less to read. 
At the end of each newsletter is a survey asking for users to click a smiley face or a frown face in response to the question: "How did we do today?" With 65% readership in the organisation, the current overall response rate is 95% positive. 
"It really shows we are living up to what we said we wanted to do," Montén said.
Inside Sweden's Bonnier, an autonomous internal team helps the company create a culture that supports innovation. Bonnier News Next takes a holistic approach to the company's assets with a three-gear strategy, said Catrine Rosengren, product development manager at Bonnier.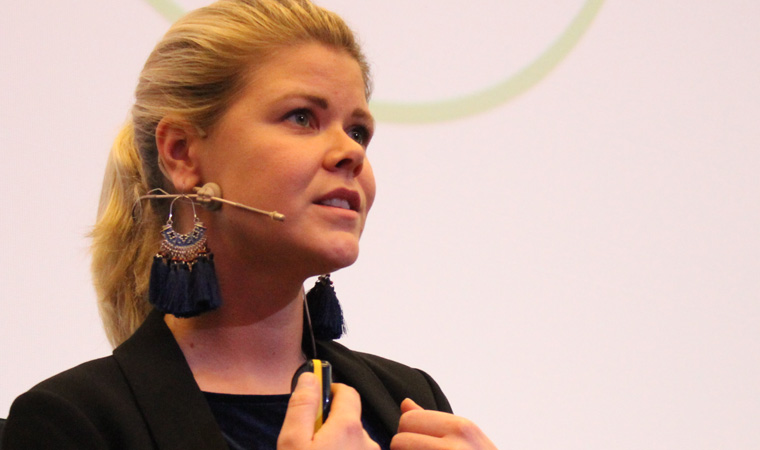 The first gear, speed, pushes the project from the build to establish phase with little involvement from company management. At the establish phase, projects are either integrated internally, spun off to another Bonnier title, or killed.
"We're not afraid to kill our darlings," Rosengren said. 
The second gear outlines what skills are needed to move through the process. For example, at the establish phase, promotional skills are needed to get internal buy-in on projects.
The first two gears help fuel the third, which is passion. Passion helps the team fight for a culture that bridges the wall between the commercial and editorial departments, Rosengren said: "If you do not fight for the culture you want, the culture will fight what you want."