After 100 years, Mark Twain offers insight on branding, audience and paid content
Ahead Of The Curve Blog | 18 July 2011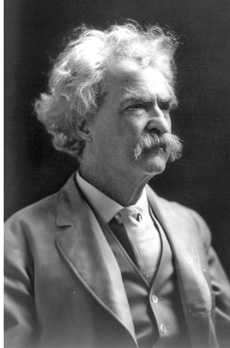 The reports of Mark Twain's death may have been greatly exaggerated during his lifetime. I have a new theory: maybe those in the rumour mill just wanted to speed up the publication of his autobiography.
Twain had left strict instructions that his autobiography remain unpublished for 100 years after his death, when he would be free to speak his "whole frank mind." He didn't want to offend his contemporaries with some of his scalding opinions.
He also predicted, "There may be a market for that kind of wares a century from now." Right on schedule and right on the money, 2010 marked the 100th anniversary of his death, and saw the release of the Autobiography of Mark Twain, The Complete and Authoritative Edition, Vol. 1.
It quickly became the surprise publishing hit of the year. The University of California Press had to scramble after the initial run of 7,500 was snapped up overnight as the 736-page book raced to the top of the bestseller lists. I just finished reading the 4 MB digital edition on my Kindle, which would have delighted Twain — as long as he got paid his royalties.
Twain is renowned as a master storyteller, folksy humourist and author of classic books — although he might bristle, given his definition of a classic as "something that everybody wants to have read and nobody wants to read."
His autobiography reveals Twain's entrepreneurial streak and natural media marketing savvy. He understood the value of his brand when he changed his name from the soft-sounding "Samuel Clemens" to the two unforgettable syllables of "Mark Twain." ( "I was a fresh new journalist, and needed a nom de guerre…")
He was also a fanatical advocate of paid content. Twain understood the value of his content and sought to protect and monetise it in every possible way.
He devised a scheme in 1906 to beat the copyright law and preserve future book proceeds for his heirs. Twain viewed copyright law as "pure robbery." So he wrote a half-million words that could be added to his works to restart the clock when the copyright expired on one of his books. Twain's 100-year embargo on his autobiography was also part of the plan to extend the copyright. While his original works are now in the public domain, his plan is working. Legal experts have declared that the copyright on his autobiography will endure through 2047.
Twain was also a multi-channel, multi-platform content producer. In addition to his books, he wrote for dozens of newspapers and magazines. His first taste of success came in 1866 from his series of 25 letters about the exotic Sandwich Islands written on assignment for the Sacramento Union.
When he returned from his four months in the islands (now known as Hawaii), Twain re-purposed his writings into wildly popular live performances on the national lecture circuit. Like a rock band that makes more money on tours than through music sales, Twain found his audience and huge financial rewards on the road.
Twain could easily be a serial entrepreneur in today's world. He took risks, and made and lost fortunes. He invested and lost US$300,000 (equivalent to US$7.7 million in 2010) in the Paige Compositor, an automatic-typesetting machine invented by James W. Paige that was supposed to be better and faster than the Linotype. Paige failed, and Twain lost every cent he invested. It was a bitter lesson that drove him to work harder and focus on his writing and lecturing.
Twain's autobiography reveals contemporary relevance of a life lived more than a century ago. The book meanders across topics and timelines but offers deeper insight than a chronological life story: "What a wee little part of a person's life are his acts and his words! His real life is led in his head, and is known to none but himself... ."
I'm not sure that Mark Twain would embrace social media today — or anything without a proven business model. Still, he is tweeting from the grave through a Twitter feed that delivers his wit and wisdom from an endless supply of quotes.