I'm thinking of 2022 as a year of more!
It's that time again, when we look forward to the year ahead and search for encouragement in our advertising efforts. 
It's a new year, with new hope for the elimination (or at least reduction) of the awful pandemic and its consequences, the hope that a pent-up demand for advertising accelerates, the ability to shape a new world for ourselves with new, more engaging, more profitable ways to resurrect advertising demand and spend. 
Indeed, in my last blog, you might recall I highlighted a number of "reasons to be cheerful" as we move into 2022 with signs of ad spend globally increasing. 
As a follow up today, I wanted to go one step further and show what I believe are the main trends shaping why we can indeed be cheerful and look at the top 10 areas where I think we will see growth.
To do the subject justice and not overload everybody, I will highlight my top five today and another five in the next newsletter (have you subscribed yet?) in a fortnight. I have spent considerable time looking at this area and summarising what some of the main players are saying so you don't have to! I have included links to relevant reports and surveys for further reading.
It's all intended to give you essentially a checklist on the options available to you to exploit for your media company or your advertisers as part of your offerings to them. I hope you find it all useful.
In this year of more, many areas have either established themselves already or at least shown some "green shoots," which I expect to grow hugely in 2022. See which areas you are engaged with on my list and which might be of interest to you in the coming months.
Here are the first five:
1. More AI/ML-led powering 
Artificial Intelligence (AI) and Machine Learning (ML) are now the technologies behind many advertising offerings, including engaging content creation, efficient data collection/targeting, customer service bot services, and, of course, search engines. This has all particularly jumped up since the beginning of the pandemic.
For example, in a PwC analysis of the U.S. market, 52% say they have increased their AI/ML progression plans. The main benefits being seen as better UX and decision-making, innovative products and server, as well as cost savings. See chart below:
AI can analyse consumer behaviour, too, and use data from platforms such as social media and blogs to help us understand how our customers find their desired products and services. 
Google, as you might expect, is at the forefront. In recent years, their AI efforts have allowed their search engine to accurately understand what people are searching for and what type of content best serves their intent. Google knows what customers are looking for and what kind of content best serves the intent behind the search.  
So, it follows that we all need to become more intelligent behind our own search intent (usually via content optimisation). Using AI to serve up, for instance, sub-topics, appropriate/related keywords, etc., will give you the best chance to rank highly. 
2. More programmatic advertising
Programmatic advertising is essentially the process of using AI to automate ad buying (we covered this in some detail in a previous newsletter and in the INMA advertising Master Class in September 2021).  
Overall, by eliminating people from the ad buying process, media companies and ad agencies can receive a more reliable and cost-effective solution to their advertising needs.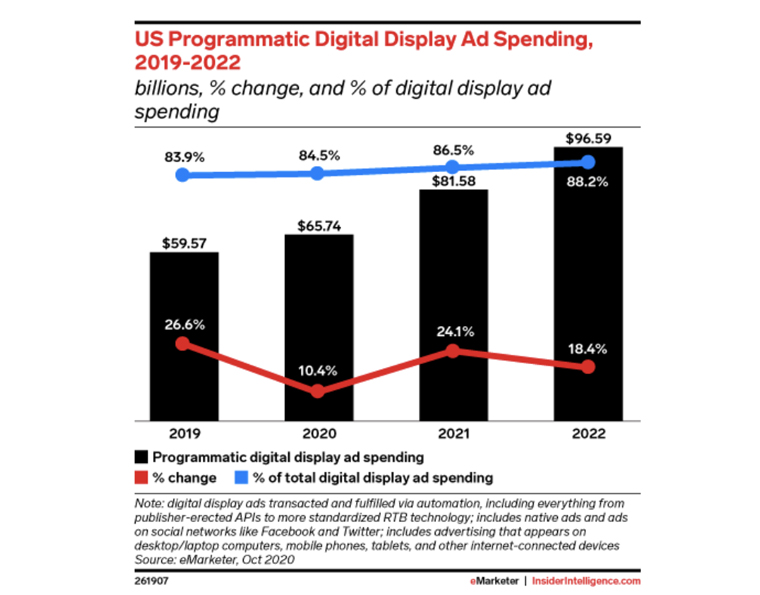 Global programmatic advertising spending has reached almost US$130 billion, according to research by Statista; 61% currently comes from U.S. companies.  
Also, eMarketer says U.S. programmatic display ad spending will grow 18.4% this year, back near to the average of recent years.
3. More personalisation 
If you want your media brand or your advertisers to stand out from the crowd in 2022, you need to embark more personalisation in your marketing, which means personalising your content, your products, your e-mails, etc. Readers like personalisation (when it's not too creepy).  
Cross-channel personalisation platform SmarterHQ found that 72% of customers act on marketing messages only when they have been customised to the reader interests. Link here.
A Salesforce survey (PDF link here) found that advertisers like the benefits of personalisation on their:
Customer experience (64%)
Conversion rate increase (63%)
Visitor engagement (55%)
Personalised e-mails based on behaviour have been shown to be three times better in terms of engagement (e-mail guide link here). That one fact alone should be enough to persuade you to look further into this area.
Outside media, there are great examples to view. Just take a look at practically anything sent out by the likes of Netflix, Amazon, etc., which use expertly honed, recommended product messages, or, say, film titles to engage.
Starbucks' mobile app uses gamification, which uses data such as purchase history and/or geographic location to try to be as personal as possible. In turn, it allows its customers to customise their beverages and encourages additional usage with its rewards programme. A "holy trinity" if you will of advertiser, data, and customer all working in harmony for a better user experience and enriching benefits to the advertiser, the customer, and the segmented data lake in a continuous/virtuous circle that gets better the more it interacts.  
4. More video advertising
Video marketing is an important marketing trend that is likely to dominate for the next few years.  
A Biteable survey found that:
60% businesses use video as an enhancement option.
61% advertisers think video is "very" or "extremely" important as part of their advertising strategy.
74% say video has better ROI than static ads/imagery.
52% say video helps build trust with possible future customers.
Impressive and convincing statistics?  
With regards to video advertising, don't think solely of YouTube. There are many ways to drive higher engagement in this space. For example, maybe you could create a video post or maybe start a live broadcast on Facebook?  
Video is certainly a useful option where you can regenerate and reuse existing content, i.e. taking a content such as a blog post and making it into a video.  
In a mode of "reverse engineering," the same applies vice versa. You could take an existing video, publish it on a Web site/YouTube channel, and then publish it as an article. Or, do something I regularly do on my UK radio show: Rip the audio on its own and use it as a podcast.
5. More interactive content 
Finally for this week (remember there will be five more top advertising trends in the next newsletter so be sure to subscribe here), I want to highlight one of the fastest-growing digital advertising trends in recent years: interactive content.
This year, we're sure to see a huge shift from the perhaps "traditional" text-based content towards more dynamic and engaging content that uses a range of technologies and immersive experiences, such as Augmented Reality ads or 360-degree videos. See INMA's recent Meet-Up on this subject (link here). 
Once again, it's all about "more." Interactive content is much more engaging, far more memorable, and more probable to deliver higher than expected results for you and/or your advertisers. 
Overall, it's fresh and original. Customers like it and will want to linger because they feel more involved, more connected to the brand. 
If you'd like to subscribe to my bi-weekly newsletter, INMA members can do so here.