Greetings from London. Welcome to the latest INMA Advertising Initiative newsletter.
In this edition, I will be returning to a topic that I keep getting questions about from INMA members. That is, e-commerce. 
We have talked in a previous newsletter about what e-commerce is and whether we can utilise our sales teams to sell commerce. However, there is some confusion as to what it is as far as (predominately young) agency buyers and our (local) advertisers are concerned — either in a recommendation capacity or using it, respectively. 
I am also going to discuss social commerce. Understanding the space from the advertiser point of view has many benefits for our media companies and the agencies/advertisers themselves. They use social media, for example, as a communications platform, but they don't necessarily know why these channels would be good for e-commerce. 
Many smaller advertisers are troubled by the thought of e-commerce, and they are not necessarily digitally savvy. They, along with the mainly younger agency media buyers, are looking for guidance as to how to take the first steps and to understand how it works in this space. 
Thus, if we can show we understand it, they will trust us, seek advice, and, ultimately, invest in digital advertising spend when the time comes.
So, let's look at it all and arm ourselves with the facts we should know on their behalf.
Also in this edition, I refer to the U.S. satirical cartoon series South Park. Some may remember it as a TV show that became famous for its profanity and dark, surreal humour as it satirised a wide range of topics, centred around an adult audience. 
Why South Park, I hear you ask? Bear with me. For me, there was a piece of comedy gold in one specific season that has amusing relevance today for us and for our advertiser clients — and to the main topic for this newsletter: e-commerce.
More later. But firstly, let's talk e-commerce for advertisers.
Three e-commerce success factors 
I believe that successful e-commerce is all about three specific areas: 
Using the right technology.
Ensuring a smooth, frictionless, user journey.
Listening to your customers' feedback.   
Technology: Having the right technology in place is the first step for any publisher launching a new e-commerce venture. It can really change what the ROI is.
For smaller publishers without the ability to build their own e-commerce infrastructure, there's the option to work with third parties. I believe the best place to begin is getting the "on-page optimisation" correct. Having a "test and learn" mentality is key, and a flexible approach to developing different revenue streams is also crucial.
The big failures in this space come when large amounts of money get channeled into something that hasn't really been proven yet.
User journey: Successful e-commerce companies seek to promise an "immersive shopping experience" for customers who want the ability to shop at a range of different stores, all in one place, whilst considering all the customer touch points along the way. 
But whether an e-commerce site is for one advertiser or many, the questions to ask are: "Is the Web page appealing to the reader and engaging for what the customer is looking for? Can they easily understand how to navigate the sections and see how to look at things that matter to them, e.g. how to search? There are lots of different things we need to be conscious of.
Then beyond the shopping experience itself, capturing data to analyse the user engagement is important. SEO is crucial.
Feedback: Customer feedback is another area we should monitor closely. Then we can understand everything about the advertiser in terms of user perceptions, issues, and comments that could possibly be optimised.
It's always vital to get customer feedback and show you are acting upon it.
New trend in e-commerce: social commerce
One trend has emerged that is disrupting online shopping. And we need to embrace. Like it or not, social commerce looks set to make a huge impact on e-commerce sales.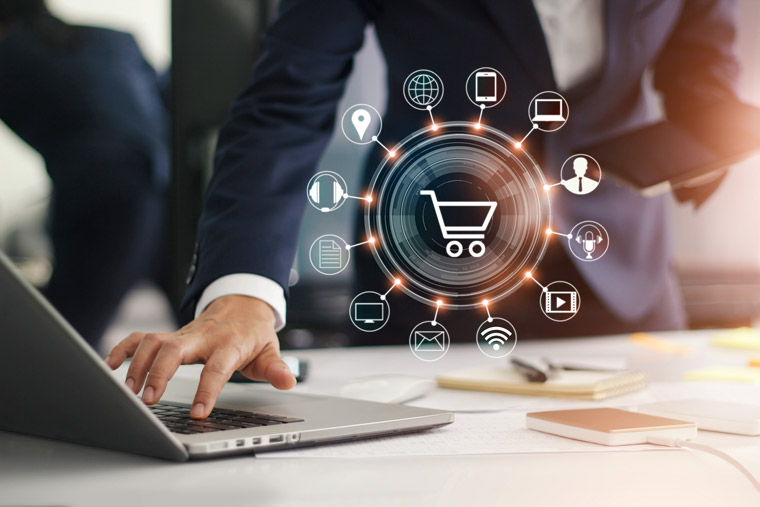 Social commerce, simply, is the coming together of e-commerce and social media. Advertisers engaging in social commerce use social platforms as vehicles to sell their products/services. If a business relies on e-commerce sales, it's likely to be already involved in social commerce. However, as it grows and includes smaller advertisers too — whether you're in the space or not — the question is: Are you maximising the potential of this latest trend for your organisation?
Opportunities for growth
For years, China led the world regarding social commerce. However, during the pandemic, the trend has gained huge momentum in, for example, the United States, when numerous shoppers moved online. 
There were 80 million social buyers in the United States alone in 2020 when the pandemic hit hardest, according to Statista. That equates to a 30% increase over pre-pandemic levels. 
Experts believe the social commerce trend would have continued to grow without the pandemic, but the pandemic increased its growth exponentially. 
The 80 million buyers mentioned above spent approximately US$27 billion last year. 
Looking ahead, retail experts are forecasting social commerce sales to increase by more than 35%, i.e. a spend of more than US$36 billion. And, looking further ahead to 2025, social commerce (again, in the U.S. alone) is set to grow to nearly US$80 billion.
How can your advertisers take advantage?
Bearing in mind the forecasted growth for social commerce and the growing use of social media, any business involved in e-commerce has the potential to benefit. Yet it is important to ensure the social commerce strategy is tailored to the relevant brand. 
Sounds easy, right? But there are several specific tactics that are relevant to consider. They include user-generated content, working with influencers, and adding consumer comments/reviews to any posts.
Choosing the best platform 
Another big consideration is the chosen platform. 
Facebook is currently the largest social media platform in the western world, which is why it needs to be considered by the advertiser as a contender for sales activity. For small- or medium-sized advertisers, Facebook has created a bespoke platform called Facebook Shops. This was launched in 2020 to help smaller businesses through the pandemic. Through the tool, advertisers can bring their storefront online for free.
Meanwhile, Instagram has been associated with influencer culture for many years now. Despite having fewer users overall (compared with Facebook), influencer marketing can raise awareness for the advertised brand. The platform has several tools to generate sales.
Recently, Instagram launched Instagram Checkout to make purchases easier. Since 2020, the social network has had a shop tab. This allows users to see and purchase in one single click products advertised by people, influencers, or advertisers they follow. 
TikTok is a relatively recent addition to the mix. Advertisers benefit from user-generated content leading to "consumer mania." Some TikTok users have developed large audiences based on their ability to sell a wide range of products. Consequently, e-commerce masters Amazon added a column to their Web site listing items that recently went viral. As a result, TikTok has now recognised the huge power of its platform as an e-commerce facilitator and has now launched TikTok Shop to offer sellers a wider range of solutions.
Advice for e-commerce curious
For agencies/advertisers making their first stab into the world of e-commerce, my advice is not to rush it all. Start small, start slowly, start building up relationships, start adding Web links to your site, and start easy-to-understand buying guides. 
All that creates the foundation. 
Keep a focus on honing your advertisers' customer journey and ensure they follow a path to purchase that is as smooth and frictionless as possible. 
Remember, it's ultimately all about that user journey. How easy is it for a customer's journey to purchase and how do we facilitate that in the optimal way? 
Showing our advertisers and agencies we "get" this is half the battle to securing budgets. And yes, I know I have highlighted social commerce in this newsletter, but that's because we can't ignore it. We will be ridiculed if we do. Perhaps instead, look at how your media PLUS social commerce can together give a more synergistic result than if they did just social? You might be surprised as to the differences in audiences, in reach, and in likely impact. 
E-commerce is permanently evolving. While online shopping statistics have grown across the board, partially accelerated by the pandemic, it seems investing in e-commerce activity allows your advertisers to increase sales and connect directly to customers.
It is an excellent way to boost revenue and build long-term relationships all along the chain — from media to advertisers/agency to customers. Everyone wins when done properly. And to do it properly, we need to understand the key facts and "directions of travel" trends.
Good luck.
Further reading
Are young media buyers following the South Park method?
The satirical TV cartoon series South Park won many awards for its cutting and cynical content — and is fondly remembered by many for its irreverent humour.
Well, there was one season of the series that caught my attention at the time and remains a point of reference for me today whenever I think of media's future. 
I refer to the characters of the "underpants gnomes." Yes, you heard right. Underpants! 
In South Park, the underpants gnomes lived in an underground lair, and their mission in life was to steal underpants off people's washing lines and laundry baskets. 
Why? It all focused around their three-point business plan to life: 
Steal underpants.
????? (they are unsure about this step).
Untold profit for all.
They believed they were commercially minded, and their ultimate goal was No. 3. So, they reckoned that by stealing underpants and stockpiling them, it would one day lead to enormous riches. 
However, they had no clue what step No. 2 should be to get them there. 
Mad cap comedy as it as — and very funny — so it is today in media (and business generally). We sometimes think we should venture down a certain path to riches — maybe as it is the latest fad or something we are comfortable with but without the understanding of what's needed to steer people on the right course.
That's how I see many young media buyers. That's how I see many small advertisers. They need guidance, expertise, insights, facts. 
We can help by understanding the market, helping with strategy, showing we understand — without bias but with authority.
How can we monetise today's digital environment? If we show we understand and can demonstrate a path to get there — as I mentioned earlier regarding e-commerce for advertisers, for instance — it will end up being a profitable journey for all involved.
Further viewing/reading
About this newsletter 
Today's newsletter is written by Mark Challinor, based in London and lead for the INMA Advertising Initiative. Mark will share research, case studies, and thought leadership on the topic of global news media advertising. Sign up for the newsletter here.
This newsletter is a public face of the Advertising Initiative by INMA, outlined here.
E-mail Mark at Inma.mark@gmail.com with thoughts, suggestions, and questions or follow him on Twitter (@challinor).