This newsletter hits on the recent good news on the rise of global ad spend in media in 2021 and then looks at the growing area within that where there is rapid expansion. That area being native advertising.
Rise in newspaper ad spend 
New figures from WARC (formerly known as the World Advertising Research Centre) shows us that the global economic recovery has accelerated, where we have seen Q1 2021 growth at 12.5% and Q2 2021 at 23.6%. 
Global advertising spend is on course for 12.6% growth this year to reach US $665bn, an upward trend from 6.7%. Further growth, of 8.2%, is forecast for 2022, by which time the global advertising market will be worth more than a staggering US $700bn. 
Growth in Q2/2021 was driven mostly by online ad formats, which together saw spend rise by over 31% versus the previous year. E-commerce (the subject of my last newsletter) at +59.5% and search at +50.6% were the star performers, although offline media is also faring quite well with newspapers gaining too, despite COVID accelerating a digital shift in marketing focus.
Advertising spend in print newspapers will rise by 4.8% this year, the first growth recorded in a decade. This makes the total at $29.6bn, before a small decline of 1.0% projected for 2022. There is indeed money still to be picked up "off the table" by media companies in the short/medium term at least re print advertising. 
This is something we will be picking up on in our second INMA Advertising Initiative Master Class, i.e. print and its relevance in 2022 and beyond. Details will be on the INMA Web site soon. Dates are February 17, 22, and 24. Diarise them now.
The native opportunity 
One of the main areas expanding is that of native advertising. 
Let's be clear at the outset: I can almost hear the question already in people's minds. This is not branded content. There is a difference and that difference is normally found in its placement. If the content is created for a brand's own channels, it's classed as branded content. Whereas, if it's created by an external party, then adapted for their audience in terms of tone of voice and format, it will then sit as native advertising.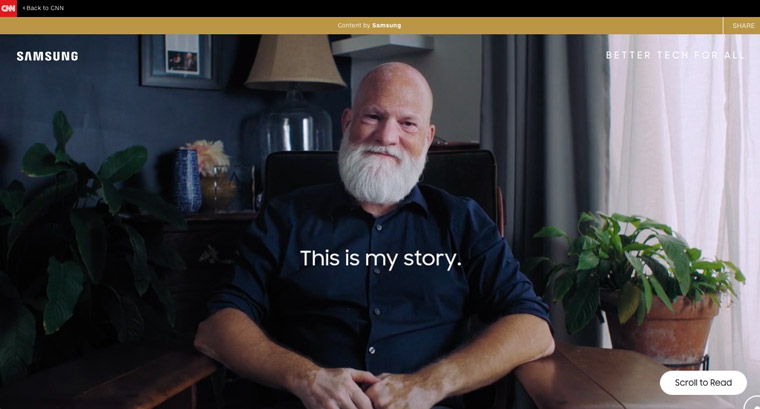 Native advertising is, as many will know, an ad format that matches the look, the feel, and the functionality of the media environment in which it appears. Compared to other forms of advertising, which try to stand out and force attention, native advertising is the opposite in that it tries to blend in with its environment, seamlessly.
We should be offering guidance, strategic advice, and the actual opportunity/platform of native to our advertisers. It's likely that many advertisers and agencies won't have the expertise or know how. You should have and be able to demonstrate that.
So, let's examine the facts and what we need to know.
Label it correctly or else 
Today, you can find native ads on publisher sites, social platforms, search engines, and other online environments. They are nearly always indistinguishable from any organic content, but, importantly, readers can identify them because — legally and to ensure a high degree of transparency for the user — these ads are marked as an "ad" or maybe "sponsored content" or similar. 
It is true that native ads often perform much better than traditional formats. For example, according to the IAB. Europe, compared to banner ads, native delivers click-through rates (CTRs) 8.8x higher which then increases purchase intent by 18%.
The virtuous circle
Native ads can be also delivered manually or programmatically, and most native ad platforms give advertisers the control over where their ads appear to ensure brand safety. This is a plus for publishers, who can control which ads appear on which platforms and are relevant to their audiences, therefore resulting in better customer experience and, therefore, better engagement. Brands can use audience targeting, re-targeting, or contextual targeting to reach their required audiences and, consequentially, increasing their chances of engagement.
A virtuous circle?
Measurement factors are important
Another benefit for native advertising is that it also delivers high-quality traffic, meaning advertisers can measure KPIs such as: time spent, existing visitors, returning visitors, and new visitors.
5 native "need to knows" for media companies
So, what are the top five practices that publishers need to know around native to offer advertisers as an expert advisor and as a platform? 
Compliance. Always ensure that your native advertising is complaint with all the legal necessities regarding labelling of ads, GDPR etc.
Test, test, and test again. Test out your creatives on your customer groups first. Create different variations of your ads and, when launched, always review their performance. Then, if need be, don't be afraid to make tweaks on a regular basis. 
Context is king. The actual content of your ad is obviously really important, but the context in which it sits is also crucial. Interestingly for the news industry is that the IAB found 84% of consumers feel advertising within news publishers' environments increases or maintains brand trust. There is hope for us. A lot of hope, if we grasp this. Tell your advertisers this. Tell your agencies. We have powerful channels for them to exploit.
Be real. The idea behind native advertising is that it fits naturally into its environment. Design your feel, images, copy/text to look similar to the content that surrounds where it sits. Again, not rocket science, but not as many people as should pay attention to this simple but powerful fact.
Don't disappoint. Don't sensationalise to get clicks. I have seen so any bad examples on new media Web sites. For example, don't use a sensationalist headlines like, "You won't believe what happens next!" to drive customers to an article or video where there is no need to do so and where there is no sense of the incredulity that the headline suggests. You only create disillusionment, mistrust, and annoyance.
The future of native
It seems to me that the future lies around two important areas: 
Interactivity. We can except more immersive experiences maybe around technologies such as augmented reality, 3D, etc. The technology is there and getting more accessible, more in demand each day. Consumers want better experiences. Native can give this.
Mobile. With faster and more powerful mobile devices arriving on the market almost continuously these days, we will see more native innovation especially designed for the mobile screen and functionality. Mobile commerce will, I feel become the norm as people, during the pandemic,have been pushed to mobile screens more and more to buy "stuff" and not to a "locked-down," bricks and mortar, physical store. Creativity will reign here. And with the increase in technological advances, we will only be limited by our imaginations.
Further reading
About this newsletter 
Today's newsletter is written by Mark Challinor, based in London and lead for the INMA Advertising Initiative. Mark will share research, case studies, and thought leadership on the topic of global news media advertising. Sign up for the newsletter here.
This newsletter is a public face of the Advertising Initiative by INMA, outlined here.
E-mail Mark at Inma.mark@gmail.com with thoughts, suggestions, and questions or follow him on Twitter (@challinor).