Wall Street Journal focuses on student memberships, optimisation team
Editor's Inbox | 07 March 2019
I first met Suzi Watford, executive vice president/chief marketing officer at The Wall Street Journal, on an INMA study tour in May 2017. This was four months after U.S. President Donald Trump took office. During that study tour, she shared the company's five key drivers at the time: 
Having a "big hairy goal" of three million subscribers in three years for Dow Jones (which it met in April 2018).
Strategic vision.
Rebuilding paywalls.
Using its greatest asset to sell: journalism and content.
Donald Trump.
It is interesting to hear what Watford is focused on almost two years later. She recently shared with us her pride in the company's success at growing student readership, as well as at setting up the teams and task forces that are optimising departments across the board — from marketing to ads to news.
The Wall Street Journal's "Good Things" campaign — which just this week made the shortlist of finalists for INMA's Global Media Awards (shameless self-promotion) — targeted young Millenials because, on paper, it's "the most entrepreneurial generation ever: they're digital natives, they're the most highly educated generation, and they've founded some of the world's most disruptive companies."
However, the company's research unearthed a different reality: a group with "big aspirations and ambitions that was nonetheless stalled by uncertainty and anxiety." By identifying the problem and tackling it with strategically scripted video, the company increased interest in subscribing to the WSJ by 126%. Further, 87% of the 11 million people who watched the brand film took action (visited WSJ.com, read WSJ in print, or talked to family or friends about WSJ) as a result.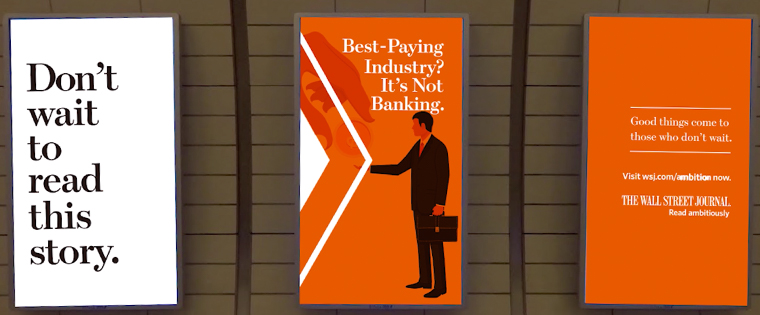 The campaign drove the strongest sales date in WSJ history and exceeded all its initial targets. So what else is going on there, we asked.
INMA: What success within The Wall Street Journal are you most proud of at this moment?
Watford: The growth amongst student membership, the impact our optimisation group is having across many parts of the business, and the talent we have built.
INMA: How have you managed to grow student membership?
Watford: We have grown membership with students by understanding what they and professors need from WSJ, selling differently to them and colleges, integrating the WSJ into the classroom and increasing our on-campus presence. 
INMA: How would you describe the impact of your optimisation group and what is its charter? Who are its members? 
Watford: Our optimisation team is working across … marketing, ads, and news to think about everything from how we can use content recommendations to drive engagement to how to present information differently to be stickier. 
INMA: What do you see as the big opportunities in 2019 and how are you taking advantage of them?
Watford: The need for customer understanding and collaboration across the business — building cross-functional teams to drive growth.  
INMA: How do you plan to gain this understanding? 
Watford: We have researched and tested different pricing and propositions and done more to gain understanding of why people don't subscribe. 
INMA: What kinds of cross-functional teams have you built, and what are their tasks and goals?  
Watford: We have developed cross-functional task forces around everything from driving engagement to fixing ad tech issues. Each time we have had a clear and measureable goal that we have come together to solve. 
INMA: What is your company's biggest idea/initiative for the coming year?
Watford: Driving a deeper understanding of our customers and prospects, and how this is reflected in what and how we sell.
INMA: By what means are you driving a deeper understanding? Could you tell me one or two product and sales technique changes that have come about as a result? 
Watford: Nope — not yet!
INMA: What keeps you up at night? 
Watford: Nothing, I sleep well after a busy day. But during the day what keeps me on it is the desire to continue to push ourselves, be amazed by what we can learn and the joy of uncovering something new — an insight, a good question or a fact that opens a new door. 
We like the data, but we spend more time trying to make sure we are asking the right questions and then follow where the answers take us. 
We do believe that the answer is probably somewhere in the room, in the building, or in the data. So the team is great at asking questions, but then arguing [with each other] to look at it from another angle. And it gets us to a good place.
We ask "What if ?"
Humility is key. What if we were wrong or believed something else? What would that mean? And could we perhaps go that route? 
INMA: What are some hot new marketing strategies that you expect to affect the news media industry in 2019?
Watford: That's why I will be at INMA in NYC in May — to find out. 
Thanks, Suzi, for the assist on a second shameless self-promotion. I look forward to seeing you in at World Congress in New York!