Pro-media backlash to Trump's election: What should U.S. newspapers do?
Editor's Inbox | 16 November 2016
Some interesting things are happening here in the United States in the week after our presidential election: 
Google announced Monday that "fake news" Web sites could no longer use its online advertising services. 
The same day, Facebook said it will not display ads on "fake news" sites.
On Tuesday, Twitter made it easier for users to hide content, specifically targeting hate speech. That evening, the company suspended the accounts of several "alt-right" account holders.

A Google doc, created by a journalism professor, is making the rounds on Facebook, listing "false, misleading, clickbait-y, and/or satirical 'news' sources."
The Google and Facebook changes do nothing to limit the spread of fake news — by search or share. But they hit these sites in the pocketbook.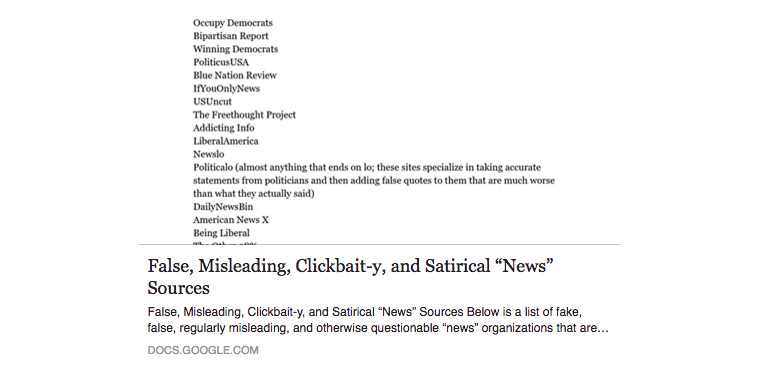 So what are legitimate news media companies doing? The time is ripe for them to jump into the fray and benefit from this situation.
But first, a little history, then I'll get to the didn't-see-that-coming opportunity for news media companies. I'm going to do my best to stay away from politics here. My view on my country's presidential election will no doubt be apparent, but it really has nothing to do with the subject at hand. 
The First Amendment to the U.S. Constitution lays it out very simply (I'll only include the part that applies to this subject): "Congress shall make no law … abridging the freedom … of the press." 
Thomas Jefferson, the principal author of our Declaration of Independence and the third president of the United States, once said: "Were it left to me to decide whether we should have a government without newspapers, or newspapers without a government, I should not hesitate a moment to prefer the latter. But I should mean that every man should receive those papers and be capable of reading them."
The "Fourth Estate" is something I grew up with. It is a powerful thing in a democracy. The Fourth Estate is simply "the people and organisations who report the news," "journalists as a group," and "the public press," according to Merriam-Webster.
It stems from England, Merriam-Webster explains, where three groups are represented in the Parliament — the nobility, the clergy, and the commoners. The Fourth Estate was the label given to others who influence the government, and later came to mean just media.
Being anti-media isn't anything new in the United States. A Gallup poll measuring trust in newspapers, TV, and radio from 1997 shows trust has fallen from 53% (with a peak of 55% in 1999) to 32% currently. I found this poll in a fascinating story in The Atlantic in September, Why do Americans distrust the media? 
It feels different now, though.
There is a large (it seems) segment of the American population that simply puts zero credibility in mainstream media. In fact, the acronym "MSM" became a "thing" during this recent election cycle. And at the same time, a large (it seems) segment of the American population puts all its fact-checking eggs in the this-source-backs-up-my-beliefs basket. 
As INMA CEO/Executive Director Earl Wilkinson said in his blog last week, What Trump's victory says about news media brands, "the presidential campaign was … a declaration of war on what truth is, who tells that truth, and how truth is communicated." 
Here are two facts I find telling about the current state of our free press in the United States: 
Our president-elect got into a Twitter fight with The New York Times (and threatened to sue the company).
The executive chair of Breitbart News (a far right-wing "media" source not known for its facts) has been appointed chief White House strategist for said president elect. 
Stay with me. I'm almost done with the politics and into the industry bonus.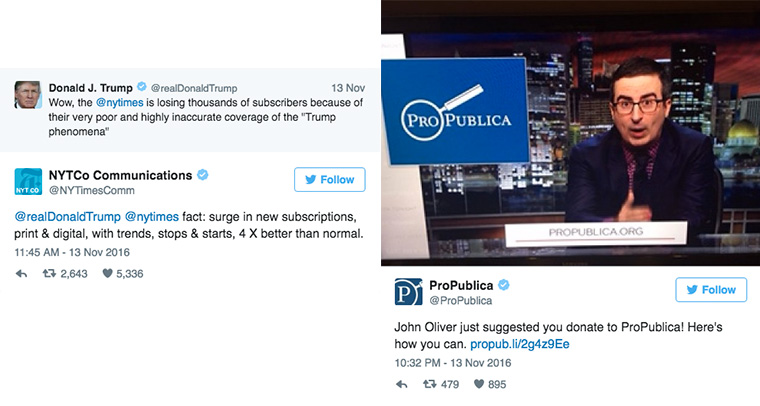 Here are quotes from President-elect Donald Trump — who, during his campaign, denied press credentials to The Washington Post, Politico, and The Daily Beast — on the media: 
"If I become president, oh do they have problems. I'm going to open up our libel laws so when they write purposefully negative and horrible and false articles, we can sue them and win lots of money." 
"The @WSJ Wall Street Journal loves to write badly about me. They better be careful or I will unleash big time on them. Look forward to it!" 
"Wow, the @nytimes is losing thousands of subscribers because of their very poor and highly inaccurate coverage of the 'Trump phenomena'" 
Not exactly. 
Since the election on November 8, Harvard's NiemanLab reports: 
ProPublica donations were 10 times the usual number post-election, prompted by a request for donations and a little help from comedian John Oliver.
Subscriptions are up 160% at The Atlantic, and visitors to the magazine's Web site who purchased a subscription have doubled. 
Donations to Mother Jones were up 10 times from an average day.
The Guardian US set a record for the highest member sign-ups on a single day (November 9) at 25 times higher than normal. 
And MarketWatch reports The New York Times has also seen an increase in subscriptions — four times the normal rate.
What is happening right now is that the side that lost (Clinton supporters) is in a frenzy to support everything it holds dear and thinks is in danger. A free press is high on that list.
I jumped on the bandwagon. Already a New York Times digital subscriber, this week I added subscriptions to The Dallas Morning News and The New Yorker. I will likely add The Washington Post to my list before week's end.
So, if a free — and trusted — press is the fourth leg of a democracy, which I believe it is, what should the press in the United States do? Bonus round: If there is a sudden interest in supporting said free and trusted press, how can the press benefit from that? 
How fast — yesterday? — can news media companies jump on this movement and start marketing within this new context?
Maybe news media companies carefully look at bias in story selection. Maybe newspapers no longer endorse candidates as a way of extending the image of unbiased. A sizeable chunk of the American electorate just told newspapers what they think about their endorsements since only three newspapers in the country endorsed Trump (my hometown newspaper, The Waxahachie Daily Light, being one of them). 
Do news media companies — the real news media companies — band together against "media" companies that are not within the standard norms of unbiased? What are those standard norms? 
Smarter people than me will need to forge the path forward. But something needs to happen immediately.
It is a rare and fleeting moment in which slightly more than half of the country has prioritised a free and trusted press (roughly Clinton's popular vote; liberals certainly have their left-wing media darlings, but they also seem to read and trust mainstream media), while a sizeable percentage of the other almost half indicates they simply don't care (Trump's electoral college victory).
The media now has a mandate. How will you use it?