INMA Elevate Scholar Lagipoiva Cherelle Jackson of Pacific Environment Weekly
Editor's Inbox | 16 March 2021
On October 29, INMA and Google News Initiative (GNI) awarded 50 news media professionals around the world with its debut Elevate Scholarship. This series features these impressive media professionals who are shaping our industry.
Lagipoiva Cherelle Jackson doesn't wait for a path to appear. She creates it so that others can follow her. As both the first female editor-in-chief and the youngest editor of a national newspaper in Samoa, she is boldly moving forward to not only fulfill her own ambitions, but to make the world a better place. 
Her work has focused on topics she cares about: climate crisis, gender equality, environmental negotiations, and human rights. At 38, she has been awarded the National Environment Award by the government of Samoa for her environmental journalism, has contributed to publications including the Wall Street Journal, The Guardian, Associated Press, and others, and founded the first regional environment news agency in the Pacific. She is currently also a PhD candidate at the Centre for Samoan Studies at the National University of Samoa.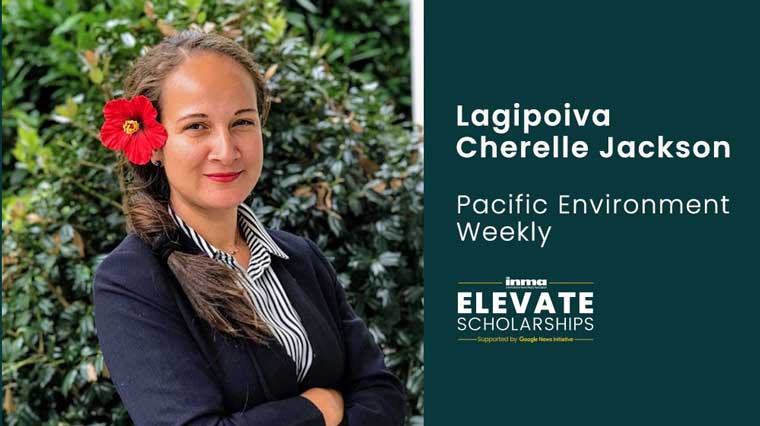 Moving forward, it's no surprise that she aspires to provide even more in-depth stories on climate change in the Pacific Islands.
"All my work has been focused on indigenous populations, small island developing states, and minority groups in the Pacific," she said. "I have and always will continue to pursue inclusiveness in the news media by covering indigenous issues."
Among the issues she sees as critical are the hiring of women of colour and ensuring that women are represented in higher level management of newsrooms. And, as her career evolves, she plans to continue to be one of those women.