INMA Elevate Scholar: Jun-Kai Teoh of Newsday
Editor's Inbox | 21 December 2020
On October 29, INMA and Google News Initiative (GNI) awarded 50 news media professionals around the world with its debut Elevate Scholarship. This series features these impressive media professionals who are shaping our industry. 
As an immigrant from Malaysia, Jun-Kai Teoh understands just how challenging the U.S. visa process can be. Now, he draws on his experiences to help others. 
"I've started a small support group for immigrant journalists in the U.S. and have been working with others on a wiki or guide to navigating immigration in the U.S. as a working journalist," said Teoh, a data journalist at Newsday. "I've qualified for multiple U.S. work visas and managed to grow as a journalist and technologist in an increasingly small field, despite the reluctance of our industry to sponsor immigrants."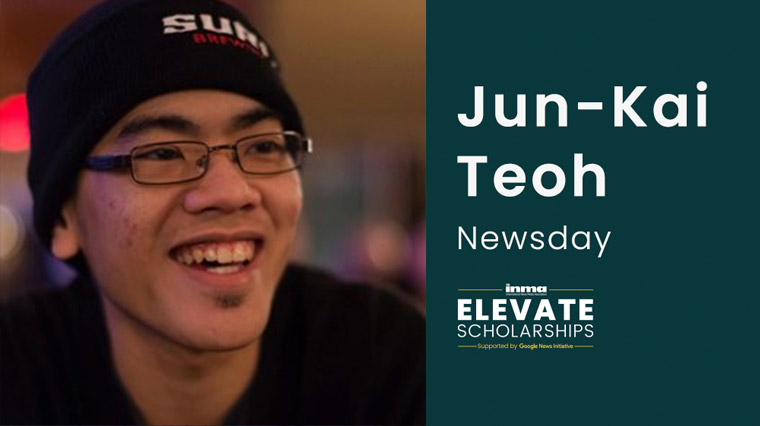 While he is passionate about helping other immigrant journalists navigate the current environment, Teoh is equally passionate about the mission of journalism. In his first year as a journalist, he was voted Minnesota's New Journalist of the Year, and he speaks at conferences on topics ranging from immigration to developing new tools to use community impact as a starting point for reporting the news. 
"Kai has the potential to be a next generation leader of our business," said Rita Ciolli, editorial and opinion page editor and director of the nextLI project at Newsday. Since Teoh joined the Newsday team almost two years ago, he has revealed himself to be "a natural leader and communicator with a genuine faith in the mission of journalism," she said.
His out-of-the-box thinking on how to use data to inform and empower communities is already driving Newsday's business model. He is eager to mentor other journalists and has been involved with TechX communities such as Django Girls, which works to attract more women into the technology space. He also moderates the Journalism subreddit.
Although he has accomplished much in a short time, he has an ambitious agenda for his future: "I want to foster, network, and build a community of journalists and technologists where we can share and grow and serve our communities." 
He also wants to continue addressing issues of diversity and inclusivity, which, he said, "We have not done well enough with — in terms of race and ethnicity but also class, income, geography, and other marginalized groups. I want to continue pushing for that."
Already, he has implemented a more structured recruitment process for his team to ensure better inclusivity and equity. And, as part of a Journalists of Color group, he examines and discusses the many diversity issues in journalism. 
"I make it part of my work to pay attention to the consequences of our actions," he said. "I want to amplify other people's voices. … I want to remind them that they have value and talent and skill, and I try to clear as many obstacles as I can for them."