INMA Elevate Scholar: Fabíola Mousinho of Público
Editor's Inbox | 20 June 2022
On October 28, 2021, INMA and Google News Initiative (GNI) awarded their Elevate Scholarship to 50 news media professionals around the world. This series features these impressive media professionals who are shaping our industry.
Fabíola Mousinho has a lot of different interests. Instead of narrowing her focus to one or two of them and forgetting about the others, she used the wide array of topics to create a unique and successful career path.
Mousinho first began studying social communication in Brazil.  Two years later she participated in a student exchange programme that led her to Portugal to study sociology. For two years, she travelled between the two countries to finish her degree and was named Student of the Year for her work on projects involving minorities, women and children, the LGBT community, and victims of violence. She stayed in Portugal to complete her master's degree in sociology, putting her main focus on studying women's political involvement in social media.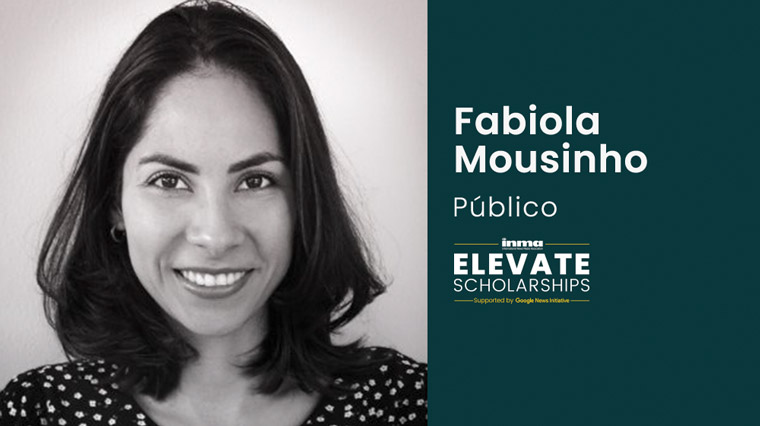 Upon graduation, Portuguese media company Público hired Mousinho as an intern on the analytics team. 
"My mixed path was one of the points of interest to combine data, analysis, and communication," Mousinho said. "Although I was quite inexperienced, I was eager to learn the business, so I started to attend several courses to develop data skills."
Formal schooling wasn't over for Mousinho once she entered the job market in her field. She earned a post-graduate degree in data science, which ultimately led to her current position as a digital media analyst for Público.
Mousinho is eager to develop more skills in audience development, data literacy, and storytelling. She also hopes to be mentored more in applying and understanding the insights that data provides. 
As an immigrant, Mousinho prides herself in incorporating her background into her work and helping others better understand inclusiveness. She said Público viewed her immigrant status as proof of resilience and courage and ultimately made her a stronger team member.
"Coming from a country with a lot of social differences, there are still some discussions that European people need to address," Mousinho said. "My contribution right now is to promote them when and where I have the chance."
Elizabeth Fernandes, Público's head of analytics and audience insights, said Mousinho showed a stunning potential for learning in her role providing insights to journalists from real-time software.
"As our digital transformation occurred, Fabíola took part in important projects and revealed a strong capacity to communicate valuable information," Fernandes said. "Fabíola conquered journalists' confidence and works with all the teams, implementing a data-driven culture."