INMA Elevate Scholar: Bethany Crowe of Newsquest Media Group
Editor's Inbox | 17 January 2021
On October 29, INMA and Google News Initiative (GNI) awarded 50 news media professionals around the world with its debut Elevate Scholarship. This series features these impressive media professionals who are shaping our industry. 
After graduating from the University of Edinburgh in 2013, Bethany Crowe found a job in fashion buying and merchandising. But it wasn't until she discovered digital marketing that she found her calling. 
Since joining Newsquest Media Group as a marketing expert in 2018, Crowe has quickly risen through the ranks to the role of client services director. She credits the rapid ascent to hard work, determination, and a genuine love for what she is doing.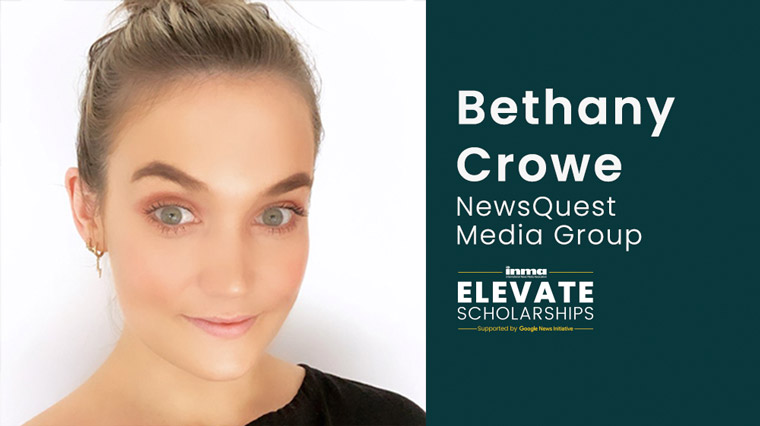 "When I look back at where I was two and a half years ago [compared] to where I am now, I am so proud of my development on both a professional and personal level," she said. "I will continue with my hard work and focus to ensure that this continues for many years to come."
Since business wasn't her main focus at university, she is working hard to cultivate more business acumen and is eager to learn from others. She wants to continue her rapid upward career trajectory to eventually reach the role of managing director before becoming a CEO. Crowe said she is proud of the hard-working and enthusiastic digital marketing account managers that she leads yet also wants to continue her own growth to become the best leader she can be. 
"I'd like to learn more about the industry in general, but specifically about how to develop within it as we move forward," Crowe said. "Businesses, particularly those centered around news and media, have to change and adapt to the world in order to innovate and educate. I'd like to have the knowledge to be able to be an integral part of this growth in my company." 
As a young woman under the age of 30, she has faced certain challenges in trying to establish herself in a male-dominated industry. 
"It has been difficult challenging the perceptions of others, and it's something that I face every day," she said, while also acknowledging that other under-represented groups face even greater challenges. Her hope is to become a leader who helps change that. 
"I want to be able to empower others to not only use their own voices, but to be … whatever they want to be, not only in the news media industry but in all walks of life."