INMA Elevate Scholar: Andreas Kamasah of Pulse Ghana
Editor's Inbox | 25 April 2022
 On October 28, INMA and Google News Initiative (GNI) awarded their Elevate Scholarship to 50 news media professionals around the world. This series features these impressive media professionals who are shaping our industry.
Andreas Kamasah has proven more than once that his love for media knows no bounds — even if that means having to work without a paycheck. After working without being paid for nearly two years at a radio station in Ghana, Kamasah was laid off and found it difficult to get back on his feet.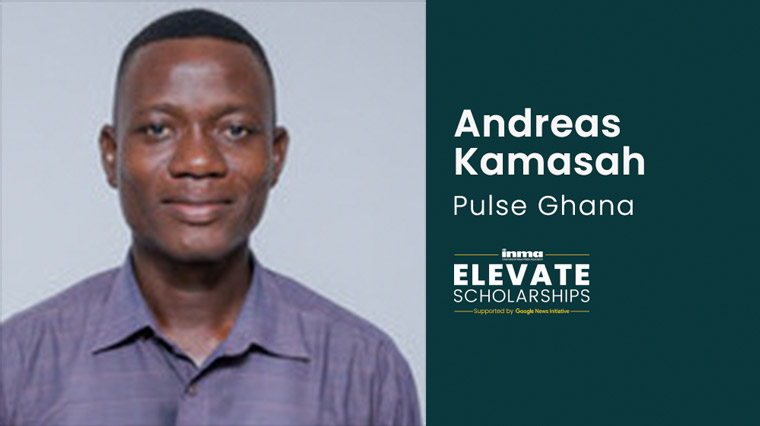 "Getting a job after that became difficult due to insufficient job vacancies and the fact that employers favoured degree holders over others," Kamasah said.
He hopped around to a few different start-ups that, again, couldn't pay him, until he decided to take all that experience he gained and accept an internship at Pulse Ghana, a new media company targeting younger readers. The company had rejected his applications for employment on more than one occasion, but he had nothing to lose. 
"I proved my worth within three months, despite the fact that the firm is digital media and I was not digital-savvy," Kamasah said.
Days before his internship was set to expire, Kamasah was offered employment. He's now the senior reporter at Pulse.
"Although I have done well over the years, I believe with higher education I can serve the world better through professional and inclusive journalism," Kamasah said.
He hopes to use his position as a journalist to intensify the effort of bringing awareness to minority and marginalised groups.
"There are many issues such as human rights, climate, insecurity, women and children and other vulnerable people among others that have been under-reported," Kamasah said.
Evans Effah, head of editorial operations at Pulse, said Kamasah is a committed journalist who makes sure the content measures up to journalistic standards: "He is passionate about journalism and has a strong media network."
Kamasah has clear objectives about what he wants to achieve as his career progresses: "My aim is to stand out in this era of disinformation and fake news by being one of the trusted practitioners to set the records straight and be the voice of the voiceless minority."