This week, we look at pending changes to Apple's App Store as it faces anti-trust legislation in Europe and scrutiny in the United States, while Google flummoxes EU publisher attempts to corral first-party data and seeks clarification on a French ruling. In Australia, one determined publisher pursues remuneration negotiations, while Facebook labels older news content.
Apple announces changes to App Store rules
Last month, Apple announced developers can now challenge rejection of their apps as well as the rule on which the rejection is based. Further, Apple will no longer delay bug fixes over guideline violations for apps already in the store. However, the weighty requirement of a 30% tribute will remain — for now. The new policy is slated to go into effect later this summer, according to Tech Crunch. INMA reached out to Apple for comment but did not hear back. 
Apple's decision coincides with its annual worldwide developer conference (WWDC), which was held virtually this year due to COVID-19 precautions. But some of the players believe a virtual venue makes it harder to rein in unhappy developers and catch their attention than an event in real life, where emotion and magic rule the day. 
The decision also comes at a time when news media publishers are struggling with the decline of third-party cookies and trying to create new business models that rely on first-party user data, such as the Swiss publishers' initiative to create one login across all news sites. 
Over the last year, Apple has been stirring an already simmering pot in its relationship with app developers. Two issues seem to have emerged, according to INMA Researcher-in-Residence Grzegorz Piechota: 
Apple has a requirement for apps to offer free registration via its sign-in system.
Apple has stepped up enforcement of Section 3.1.1 (on in-app purchases) of its App Store Review Guidelines, which requires apps to sell subscriptions via Apple's in-app purchase system, with a price tag of 30%.
Apple has historically had a controversial carve-out for "Reader Apps" — video, music, books, as well as magazines, newspapers, access to professional databases, VOIP, cloud storage, or approved services such as classroom management apps, reported The Verge. But, Bloomberg-Quint reports, "as part of the rules for the purchasing system, the services can't advertise in the app that users can buy the subscription online." For example, Netflix "tells users they can't subscribe to the service inside the app, but doesn't explicitly tell customers how to pay for a subscription online, thus avoiding violating Apple's rules." 
This is where news media publishers seem to be coming into conflict with Apple, which has rejected some registration procedures due to Section 3.1.1. For example, one publisher — who has In-App purchase, but not Apple's sign-in, and offers some benefits for free registration — has found that Apple "is no more happy with that, and wants a user to go first to an in-app purchase with trial period. Only then can we ask for the e-mail address." 
The Section 3.1.1 issue emerged in 2019 with Spotify, the music app, and again with Hey, an e-mail app developed by Basecamp. (A Forbes article cited a series of tweets by a Basecamp executive in which he recently called Apple's App Store policies "inconsistent policies of shakedown," and its practices "abusive capricious, and exploitative.")
The conflict led Spotify to file a regulatory complaint in the European Union last year that led the European Commission, the executive body of the EU, to open "a formal anti-trust investigation to determine if the terms that Apple imposes on app developers violate competition rules. Spotify's Head of Global Affairs and Chief Legal Officer Horacio Gutierrez told reporters in June: 
"At the heart of our case is the fact that Apple acts as the stadium owner, referee, and player, and tilts the playing field in favour of its own services. This case is not just about Spotify. The commission's decision to take on this case against Apple is an important first step toward developing new rules of the road that will govern the conduct of online platforms for years to come." 
Meanwhile, Apple has accused Spotify of seeking to "keep all benefits of the App Store ecosystem — including the substantial revenue that they draw from the App Store's customers — without making any contributions to that marketplace." 
The European Commission said it had also started a separate investigation to see whether Apple was boxing out rivals to its mobile payments system, Apple Pay," according to The New York Times. European authorities ruled last month that a preliminary investigation showed that "the complaints had merit," The Times continued. 
Margrethe Vestager, the European Commission executive vice president in charge of competition policy, said: "Apple obtained a 'gatekeeper' role when it comes to the distribution of apps and content to users of Apple's popular devices. We need to ensure that Apple's rules do not distort competition in markets where Apple is competing with other app developers." 
The U.S. Justice Department has been interviewing developers since mid-2019, according to Bloomberg. Questions are focusing on "the App Store review process, during which Apple evaluates and either approves or rejects an app based on a series of guidelines." 
U.S. legislators are also paying attention. Rep. David Cicilline, a Rhode Island Democrat and chairman of the House antitrust subcommittee, said: "Because of the market power that Apple has, it is charging exorbitant rents — highway robbery, basically — bullying  people to pay 30% or denying access to their market…. It's crushing small developers who simply can't survive with those kinds of payments. If there were real competition in the marketplace, this wouldn't happen." 
Forbes pointed out that Apple's iPhone customers are keeping their phones longer, and described App Store revenue as "a gift that goes on giving." Bloomberg noted that: 
"Apple's growth is at stake. If apps could sell subscriptions outside the App Store, developers could stop using Apple's payment system, causing the company to lose revenue. Fees from App Store transactions are estimated to be one of the largest contributors to Apple's services revenue, a business the company is trying hard to expand." 
Microsoft President Brad Smith said to Politico: 
"I do believe the time has come, whether we're talking about Washington, D.C., or Brussels, for a much more focused conversation about the nature of app stores, the rules that are being put into place, the prices and tolls that are being extracted, and whether there is really a justification in anti-trust law for everything that has been created …
"If you look at the industry today, I think what you'll find is increasingly you're seeing app stores that have created higher walls and far more formidable gates … than anything that existed in the industry 20 years ago. Contrast that with what we're seeing in terms of other app store practices. They impose requirements that increasingly say there's only one way: to get onto our platform, and that is to go through the gate that we ourselves have created. In some cases, the create a very high price or toll."
Of course, Microsoft itself was the subject of U.S. anti-trust legislation in the 1990s.
Google derails European plan to block reader data harvesting
Meanwhile, Reuters reported this week that European news media companies had planned to use data privacy measures that would bar Google from storing first-party reader data on August 15. Instead, according to Reuters, Google will cut off a "lucrative flow of ads if they follow through with curbing its data collection."   
Last year, major publishers had asked for a consortium of Google, its clients, and partners to ask its users for two separate permissions previously tied together. That move would have allowed publishers to serve up personal ads from Google's clients even if users didn't want their personal data collected. Reuters cited a recently released paper by Yale University anti-trust fellow Dina Srinivasan (who also consults for News Corp) as saying that publishers' global share of Google Ad revenue has fallen in half to 16% over the last decade.
Australia's Solstice Media chair continues to push level playing field with platforms
Eric Beecher, chair of Australia's Solstice Media, will continue his push for a regulatory code that will remunerate news publishers for use of news content, despite an agreement with Google to license Solstice content for Publisher-Curated News, an application that Google plans to launch later this year, that some say will rival Apple News. 
Beecher said to The Syndney Morning Herald that he had made it clear in discussions with Google that Solstice would withdraw from the licensing agreement if it interfered with his ongoing pursuit of publisher remuneration mandated by Australian authorities. Google Australia's Mel Silva, managing director for Australia and New Zealand, said to The Australian that any remuneration will be limited to that distributed under the auspices of the new app.
Australia's draft remuneration code will go public before the end of July.
Google seeks clarification on French negotiations ruling 
According to Agence France Presse, Google has sought clarification on a French ruling that it must remunerate news publishers for use of their content. French competition regulator Autorité de la Concurrence issued a preliminary ruling in April. Google's appeal doesn't challenge the ruling, rather, it seeks "some legal clarity on parts of the order," said a U.S. spokeswoman.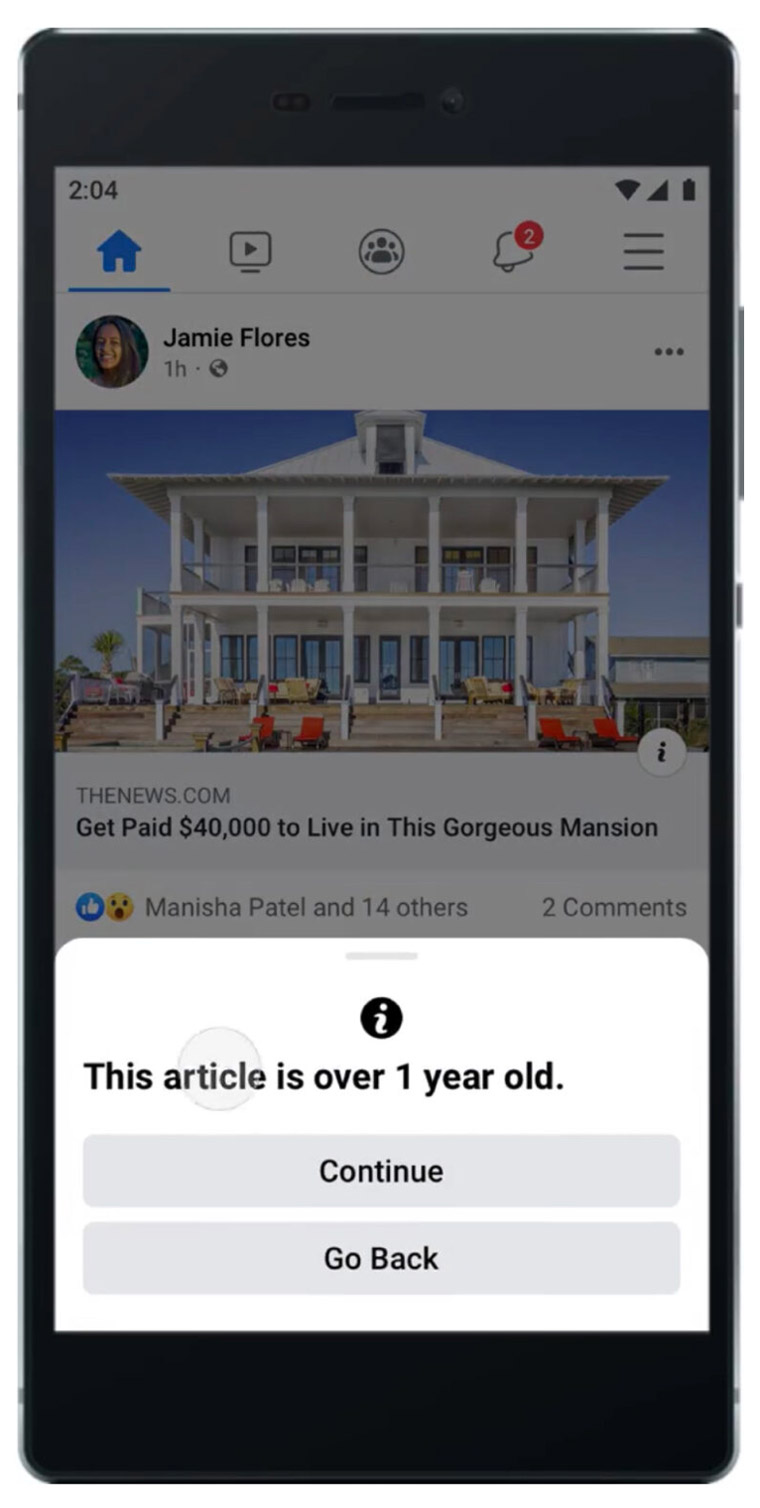 Facebook warning could lessen traffic to older news
In other news, Search Engine Journal reports a new Facebook warning that alerts users a post that they're about to share is 90 days old (or more) could hurt traffic to some news stories. The notifications are supposed to offer users "a chance to reconsider."
Banner image courtesy of zhang kaiyv on Unsplash.