Soon-to-be-proposed legislation in New Zealand seems poised to pass, creating a "required negotiation" model between news media companies and Big Tech companies. INMA members within New Zealand say they welcome the legislation while Google and Meta say it is an unnecessary legal step.
New Zealand's Minister of Broadcasting Willie Jackson announced in an early December statement the government will introduce legislation that would require digital platforms such as Google and Meta to pay a price to New Zealand media outlets for content they host and share on their platforms. 
Reuters reported the new legislation is expected to pass by the Labour Party's majority.
What the legislation is likely to include

"Basically," wrote Gizmodo, "Google and Meta would be allowed to negotiate their own deals with news publishers. However, if no deal is reached within a certain time period, the government would then step in to map out a required negotiation."
The legislation will also allow media organisations to form collectives without first requiring New Zealand's Commerce Commission approval to negotiate. It is designed as "a backstop to encourage companies to reach high quality voluntary agreements in the first instance." 
The legislation is expected to easily pass, according to an article from Reuters. But the same article suggested Meta has made up its losses in countries such as Australia, where legislation has been passed or is pending, by ending its U.S. pay-to-republish deals with major outlets like The New York Times, The Washington Post, and The Wall Street Journal earlier this year, reporting Meta had been paying more than US$100 million in total to these news organisations. The contracts halted in July. 
Minister Jackson said he expects between NZ$30 million and NZ$60 million to come into the New Zealand market in recognition of the online giants' use of material produced by local outlets, The Spinoff wrote. The Broadcasting Standards Authority (BSA) will be tasked with regulating the new mechanism and ensuring the funds go to journalism rather than shareholders, the article continued, saying the Commerce Commission has authorised local media, led by the News Publishers' Association, to engage in collective bargaining.
The legislation, which Jackson calls a "pragmatic approach," will be based roughly on that previously laid out by Australia in 2021 and in Canada more recently. A recently released review by the Australian government has said that it largely works.
News publisher response
Brook Cameron, general manager for the New Zealand News Publishers' Association, told INMA: "We welcome the New Zealand Government's commitment to leveling the playing field between Kiwi journalism and Big Tech. 
"Similar groundbreaking legislation in Australia led to agreements that secure continued investment in the journalism that digital platforms use every day. As two closely linked economies, we're seeking a similar outcome in New Zealand and are hopeful we will see fair agreements soon." 
Stuff reported that its chief executive, Sinead Boucher, is pleased that the government has recognised the "significant power imbalance" between publishers and the platforms. That publication is part of a collective seeking to bargain with Google and Meta, but Boucher said there has been nothing even resembling a fair offer, and that fair deals have only been struck in countries where there is legislation or the threat of it. The process began in April 2022 while the Commerce Commission worked on a final decision, Stuff reported elsewhere.
"We want a deal for the whole industry — publishers large and small — that represents a fair exchange for the value the platforms get out of using our content to allow us to keep investing [in] and developing high quality New Zealand journalism," Boucher said. "We look forward to seeing the shape of the legislation when it is introduced," she said.
In a December statement, NZME confirmed it supports the government's plan to introduce legislation, despite having reached its own independent agreements with both Google and Facebook earlier in 2022. The media company plans to review the planned legislation when available to assess any impact it might have on its current agreements. 
NZME CEO Michael Boggs said in the statement that the company is pleased to have reached its own agreements with both platforms "as it provided us with certainty and ensured the content we were already publishing generated a return as a result of republication on Google and Facebook ... . We look forward to continuing our constructive engagement on the matter."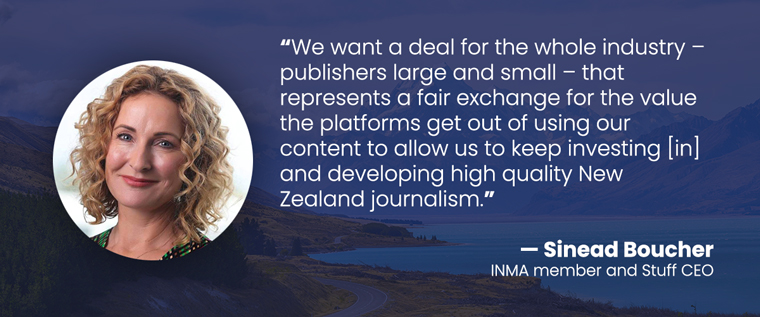 Along with NZME, RNZ, Crux, Newsroom, The Pacific Media Network, and Scoop have all reached agreements with Google for their content to appear in Google Showcase, reported Stuff in August 2022. Absent from the list were Newshub-owner Warner Bros Discovery, Stuff, TVNZ, and Allied Press, the owner of The Otago Daily Times. Stuff said the NZME deal was assumed to be worth millions of dollars. RNZ said the amount it is receiving is confidential. 
The same article quoted New Zealand's Jackson as saying the arrangements represented a good start from Google in terms of fulfilling obligations to help fund the media, but that it was not enough:
"No, they haven't done enough, but it's a good start and I'm looking forward to seeing a lot more agreements out there," he said. "I'm heartened to see they are making an effort to form good relationships and contracts in the workplace ... . We need as many agreements as possible and they need to be quality agreements."
Meta, Google responses
A 2021 Pew Research Center survey found that about 48% of U.S. adults get their news from social media, and one-third of them get that news regularly on Facebook. Despite that, Meta's regional policy director Mia Garlick told The Wall Street Journal that the proposal "fundamentally misunderstands the relationship between Facebook and news" and that "legislation won't solve the longstanding digital transformation challenges facing the news industry." 
In response to the soon-to-be-proposed legislation, Google published a 16-page blog post, "How Google supports journalism and the news industry in New Zealand," which appears to be based on a template response given in other countries where legislation has been considered.
The legislative goal 
The legislative goal is to provide an incentive to negotiate high-quality voluntary deals with local news outlets. In his statement, Jackson said: "It's not fair that the big digital platforms like Google and Meta get to host and share local news for free. It costs to produce the news and it's only fair they pay… . If companies like Google and Meta do good deals, then they can avoid the new law being utilised." 
If there is a failure to reach agreement, the legislation sets out processes for negotiations and mandatory bargaining. But Jackson believes the mere presence of legislation can be enough to draw the platforms to fair negotiations: 
"The legislative fallback can be powerful. For example, in Australia, the legislation has never been used because companies have done voluntary deals to avoid being subject to the legislation. And in Canada, Google has reached agreements with more than 150 publications ahead of legislation coming in." 
Jackson expressed particular concern for small regional and community newspapers that "are struggling to remain financially viable as more advertising moves online," noting the reduction in income has forced media companies to reduce staff size and production of local news content. 
"We don't want a system where only the big players can get a deal," he said. "The Australian competition regulator found the big online players have substantial bargaining power, so we need legislation to sit behind any voluntary negotiations that helps to level the playing field. 
"While some deals have been reached voluntarily, small regional rural, Māori and Pacific and ethnic media outlets are likely to miss out, so this is about ensuring everyone gets a fair go," Jackson said. "We want to see fair deals for all the media players in Aotearoa [the current Māori-language name for New Zealand] and ensure that new companies in the future will have to come to the bargaining table. It's important to ensure a free and independent news media exists in Aoteroa and fair compensation for online media content is critical." 
New Zealand media companies have lost about half of its of journalists in the last 10 years, Jackson told Stuff. "We've got to give hope to the small players out there. I'm proud to bring forward this legislation to support them." 
The Conversation reported that, according to New Zealand's Advertising Standards Authority, newspapers' share of revenue for total domestic advertising shifted from a 40.7% share in 2001 (NZ$606 million) to 26.7% (NZ$582 million) in 2011, and was down to 10.45% (NZ$331 million, including newspaper Web sites) in 2021. It notes that digital advertising wasn't measured in 2001, but by 2011 it represented 15.15% of New Zealand's advertising turnover (NZ$328 million), and by 2021 "digital only" accounted for 50.25% (NZ$1.62 billion).
What could go wrong?
Aside from the possibility that Google and Meta will resort to the same measures (withdrawal) they have taken in other countries when certain legislative or regulatory moves emerged, The Conversation pointed to other reasons to be cautious. Such deals can:
Lack transparency.
Provide few guarantees of where revenues go.
Offer little protection of the public interest. There is no guarantee corporate shareholders will not pocket the proceeds or that those proceeds will not subsidise partisan or populist reporting.
Further, the article pointed out, the outcomes of these non-transparent bilateral commercial agreements "depend largely on what the platforms themselves deem acceptable. Typically, no minimum level of subsidy is specified." 
In Australia, for example, platforms are only required to negotiate in "good faith." So, "although larger news organisations might carry some weight in negotiations, smaller operators (if they're covered at all) will likely be forced to accept whatever crumbs fall from the rich platforms' table." 
And, The Conversation continued, "the dominance of the platforms in monetising online traffic isn't really based on their 'poaching' of news; it's their ability to harvest user data and their control of the algorithms governing online content discovery. Crucially, such considerations fall outside mandatory bargaining frameworks." 
Thus, it says, "commercial remedies focused solely on the news sector risk overlooking the wider issue" and "come with a significant political opportunity cost. In short, it would inhibit any move toward a more substantial regulatory framework — such as a digital services tax," which could go further to ensure public benefit by having an independent agency collect and disburse the revenue.
To do both would legitimise to some extent a claim by digital platforms that they were being taxed twice, according to The Conversation. It concludes: "The wrong legislation will make it more difficult to introduce wider regulatory measures to support news media and protect public interest. We should be careful we don't get less than we bargain for."