In November, Google announced it had signed its first German newspapers, under the country's new ancillary copyright law, to News Showcase to avoid copyright disputes. They include Der Spiegel, Die Zeit, Handelsblatt, Ströer, Tagesspiegel, Golem, Netzwelt, and others. The announcement follows Germany's compliance with the June 7 deadline for member states to transpose the EU's neighbouring rights requirements into national laws.
Enhanced regulatory powers: "intervene earlier and more effectively"
In January of this year, a key new provision to the German Competition Act (GWB) — the 10th amendment or Digitalisation Act  came into force, enabling the Federal Cartel Office (FCO)/Bundeskartellamt to "intervene earlier and more effectively, in particular against the practices of large digital companies. In a two-step procedure, the Bundeskartellamt can prohibit companies which are of paramount significance for competition across markets from engaging in anti-competitive practices," according to a June press release from the authority. 
The authority has wasted little time in acting on its new powers.
In May, it initiated a proceeding against Google to determine whether it "holds paramount significance for competition across markets." That followed earlier proceedings against Facebook (January, 2021) and Amazon (May, 2021) "based on this new competition law tool." 
By early June, the Bundeskartellamt had initiated a proceeding against Google "to examine under competition law the Google News Showcase service offered by the company. The examination is mainly based on the authority's new competences under the new legal provisions applicable to large digital companies," the press release continued. 
The News Showcase came to the authority's attention when Corint Media filed a complaint questioning whether "the announced integration of the Google News Showcase service into Google's general search function is likely to constitute self-preferencing or an impediment to the services offered by competing third parties."
In addition, the authority is examining:
Whether "the relevant contractual conditions include unreasonable conditions to the detriment of the participating publishers."
"In particular," whether those conditions make it "disproportionately difficult for publishers to enforce the ancillary copyright for press publishers."
How the conditions for access to Google's News Showcase service are defined.
Parliament approves a new ancillary copyright law

Meanwhile in March, the German parliament approved what Google called "significant changes" to copyright law, including incorporation of Article 15, which introduced the new ancillary copyright, or neighbouring right, for German publishers. 
Berlin-based Corint Media, formerly VG Media and one of Germany's several rights-processing societies, explains:
"Like copyright, ancillary rights are intellectual property rights. The owners of these rights decide on their use. As a rule, rightsholders desire third-party use of their rights. And if this is the case, rightsholders are entitled to appropriate remuneration. Unlike copyright, which safeguards the creativity of the copyright holder, ancillary rights protect intermediaries of the works — such as broadcasting companies and publishers — and the creatives who work for them as well as corporate services used to create new works from various individual ones. At the same time, ancillary rights protect the total company effort involved when a publisher produces digital publishing output, or a TV or radio station produces programmes, running 24 hour, 365 days a year." 
Germany adopted an earlier ancillary copyright law for publishers in 2013. It gave press publishers an exclusive right to publish short excerpts of texts, or snippets, of Web pages, in the hope that they would be remunerated for their use. Fees were to be collected by a central clearinghouse. In brief, the new ancillary copyright law, among other things, brings the 2013 law into compliance with EU law and gives publishers the right to negotiate directly with the digital platforms. 
According to Google's Philipp Justus, vice president/Google Central Europe, though, it doesn't help that the new ancillary copyright law is vague about what can be published without royalty and what can't: "Even though the law does not clearly define the scope of protected content, we have decided to conclude license agreements for 'Extended News Previews (ENP)." Google described ENP as "press publication content which goes beyond 'hyperlinks, individual words, mere facts' or 'very short extracts.'"
The evolution of News Showcase
Also in the meanwhile, Google has been signing newspapers around the world. There are now more than 1,000 publications worldwide using the "new product and licensing programme for news," Google said. German and Brazilian newspapers were the first signed when the News Showcase was announced in October, 2020, and by late September, 2021, the number of German publications had grown from 50 to more than 80, according to Press Gazette.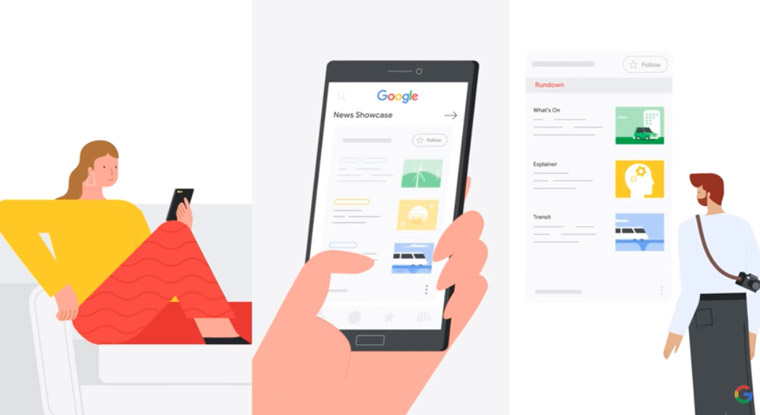 "The problem with News Showcase," said TechCrunch in June, "is that these licensing arrangements are being done behind closed doors, in many cases … purely on Google's terms — which means the [News Showcase] initiative risks exacerbating concerns about the power balance between it and traditional publishers caught in a revenue bind as their business models have been massively disrupted by the switch to digital." 
Press Gazette concurs that payment arrangements lack transparency, and adds that  "the deals often come with add-ons….These deals are technically separate from Showcase. But many of our sources viewed them as being attached to Showcase."
And just as German law is evolving, so is News Showcase. 
Google said News Showcase would present high-quality journalistic content for which it would pay licensing fees, the FCO said. "For its News Showcase, Google also purchases paywalled articles from individual publishers and offers them to its reader free of charge … . The participating publishers thus have various options for presenting their content in a more prominent and detailed way than would be possible in the general listing." 
According to the authority:
"…[T]he service has … been expanded to cover further content" after the initial 20 media companies signed on.
"News Showcase focuses on 'story panels' which were initially integrated in the Google News app and can now also be found in Google News on the desktop."
"Google … will soon also show the panels in the general Google search results."
The story panels are showcase boxes in which photos, titles, and further content appear in a condensed form under the highlighted publisher's logo."
Seeking remuneration
When Google first announced the Showcase, it offered a US$1 billion dollar purse for publishers around the world. But not everyone thinks that amount, US$333 million per year for three years, is adequate — or distributed fairly. For example, payments to Australian news organisations are thought to be higher because of legislation that mandated final offer arbitration and allowed collective bargaining than legislation in other countries. 
Last week, Corint announced it is seeking a license fee from Facebook of €190 million in 2022 for the rights of more than 240 rightsholders it represents, as well as publishing groups such as Axel Springer, Handelsblatt, Funke, and DuMont. It says it is also in talks with Microsoft and "other users." Previously, it announced in October that it is seeking €420 million in 2022 from Google for the use of press publishers' rights that belong to the press publishers it represents. It said: 
"This is for the use of press content such as headlines, short article excerpts, and preview images in its search engine …. The arbitration board at the German Patent and Trade Mark Office, which is responsible for assessing tariff and remuneration issues, had already assessed a royalty rate of up to 11% on the relevant turnover for the entire repertoire as being basically appropriate. This percentage has been reduced accordingly as Corint Media currently administers the rights of approximately 200 digital press publications in the German market. The sales revenues Google generated from running their search engine in Germany are estimated to be around €9 billion in 2020." 
Corint continued: "According to the payments or claims for the use of press content that have become known in other markets, i.e. Australia around €100 million and Canada around €400 million, the sum being demanded is in perspective with regard to international comparisons. The antitrust authority in France recently ordered Google to pay €500 million. Contrary to an official order, the company had not negotiated constructively with the press publishers about the remuneration for the French press ancillary rights, which, like in Germany, is based on the EU copyright directive. 
Corint noted: "The online Web site of a medium-sized national newspaper that generates around 30 million visits per month would also generate revenues of about €15 million per year after this licensing. The revenue could be further increased by concluding additional licensing agreements."
Corint, which in September announced a new remuneration distribution plan, describes itself as "a European company in the private media industry, a limited liability corporation licensed as a Collective Management Organisation (CMO) under the German Collecting Societies Act. [We manage] the rights of almost all German and several international private television and radio stations as well as of numerous press publishers."
Google's response
Google's November press release paid particular attention to its negotiations with Corint:
"We have initiated conversations with [them], as well as with publishers directly. However, we remain concerned by the economically and legally baseless demand by Corint Media that has been shared in the past few weeks. …This claim also follows previous financial demands from Corint Media (formerly VG Media), based on the prior German ancillary copyright law, which were rejected by the German Copyright Arbitration Board as 'unreasonable' and thus illegal. Despite this, we will continue to work with Corint and with publishers directly to come to an agreement."
News publisher/INMA member response
INMA spoke with several Corint shareholders, INMA members, and representatives of news publishing companies that are in various stages of dealing with the new law and negotiations with Google. This is how they described the current negotiating landscape:
Although Google is pointing out that Corint's current arguments are the same as under previous ancillary copyright law, the dismissal of its arguments under previous law is not relevant because it was based on technicalities such as a distribution plan rather than the quality of Corint's arguments..
Google is unlikely to discriminate between Corint's shareholders and other publishers, in part because eventual court proceedings would make dealings transparent anyway.
A fragmented market may make it harder to secure high returns industrywide.
Google disputes Corint's calculations because they are based on total turnover rather than news products only. 
While publishers were split over whether the amount Corint seeks is reasonable when we queried, their expectations over whether it would be realised were low, though one told us they were eager to move forward with News Showcase. 
INMA member Wolfgang Poppen, managing director of Badische Verlag and publisher of the Badische Zeitung, said in a statement upon his organisation's joining other media entities as shareholder in Corint that:
"The fact that media companies unite to safeguard their rights should increase the chances of enforcing them in negotiations or, if necessary, legally vis-à-vis the international corporations. The Internet giants are currently trying to deal with this with the help of agreements with individual publishers and newspaper houses. We rely on a joint approach, on the other hand. This is the better way, also in the interest of readers."