Australia's consumer and competition commission issued a roughly 200-page report this month on the ad tech services industry, focusing squarely on Google's dominance in the arena, saying it likely harms publishers, advertisers, and consumers. 
The report concludes that existing competition laws offer insufficient enforcement action to address those issues and that the ACCC should be given powers to "develop specific rules in response," the ACCC said in a statement. The report recommends regulation to address "conflicts of interest, prevent anti-competitive self-preferencing, and ensure rival ad tech providers are able to compete on merit." 
The report notes: "Sector-specific regulation, such as that proposed … is not new. Other industries, such as telecommunications, have specific rules, which can address particular competition and transparency concerns identified in those sectors."
Focus of the report 
The report focused on "open display channels" that rely on ad tech to facilitate the buying and selling of ads vs. closed — or owned and operated — channels such as Facebook.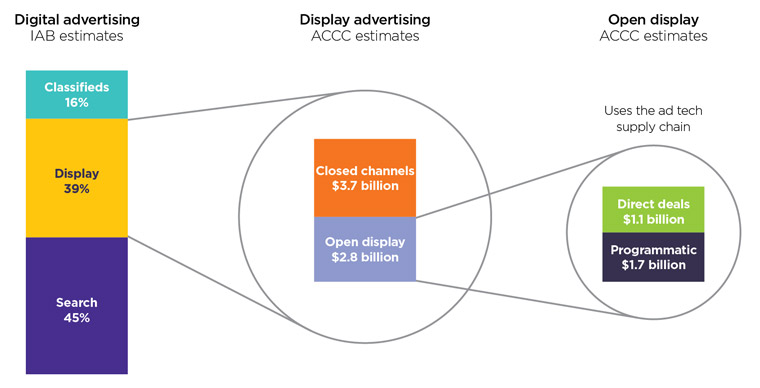 "Generally, when a consumer visits a publisher's Web site or app, its publisher side services send out a request to many advertisers through their advertiser-side services, asking for bids from advertisers who would like to show an ad to the consumer," the statement said. "The advertiser-side services and publisher-side services then run a series of automated processes, including auctions, to select a winning ad which is then sent to the publisher." This all happens during the milliseconds it takes to load a Web page. 
"[M]any Australian online publishers rely on open display channels and ad tech services to sell advertising opportunities on their Web sites and apps and earn revenue. Weak competition is likely to lead to publishers of Web sites and apps paying more for digital advertising services, and can mean they receive less revenue for the ad inventory they sell …. . If publishers earn less revenue for their advertising space, they are likely to produce less, and/or lower quality, online content …
"Australian consumers are therefore at risk of facing reduced access to diverse and high quality information and services online. This is particularly problematic where digital advertising is used to fund content that is important to the public or has broader public benefits, such as journalism." 
Rod Sims, ACCC Chair said: "Google has used its vertically integrated position to operate its ad tech services in a way that has, over time, led to a less competitive ad tech industry. This conduct has helped Google to establish and entrench its dominant position in the ad tech supply chain. 
"Google's activities across the supply chain also mean that, in a single transaction, Google can act on behalf of both the advertiser (the buyer) and the publisher (the seller) and operate the ad exchange connecting these two parties. As the interests of these parties do not align, this creates conflicts of interest for Google which can harm both advertisers and publishers."
4 key findings

The report listed these four key findings:
Google has a dominant position in key parts of the ad tech supply chain and estimates that more than 90% of ad impressions traded via the ad tech supply chain passed through at least one Google service in 2020.
Google has used its position to preference its own services and shield them from competition — for example, advantaging itself by preventing rival ad tech services from accessing ads on YouTube, which Google acquired in 2006. It also owns DoubleClick, purchased in 2007, and AdMob in 2009, which further solidifies its position through vertical integration and access to first-party data.
The pricing and operation of ad tech services lack transparency.
Google has refused to participate in publisher-led header bidding, an industry innovation developed around 2014-15, and aimed at increasing competition for publishers' inventory, and previously allowed its services to have a "last look" opportunity to outbid rivals. 
6 recommendations
"The ACCC is considering specific allegations against Google under existing competition laws," Sims said. "However, new regulatory solutions are needed to address Google's dominance and to restore competition to the ad tech sector for the benefit of businesses and consumers."
"We have identified systemic competition concerns relating to conduct over many years and multiple ad tech services, including conduct that harms rivals. Investigation and enforcement proceedings under general competition laws are not well suited to deal with these sorts of broad concerns, and can take too long if anti-competitive harm is to be prevented." 
The ACCC made six recommendations:
Google should amend its public material so that it clearly describes how Google uses first-party data to provide ad tech services.
The ACCC should be given powers to develop sector specific rules to address conflicts of interest and competition issues in the ad tech supply chain. The rules would apply to ad tech providers that meet certain criteria linked to their market power and/or strategic position.
The power to introduce sector specific rules should allow the ACCC to address competition issues caused by an ad tech providers data advantage.
Industry should establish standards to require ad tech providers to publish average fees and take rates for ad tech services, and to enable full, independent verification of demand side platform services (DSPs).
Google should provide publishers with additional information about the operation and outcomes of its publisher ad server auctions.
The ACCC should be given powers to develop and enforce rules to improve transparency of the price and performance of ad tech services. The rules would apply across the Australian ad tech supply chain. 
"How the recommendations in this report should be given effect, including the legal framework for the proposed rules and powers, will be considered as part of [the] broader ACCC report due in September 2022," Sims said. 
INMA member and industry responses
Chris Janz, INMA board member and Australian media executive, told INMA:
"This exhaustive, 18-month inquiry found Google's ad tech dominance likely harms publishers, advertisers, and consumers. If implemented, the six recommendations of the report will increase transparency and build confidence in the digital advertising ecosystem. Publishers and advertisers have broadly welcomed the report."
In the UK, the News Media Association's CEO Owen Meredith "welcomed" the report, saying, "This report lays bare the damaging economic impact for publishers and corresponding societal damage from restricted access to public interest news, resulting from Google's dominance in the ad tech space." (TechCrunch noted: "The UK's competition watchdog highlighted similar concerns in its own ad tech sector report last year. And UK lawmakers are now working on a digitally focused reform of domestic competition law.")
And in a preliminary statement reported by CMO.com, News Corp Australia Executive Chairman Michael Miller highlighted Google's significant commercial power: "The ACCC's interim report shines a light on Google's pervasive commercial power that impacts the entire Australian economy, not just the publishing industry."
Google response
According to The Sydney Morning Herald, Google has criticised the inquiry "for focusing on a narrow part of the ad tech market by only analysing open display ad practices," which the ACCC estimates was an AU$2.8 billion market last year — around 42% of total display and 30% of total digital ad spend for the year.
In a widely reported statement, Google said:
"Google's digital advertising technology services are delivering benefits for businesses and consumers — helping publishers fund their content, enabling small businesses to reach customers and grow, and protecting people online from bad ad practices.
"Analysis by PwC Australia found that three quarters of Google's adtech customers are Australian small and medium businesses – and three in four businesses surveyed observed important benefits from using Google's services including cost savings, time savings and business growth, compared to other services. 
"PwC also estimated that the existence and use of Google's advertising technology directly supports more than 15,000 full-time equivalent jobs and contributes AU$2.45 billion to the Australian economy annually. 
"As one of the many advertising technology providers in Australia, we will continue to work collaboratively with industry and regulators to support a healthy ads ecosystem."
Chronology and next steps
On February 10, 2020, Australian Treasurer Josh Frydenberg directed the ACCC via Ministerial Directive to hold a public inquiry into the markets for the supply of digital advertising technology services (ad tech services) and digital advertising agency services (ad agency services). 
"The inquiry follows the Digital Platforms Inquiry (DPI), which concluded in 2019," the report explained. "In the DPI, we identified concerns with the complexity and opacity of ad tech services, including the role of advertising agencies, and recommended an inquiry be held into competition for the supply of these services." 
In the upcoming September 2022 report for the Digital Platform Services Inquiry, the ACCC will consider "whether a broader regulatory framework is required to address the common competition and consumer concerns we have identified in digital platform markets. Stakeholder consultation on whether such regulation is necessary and on the design of any such rules will commence in early 2022."
The ACCC statement noted that "the ACCC's Digital Platforms Branch is also conducting a separate five-year inquiry into markets for the supply of digital platform services," under which reports are provided to the Treasurer every six months.
Global cooperation
Consultation on the 2022 follow-up report, scheduled to begin in Q1 2022,  "will take into account overseas legislative proposals to deal with these issues," the statement said. "We are also engaging very closely with our international counterparts who are at different stages of introducing similar rules to deal with these issues," ACCC Chief Sims said.
The ACCC engaged with a broad range of international agencies over the course of its inquiry including:
The Competition & Markets Authority (UK).
The Department of Justice (US).
The Federal Trade Commission (US).
The Autorité de la Concurrence (France).
The European Commission.
The Headquarters for Digital Market Competition (Japan).
The Comissión Nacional de los Mercados y la Competencia (Spain).
The New Zealand Commerce Commission.
In a Reuters interview, Sims said: "The Europeans and the UK are consulting on such laws at the moment, and we're going to be trying to align with them over the next year. I don't think we're far behind."